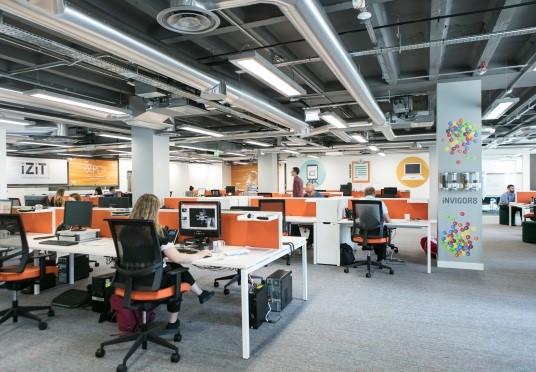 It really only feels like last week that we were packing up our desks in readiness for the big move to eXPD8s new offices but a whole year has gone by already – and we couldn't be happier!
eXPD8 made the decision to relocate mainly due to continued growth but also the desire to operate from office space which better reflected the eXPD8 corporate image.
On 29th May 2017 the office was officially reopened in its new premises of 1BSQ, Brunswick Square in central Bristol.
The new office design was undertaken in collaboration with Interaction Ltd – and it's safe to say that the move to a spacious, open plan office kitted out to eXPD8s exact specification but with the flexibility to reorganise the space and grow the team has proved an overwhelming success.
When we asked the eXPD8 team for their views on life in the new office, it won't come as too much of a surprise that the 'cELEBR8' bar and 'iNVIGOR8' self-service snacks were near the top of the list! However, nearly everyone commented on how the open space has allowed for better collaboration and more open communication across departments.
"The new office is spacious and light, and makes for a conducive working environment.  It also makes such a difference to have everyone in one space, allows easier communication with all departments and creates a feel that everyone is part of one fabulous company."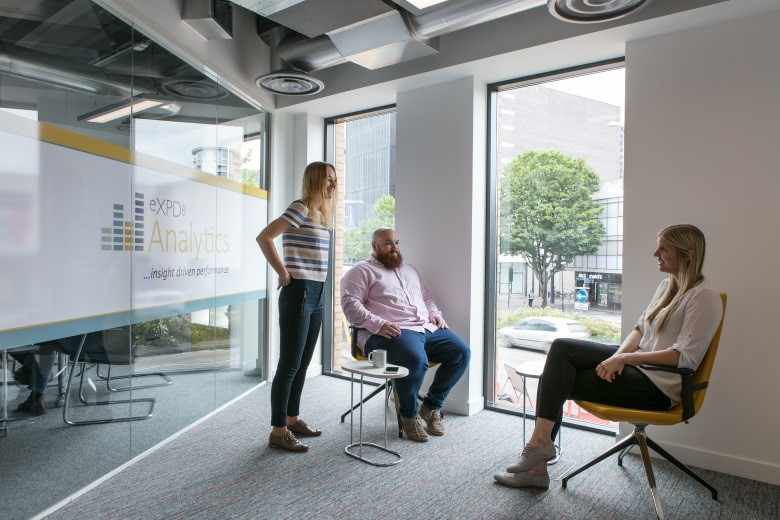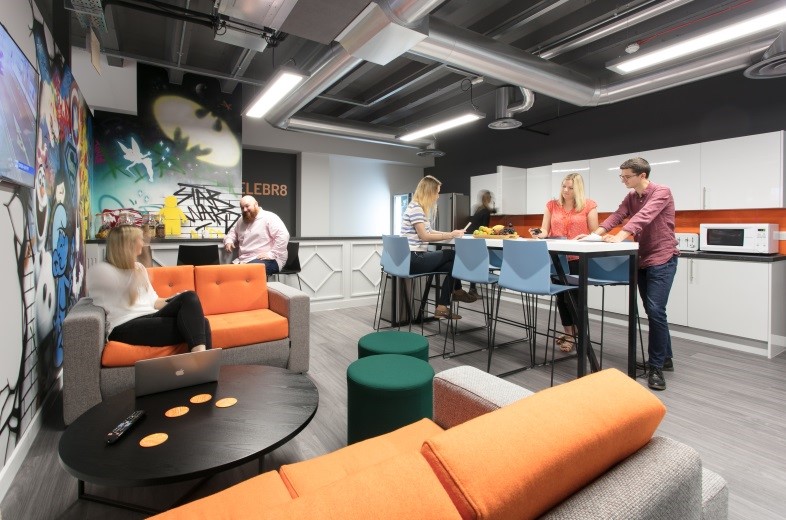 "The open plan space fosters a more open atmosphere. It also makes it so much easier to have company briefings and helps keep everyone informed and involved.  It's great to have the kitchen and bar area to encourage people to take some down time but also be able to celebrate our successes collectively."
Other feedback included that by nature of being able to see who is available, issues can be discussed face to face in order to find and agree solutions much quicker.  The new meeting rooms have improved communications with both clients and employees outside the office – smart video conferencing facilities as well as plenty of meeting spaces have significantly improved the ability to hold on-site meetings for larger groups.
And then there are the simple things – the shared facilities such as onsite showers, modern washrooms and secure bicycle storage.
Since last year we have even added our own in-house fulfilment area.  The addition of this space ensures that we are able to quickly react to Client requests to distribute POS to our Field Merchandisers and effectively manage POS inventory.

eXPD8 are reaping the rewards of providing a happy and healthy working environment – our workforce are  efficient and productive and embrace smarter working practices.  And it's not just our office staff who are benefiting – our clients receive better service levels, improved communication and state of the art conferencing facilities to minimise wasted travel time.
By investing in our surroundings and providing a smart, comfortable and open place to work for our employees, we are investing in the future of eXPD8.  And that's a good enough reason for us to cELEBR8!
Systems and Processes Trainer