The Regional Managers at eXPD8 are a varied bunch!  Yes, they all do a fabulous job looking after their teams throughout England, Scotland and Ireland, pulling their hair out trying to collate schedules together on time, to ensure all our clients requests are met, not to mention dealing with sickness, holidays and liaising with the team at Central Office!  Working remotely yet still being a vital member of the eXPD8 family, when they are not out working in the field, meeting store managers, our own merchandisers and ensuring eXPD8 provide "service excellence, first time… every time" for our varied client profile, they have some pretty interesting hobbies and interests at home too.
We have 6 Managers in Zone 1 comprising of 2 Regional Operations Managers Karen McMaster and Beverley Brazier and 4 Regional Field Managers Diane Dawson, Joanne Wellburn Pattison, Nik Hendry and Heather Campbell.  Have a look at the list below, and see which of Zone 1's managers you can guess they refer to…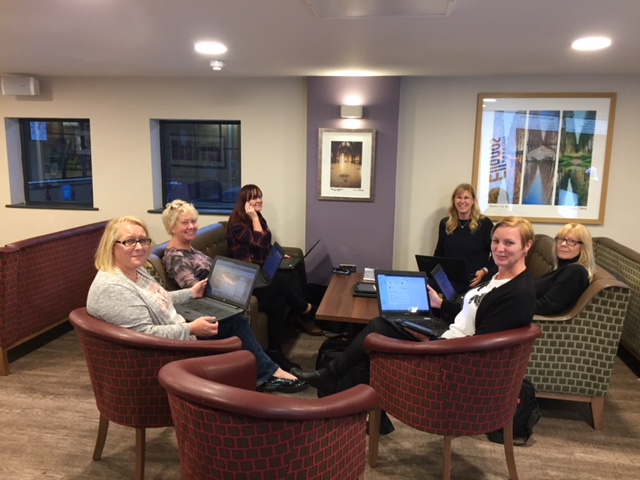 Move over Phil Taylor – One of our RMs is a keen darts player and has won in both individual and pairs competitions. And this year she even scored… all together now… "One Hundred and Eighty"!
This RM has also competed in Cross Country and Show Jumping Competitions.
What an active lot! One intrepid RM has walked Striding Edge and camped on many mountains including Helvellyn, Blencathra, and Skiddaw.
AND she did a tandem parachute jump for charity, although we can't tell you which one as that may give her away…
Which RM is a coffee addict, who gets very VERY grumpy if she doesn't get her three Starbucks a day?
This RM also has a little cockapoo named Bailey. Mmmm Baileys coffee, anyone?
We have a European dance champion! She has been dancing since the age of 3 (for nearly 40 years), then progressed to coaching and was a judge at international level. She still enjoys judging today but only at local levels.  "That's why I am a good merchandiser / Regional Manager as I can follow and digest information, quickly analyse and make decisions, critique in a positive and negative nature and have creative flair when required".
One RM's dream is to dive with great white sharks… she must be mad!
We also having a budding Bob the Builder, who has renovated her whole house and loves spending cosy Friday nights at home with her two beautiful granddaughters.
Finally, which RM is a crazy cat lady? She would even love to have a

hairless wrinkly rat

Sphynx cat one day.
We hope you've enjoyed finding out a bit more about the lives of our Regional Managers.  And can you match the facts to the person first time, every time?  Good luck!
Regional Field Manager