When it comes to marketing your products or running a promotional campaign, the retail landscape can be difficult to navigate without specialist expertise. Our heritage is in retail which means we understand the challenges faced by brands and can speak the same language when it comes to developing processes that deliver service excellence first time… every time. eXPD8 Display Representatives are in stores across the country every day supporting a whole range of brands, so we come up against these challenges every day – and we know how to combat them. Here's a run-down of the most common pain points brands usually face, and how we can work with you to get around them.
1. Execution is poor
Store colleagues have hundreds of lines to stock, tidy and look after, so there's no way they can give their full attention to every single product. But without visibility across all stores, it's impossible to identify problem stores and even more difficult to fix the situation.
Our national team of trained Display Representatives are skilled in setting up displays to maximise sales and can give your products the regular, focused attention they need.
eXPD8 were the first retail services company to implement tablets across the entire merchandiser workforce, for live data and images from each campaign. Our detailed reporting allows you to drill down into each store and see images of the displays, so you can know definitively the job has been done to the very highest standard.
We offer a range of retail support services so whether it's mystery shopping, product ordering, stock taking or merchandising to planogram, we can offer a solution to resolve any instore challenge.
2. No visibility on your campaign
It's impossible to measure the success of your campaign if you don't know how many promotions have been set up successfully, or whether any of your products were out on time.
We can provide detailed, actionable data, so you can learn from mistakes and put it right not only next time; but this time too: we provide real-time access of immediate results and progress updates. eXPD8 Analytics specialise in providing data analysis, insight and reporting to identify opportunities that improve trading performance. We're passionate about finding solutions and our retail background enables us to truly understand the challenge.
3. Point of sale is wasted
Manufacturing point-of-sale such as shippers and shelf-edging is a significant cost to the company, so it's big waste when they reach store but are not put out, or are put up incorrectly or damaged. In untended stores, it is common to find the shipper has been delivered but is lost or forgotten behind the scenes.
However, these problems are easily remedied when you have a properly briefed merchandiser in store, who will locate the promotional item and assemble it to spec. We also have the infrastructure in place to get POS delivered directly to our merchandisers so they can walk it into store with it, which sees compliance rates soar.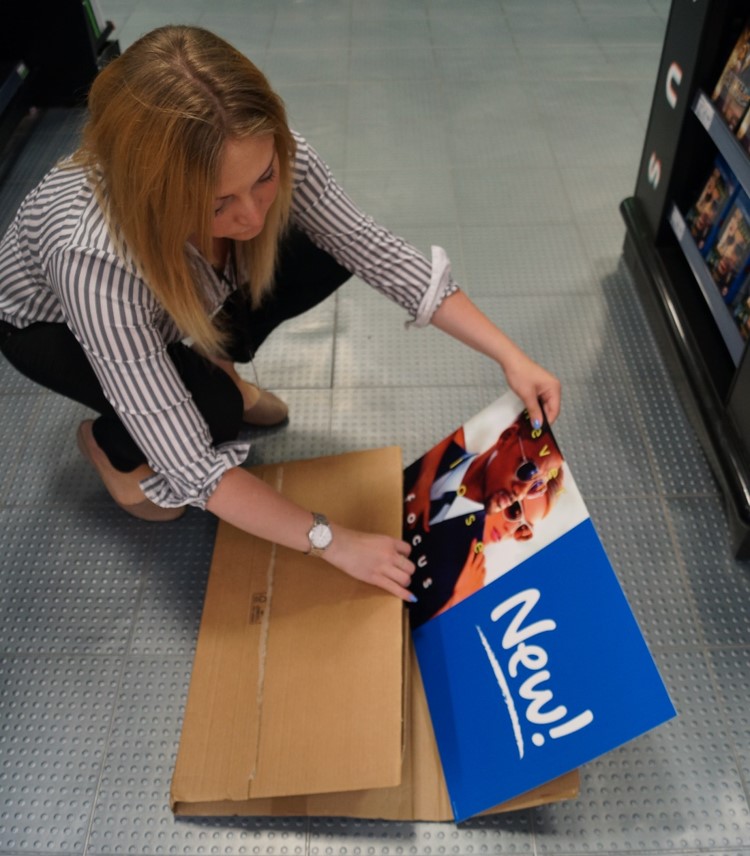 4. Lack of communication with the store
Good communication with the particular department's store colleague is absolutely crucial; it means they'll know where your promotion should be sited and for how long, and that level of rapport means they're much more likely to look after your promotion on the days we're not.
Our merchandisers are in store regularly to maintain those communication lines with store colleagues. We cover every postcode in the UK and Ireland and can achieve over 5,000 store visits a day. We understand flexibility is key in the retail industry so we're able to adapt quickly to any changes or amendments to the brief to ensure you don't miss out on crucial sales. Our merchandisers are fully employed meaning they have access to training, support and each is equipped with a tablet device.
If you want to find out more about our retail support services, please call us on 0117 403 0405 or drop us an email at hello@expd8.co.uk