Want to be in the know about the next social network?! If so, then read on!
Social Media Week is a global conference held in over 25 cities worldwide and this week is the Bristol edition. Having attended this event for the last three years, I know it's a cracking way to upskill, network and explore ideas on key issues in media, marketing and technology.
Today's event was presented by Drew Benvie, Founder at Battenhall and the topic of the day was Social Media Trends 2020 (who doesn't love a trend right?!). Before we delved in, Drew set the scene with a reminder of the sheer scale of the social media giants, with Facebook at the top of the mountain with 2.4bn users.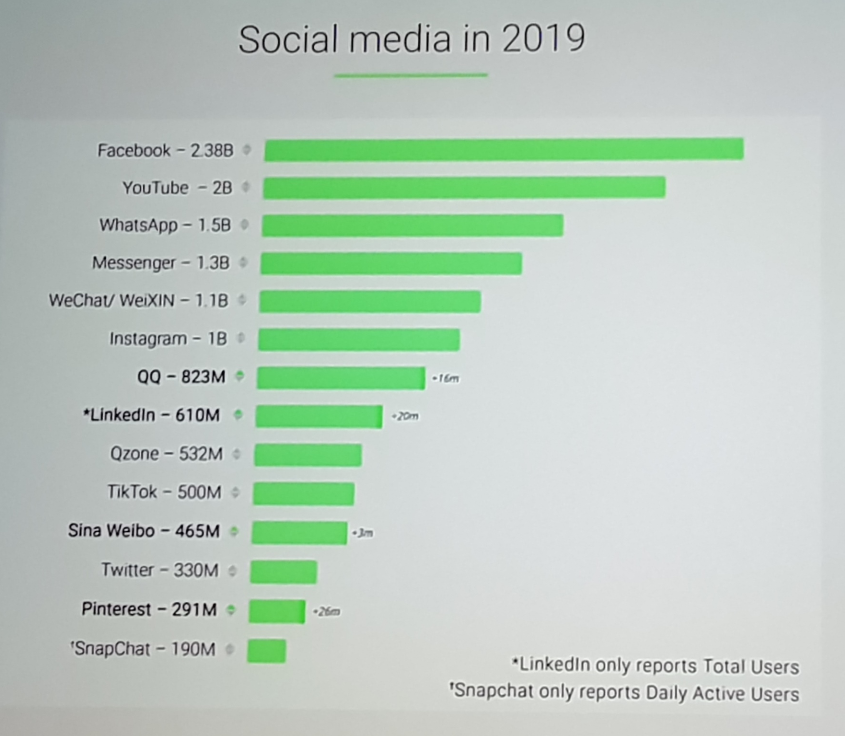 Our lives are now fully intertwined with social media in how we search, socialise, entertain, shop, research, meet people, share opinions – the list goes on. No wonder brands are spending so much time, energy and investment finding innovative ways to use social media to get their message out.
Social media has reached unparalleled levels of influence on society
The big opportunity lies in being able to rise above the noise and the competition to reach your audiences to drive action. So, what are the big things that brands should be focusing their efforts on in 2020?
Trend #1 – The rise of Stories
Battenhall's analysis discovered that the top brands are putting more energy into creating content for Stories than they are their News Feeds.
Story telling is the most powerful way to put ideas into the world today

Robert Mckee
While many of the social media networks use Stories, debuted first by SnapChat in 2013, it's now Instagram who have really taken it by storm. Stories are quietly eating the social world, fundamentally changing how we share and consume content on social media. They are constantly being updated with innovative new features, they are easy to use and enjoy (less pressure for the perfect photo) and they deliver authentic content that naturally drives engagement.
For companies that rely on social media to reach their customers, this presents brand new opportunities—and some real challenges. Stories represent yet another platform requiring attention and demand a mix of more time-intensive video, pics, and graphics. But embracing the Story format may no longer be an option for businesses, but a requirement.
Here are some of the top brands using Insta stories with great success: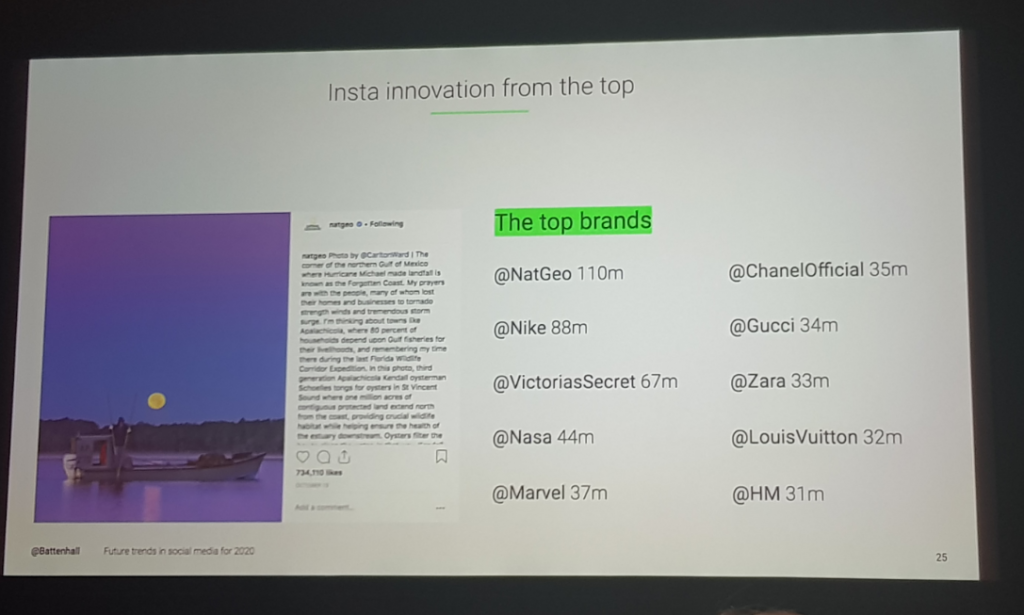 Trend #2 – Insta Reality
While we all love a story, we're wising up to how easy it is to fake things on Social Media. Therefore, brands must embrace real-life storytelling and be authentic. Rhian Robinson from Battenhall took us through some brilliant examples of companies getting it wrong, and a new breed of influencers who are embracing our appetite for authenticity.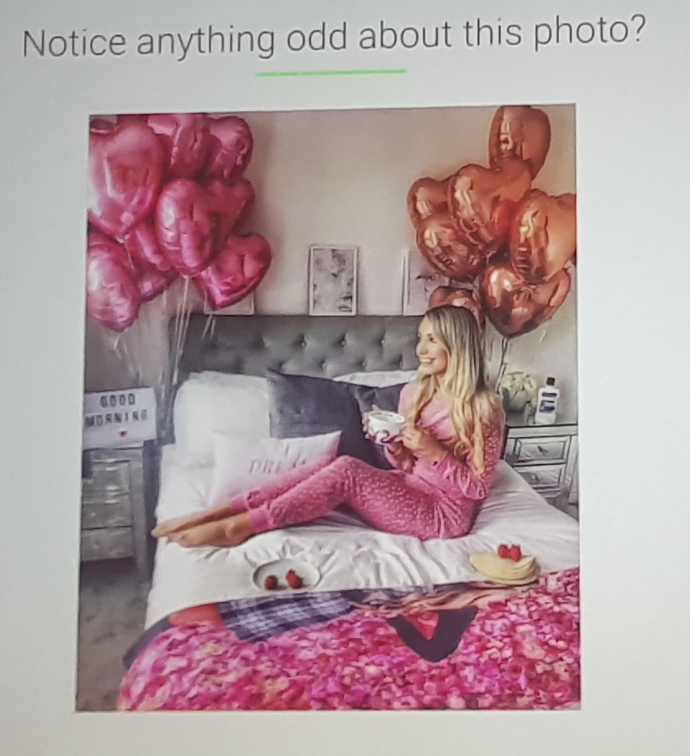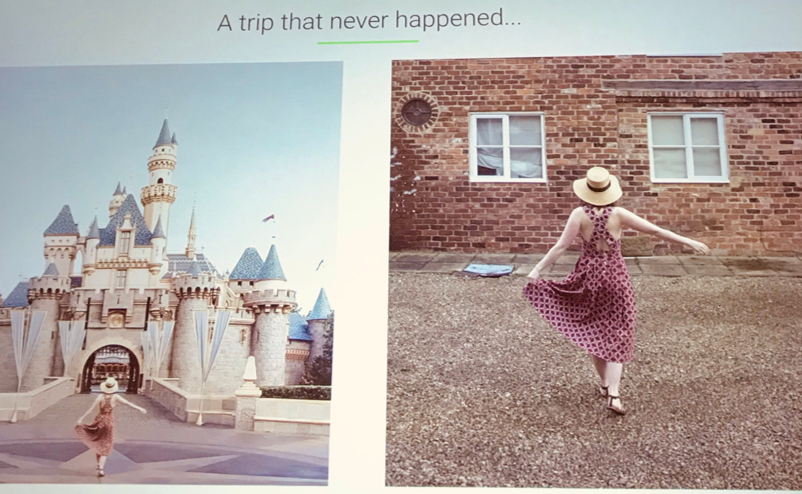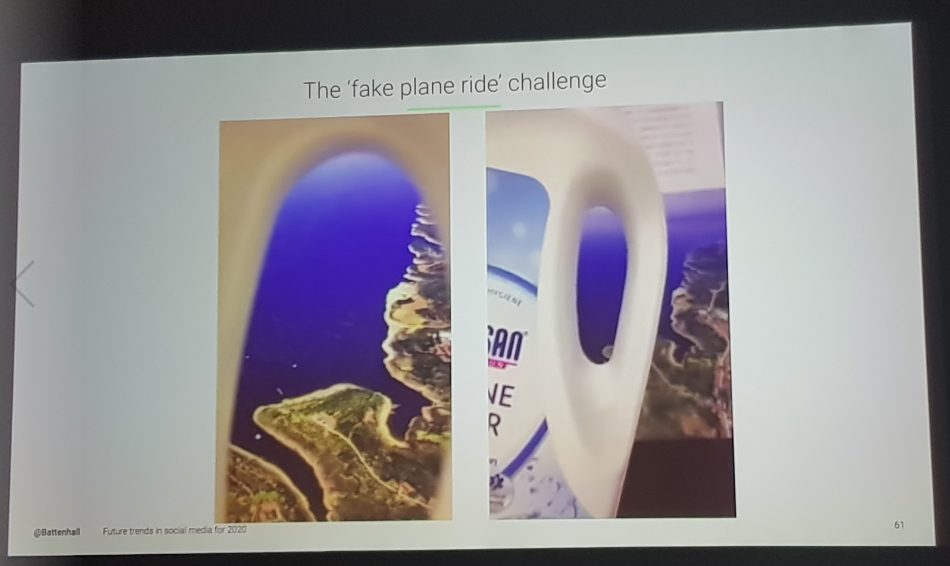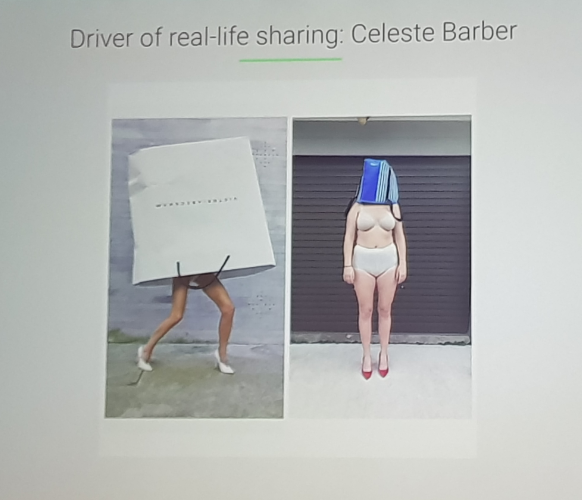 The key message to brands is, if you're using Influencers to promote your products, make sure they're authentic and telling real stories that your audience is going to believe. These influencers might not be the obvious choice. For example, when trying to sell a new hydrating face mask, a spot of social listening revealed it was extreme sports stars (prime targets for help with skin – think world class skier) and gamers (think nocturnal nights and huge, loyal followers) who delivered more authentic engagement compared the more obvious choice of beauty influencer.
So when it comes to delivering a successful influencer plan to an audience who can sniff a fake a mile away, it's about:
The power of niche audiences – look outside the obvious
Building longer term partnerships – start slow and build up
Focus on experiential – use experiences to bring the product to life
Need for authenticity – keep it real
Creative freedom – allow influencers to be themselves. Content doesn't have to be 100% perfect to drive engagement
Trend# 3 – Anti social
With the good, comes the bad and sadly social media networks are flooded with anti-social content – whether that's a staff complaint, customer service issues, fake news or the really ugly political and illegal content.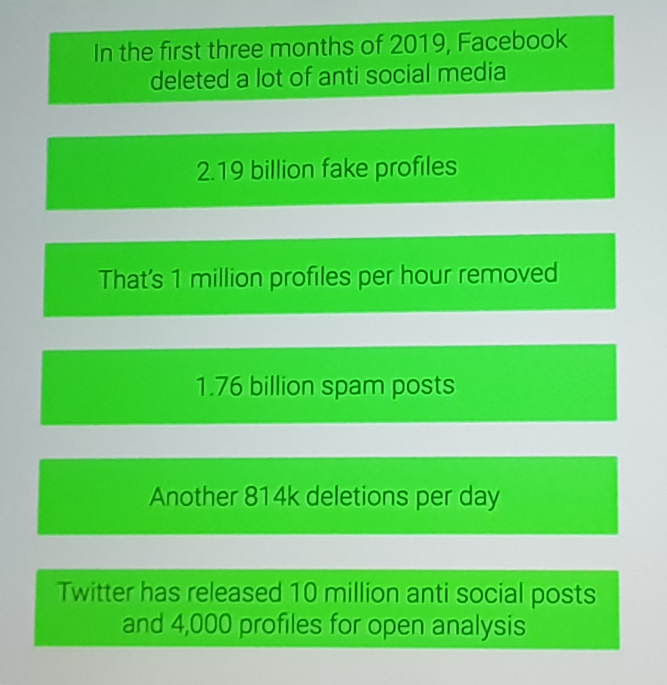 2020 is going to see heavy regulation in the Social Media networks to increase their responsibility to protect their users. Brands are having to take on social policing directly to protect their image and with the move towards more private social activity, it's getting harder for brands to monitor what happens in Facebook Groups, WhatsApp messages and Stories.
Ultimately, it means brands are going to have to get more involved with listening and delving deeper into their audiences content and being more active than ever before, to understand the full picture.
Trend #4 – The next social network
With 500m users, it's already over 30% bigger than Twitter and growing fast. Welcome to Tik Tok! Formerly known as musical.ly), Tik Tok is a social media platform for creating, sharing and discovering short music videos, think Karaoke for the digital age. The app musical.ly was used by young people as an outlet to express themselves through singing, dancing, comedy, and lip-syncing.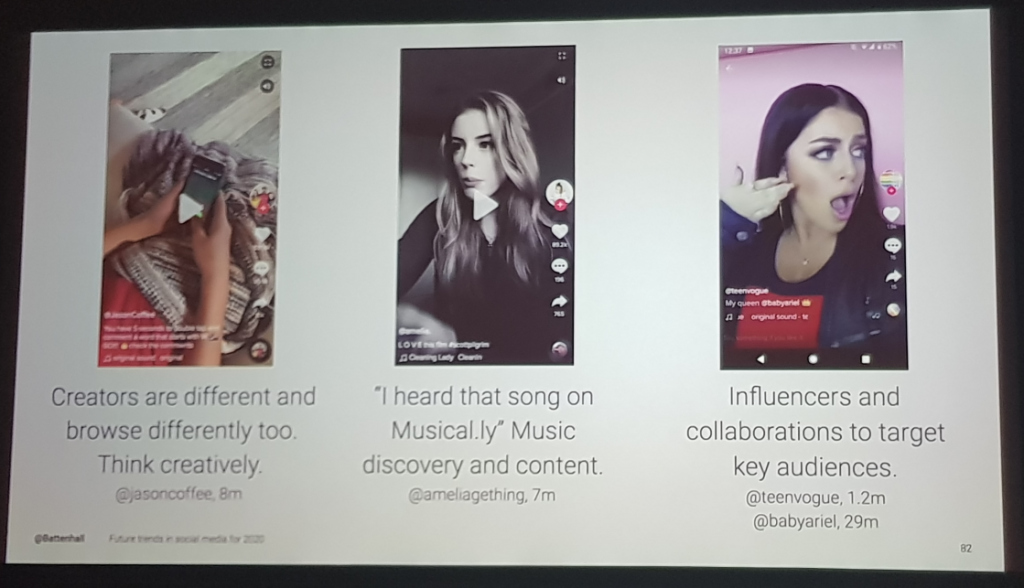 The app has a very dedicated, young community of users. Creating and sharing their own content is now a big part of how teens spend their time online. Teens are moving away from being spectators online to becoming content creators – and the content is incredibly creative! Tik Tok now encompasses more than just music vidoes, it's home to a large volume of really smart, creative content that's fun and engaging and has taken great effort to produce.
While the teen audience might not be the target for all brands, it's often the teens who dictate the future trends in the social world, so watch this space!
So there you have it. Consider yourself up-to-date on the 4 key social media trends for 2020. Here's a great sketch note from Leodo summarising all the key points: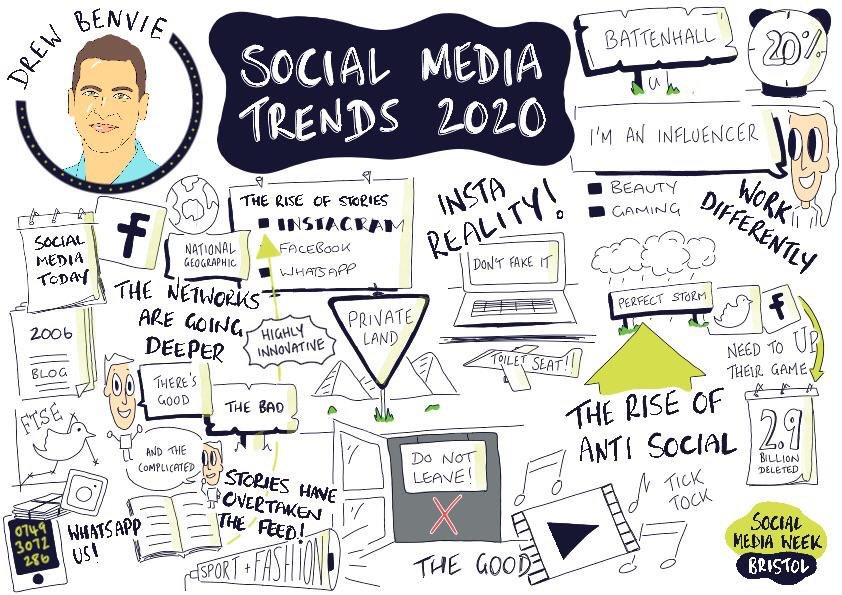 It's now time to consider how you can embrace these trends in your social media strategy to ensure you're reaching and engaging with your target audience in an authentic way.
We have active social media channels at eXPD8 aimed at engaging both our existing and prospective clients as well as our 3,000+ colleagues so I will certainly be reviewing how we can build story-telling via authentic content into our social strategy.
Right now, I'm off to consume some real-life content on my private social channels and ask my teenage cousin what the heck Tik Tok is all about!!
Thanks to SMW Bristol, Drew and Rhian!
Marketing and Communications Director