What is employee engagement and why is it so important?
Good employee engagement is creating a workplace with an atmosphere that allows all employees to feel able to give their best each day. Here at eXPD8 we want our employees to be committed to organisational goals by being motivated to deliver service excellence first time every time and we know for this to be possible, we need to keep engaging our employees.
Engagement is important for both eXPD8 and our employees for when they feel engaged they gain a sense of well-being, pride and motivation for their work, which in turn drives organisational success! Below are some of the ways we make this happen!
1.uPD8
Feedback has shown us that our colleagues here at eXPD8 like to be kept up to date with business changes on a regular basis. Good communication is very important within a business environment and can make a real difference to how connected people feel to their work and to the business.
Good communication is also essential to increasing productivity and creating strong working relationships as it builds trust between an employer and employee. We have made a real effort here at eXPD8 to bring this across to everyone, one way was to hold informal gatherings for our Central Office. This is a chance for a member of our Senior Management Team to sit on the Iron Throne (well actually an assembled piece of cardboard of Game of Thrones – POS). They talk through business updates or new business, structural changes, recent successes and any incentives that we will be launching. This is all filmed and then shared with our lovely managers that work remotely in the field. Our merchandisers also have a chat group with our Director and owner, giving them an opportunity to voice their opinions and ideas.
We also have an employee representative group (ERG) which encourages employees to put forward feedback and questions they have about the business, see my previous blog on the ERG here.
The purpose of these meetings is to give everyone a chance to have their say and encourage communication from all parts of the business.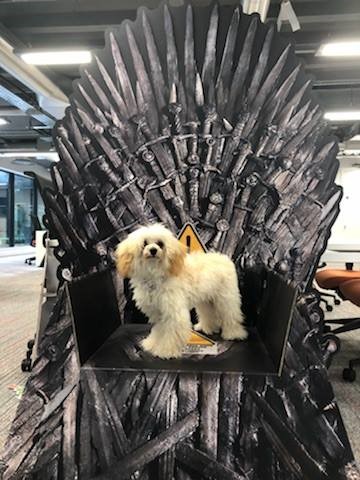 2.cELEBR8
One of the many perks of working at eXPD8 is having a bar right inside our office. If a team has something to celebrate, their manager can book out the celebr8 bar for an evening after work, so that they can eat, drink and socialise!
Opening the bar is a great opportunity for teams to get together to celebrate their successes, unwind during busy periods, bond with their teams and boost morale. Here at eXPD8 we work hard but also love to celebrate our hard work and success and we encourage everyone to get involved in after work celebrations.
Our support teams recently got together to celebrate the success of quarter 4 where they ordered in pizza, drank lots of gin (so I hear) and forgot about work for a little while.
3. mOTIV8
Another way to get people engaged in their work is to have a good appraisal system in place and eXPD8's appraisal system 'mOTIV8' was designed to do exactly what it says, motivate people!
eXPD8's appraisals start off by explaining the company's key objectives, this is an important part of motivating employees as it helps them to feel included in the company's overall goals. It helps them to feel that their achievements have contributed to the overall success of the company and sets out clear objectives for each person to work towards.
4.pARTICIP8
eXPD8 are great at getting everyone involved in fun activities, from launch day dress ups, cinema trips, competitions, quizzes to themed bake offs.
There is always something fun happening at eXPD8 and the great thing is that all these activities can be linked into the work that we do. Just this week we supported with the launch of Bohemian Rhapsody where some of the team dressed up as Queen in celebration of the launch.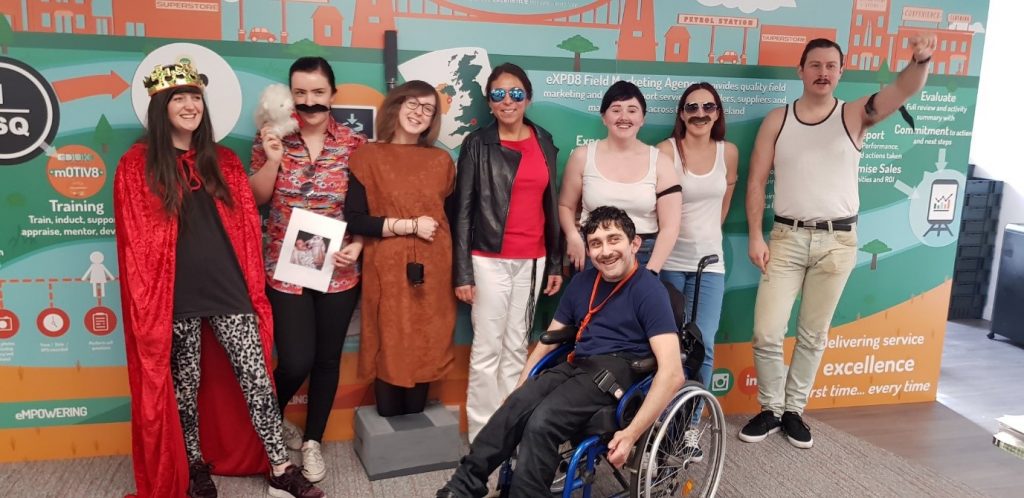 Would you like to work where your engagement matters? Get in contact today.
HR Administrator