Hi, I'm Derri! I joined the eXPD8 team back in March 2015. My journey so far has been an exciting one to say the least; a lot has happened during my 4 years of service.
I moved to Bristol from a sleepy little village in Leicestershire back in February '15 and wanted to pursue a new career and life opportunity. I had previously been working for 2 and a half years as an IT Account Manager in the education sector. My journey started after A-levels with an apprenticeship scheme, so I was fully employed once my apprenticeship was complete. Whilst I enjoyed my time there and gained some fantastic experience and transferrable skills, my desire was to find a new industry and role I could flourish in, as well as having a slice of South West life!
The interview…
The feeling I had after my first interview at eXPD8 Field Marketing is one I can't forget. I knew from that point it was a company I wanted to be a part of, a culture to which I'd belong. When I was offered the role a week later, I was ecstatic, joining as a Client Account Administrator in the Entertainment department.
The induction plan and training carried out during my first 6 weeks was a breath of fresh air. It was reassuring that as a new starter within a busy environment, colleagues took the time to support me and managers were interested in my personal development. I'm happy to say that to this day, it's still like that at eXPD8. Each month we have 1-2-1 meetings with our line managers, as well as appraisals twice a year. Targets and objectives are reviewed regularly, your development is continuously improving, and each month you acquire a new skill or have exposure to a new project.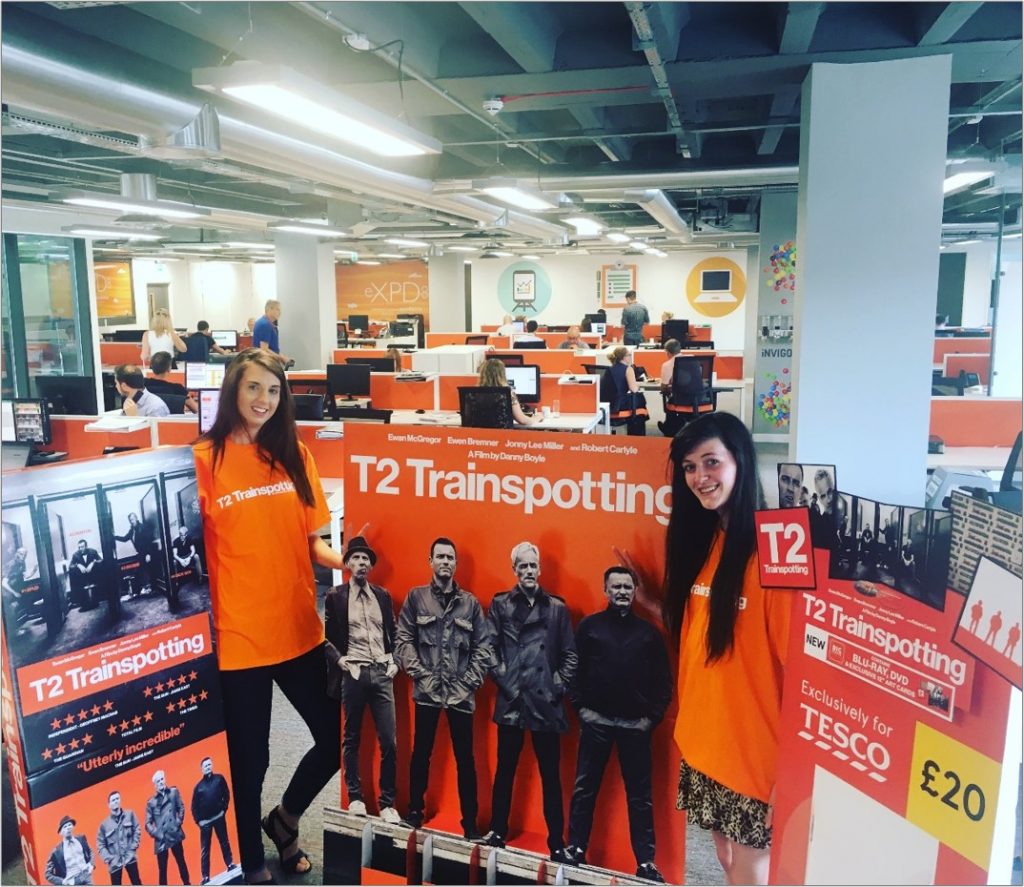 It begins!
My first 6 months were predominantly spent supporting the Entertainment Retail accounts. This was a great insight to the business and what we did as a core role, our bread and butter as it were! I soon moved over to working on the studio-side, due to us winning a shiny new contract. My development took a sharp and steep turn, as this was a new area for me.
I quickly developed a passion for working on this side of the business and supporting the new DVD releases, catalogue and games activities for our clients. This helped me understand that, while the physical market for these products was in decline due to the growth of digital downloads, so much was still being done in retail and on the shop floor to try and maintain physical sales. I soon became interested in market trends, competitor activity and most of all CARDBOARD!
The promotion…
In March 2016, 1 year after joining the eXPD8 family, I was promoted to Client Account Handler with the responsibility of looking after our tactical studio clients. My manager supported my progression into this role and was supportive when challenges arose. While there are problems from time-to-time, because that's the nature of life, the motto at eXPD8 has been to always find a proactive solution and put measures into place to prevent them from happening again.
I very much enjoyed the transition between Administrator and Handler and the challenges it brought. During my 3 years in this role I had the opportunity to work for some amazing clients across an array of strong box office releases and catalogue activities! In no particular order of popularity, some of my favourites are Paddington 2, Bohemian Rhapsody, Greatest Showman, La La Land, T2 Trainspotting, Spider-Man: Homecoming, Mama Mia Here We Go Again, the Must See Movies Before You Grow Up DVD campaign and the list goes on…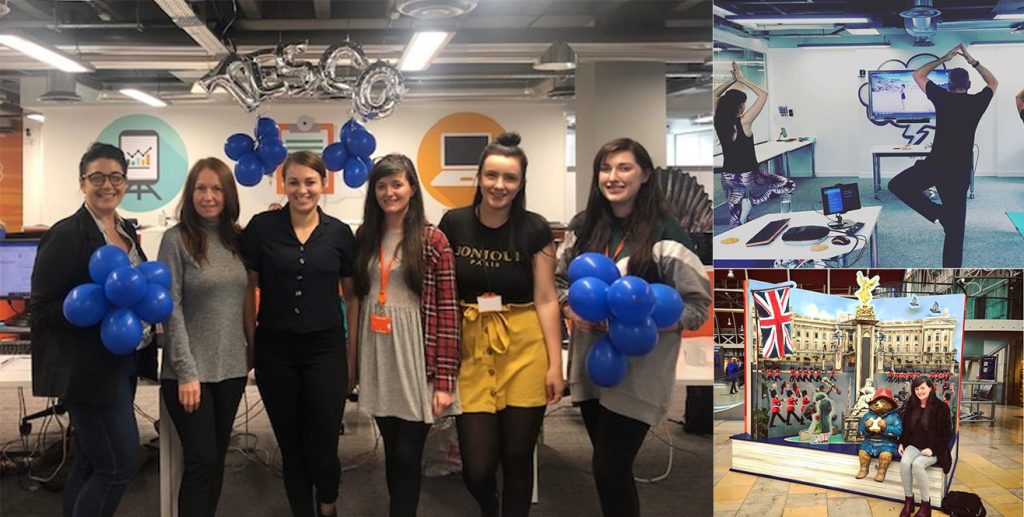 BREAKING NEWS…eXPD8 Field Marketing takes over the merchandising services currently provided to Tesco by Oakwood Distribution!
Yes, you read that right! In March 2019, eXPD8 consolidated its Field Marketing services by taking over the services previously provided by Oakwood Distribution, a subsidiary of Tesco. This was BIG industry news and with that came a world of opportunities, not to mention more than doubling the size of our business!
This opportunity saw eXPD8's fully-employed and trained field workforce grow to over 3,000 employees, providing flexibility and coverage to ensure sales can be maximised across a range of categories. A brand new team was required in Central Office, and I was promoted to Client Account Manager, overseeing the operational delivery for Tesco Entertainment, Bank, Gift Cards and Telecoms.
What had I let myself in for?
Sunday 26th May saw the live date of the Tesco contract, and it's been go go go ever since. My transition into this role was more difficult than previous roles, due to the level of responsibility I now have in delivering to one of our biggest clients, as well as line managing a small team, but it's been worth it. I was fully supported by eXPD8 during the initial few months and everything is now starting to fall into place! I'm looking forward to a very busy Q4 and am excited about what else eXPD8 has to offer in the next few months.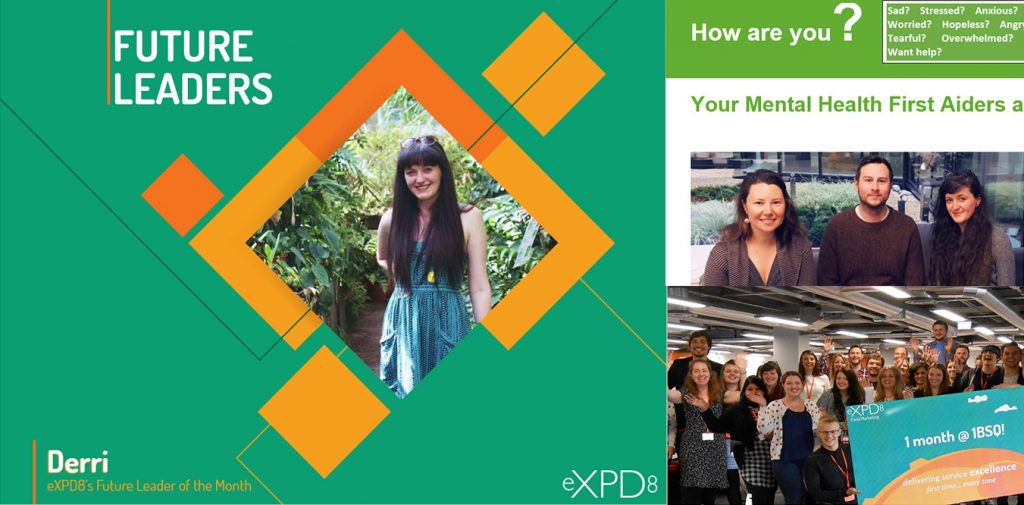 During my time at eXPD8 Field Marketing I've also become a first aider, mental health first aider and I'm currently working towards achieving a CMI diploma in leadership and management along with 7 others.
If you're looking for a role in a vibrant company with development opportunities, then check out our available vacancies by clicking here.
Derri Breslin
Client Account Manager