Blogging, especially when combined with social media is a powerful way to promote a business online.  There are many reasons why businesses have a blog but, in a nutshell, blogs drive traffic to your website, fuel Search Engine Optimisation (SEO), help you engage with your customers and ensure you are seen as a 'thought leader' in your field.  According to HubSpot's report:
A blog can influence a reader's decision to purchase
Companies with blogs have 55% more visitors than those without blogs
Blogs are part of the inbound marketing process, helping businesses attract and convert readers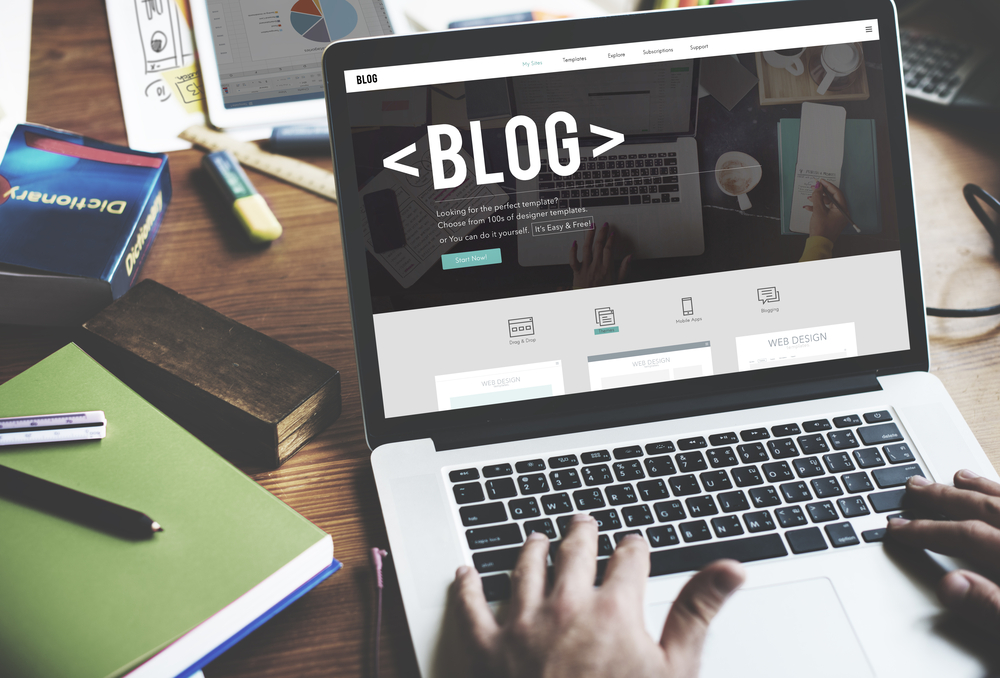 Not bad for a humble blog!  But what are you going to blog about? 
We've all been there.  You need to publish your next blog but the ideas just aren't flowing and you've spent way too long staring at the cursor on your screen.  
There are, however, many sources from which you can draw inspiration and as long as you know your goals and keep your target audience in mind, you'll soon be tapping away at that keyboard.
Here are 54 ideas to get you started:
Answer the top three questions from your clients
Welcome a new member of the team
Behind the scenes content
Day in the life of…
Informational How-tos – especially great as videos!
Essential guide to…
Frequently asked questions
Explain a process relevant in your industry in a step-by-step post – e.g. Critical elements of a XXX, or The art of XXX
Upcoming events
Best-ofs
Provide a free templates, tip sheet, checklist, or other downloadable content that would be useful to your audience
Showcase one of your products or services
Quick tips and tricks
Pros and cons of…
Share your views, opinions and insights of what's going on in your industry
Current trends – e.g. X industry trends to ignore, X emerging trends you need to pay attention to
Interviews with… (e.g. Manager, client, supplier, peer)
Weekly round-up of relevant news/topics
Guest posts from experts in your industry or connecting industries
Stats in your industry that relate to your target audience
Create a seasonal post linked to your service/product
Round up for the year
Myths in your industry
Feature a success story/client
Profile an employee in a post
Profile a long-time customer
Write a "what not to do" or "biggest mistakes" post
Share a personal story to inspire your readers
Write a recap of an event you attended
Post a list of the most useful online resources for your colleagues or clients
Create a glossary of the technical terms and acronyms in your niche
Use annual events and relate them to your product or service
Showcase your charity work
Reveal industry secrets or expose lies
Keyword posts – think about which keyword searches bring customers to your site then write posts on those topics
Read your competitors posts for ideas!
Show your passion. What aspect of your business gets you excited?
Favourites – resources/tools/quotes/blogs/twitter followers/apps etc.
Lessons Learned – best advice, biggest lesson learnt, wish you knew about, one thing nobody tells you about…
Focus on the pain points of your target audience – e.g. How we can help you drive sales, Get more from your (product/service), Stretch your budget by (something to do with your product/service)
Why we don't worry about our competitors
The people who work here
Another perspective on your current situation
Why you won't find ____ at (our Business)
Does ____ matter to you?
What we do when we're not hard at work
And you thought you knew everything about us
This has nothing to do with our business, but it's cool (do this sparingly, though)
What a (something odd) can teach you about (the field you work in)
You're doing it wrong
Technology that empowers me
Problem Solving – what are your clients' problems and how can you help solve them?
Case studies – use a blog to bring a case study to life
Announcements
So there you have it. 54 ideas to get your blogging year started! And of course, you could take a look at our blog at eXPD8 for further inspiration!
Remember to blog smart – keep your audience in mind and write something that is going to give value to the reader – as well as Google.
Marketing and Communications Director