Did you know, the average full time working person spends 50% of their waking hours at work? 

With so much time spent at work, do you want more for your employees? A better work life balance, a healthier workforce, less stress, more fun, lower absence rates? We did, so we set up "Wellbeing@1BSQ", our company wellbeing program designed to make eXPD8 an awesome place to work, heavily led by what our colleagues asked for.
Here are a few ideas to get you started on the right track to create your own office wellness program.
Ask questions, do a survey… What do the majority want? You can't please everyone unfortunately, but you can give it a good go!
We asked people to think of the following statement when answering our survey:
"Well-being is not just the absence of disease or illness. It is a complex combination of a person's physical, mental, emotional and social health factors. Well-being is strongly linked to happiness and life satisfaction. In short, well-being could be described as how you feel about yourself and your life."- Better Health
We used Microsoft Forms to create our survey. This gives you your results in easy to digest graphs, you can also drill down deeper to see individual responses.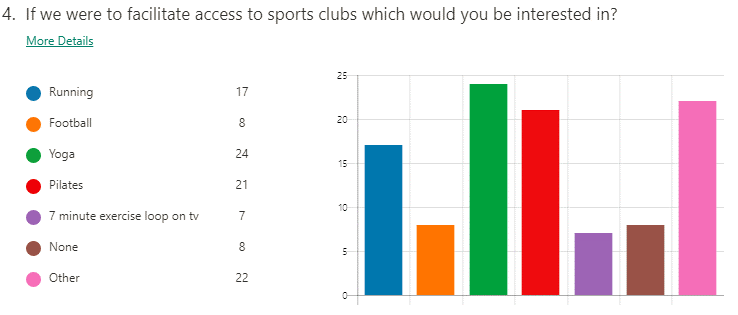 Focus on key areas to determine where you should spend your energy and your budget
Our survey covered;
Financial well being
Physical wellbeing
Mental Health
Our healthcare cashplan
Diet and Nutrition
Beauty and "other"- No one wants to be basic, even in work…
Prioritise based on results
Financial wellbeing was number one for our colleagues:
It just so happens that we have a wealth of financial knowledge already in house with our Group Finance Director Paul Roffey more than willing to allow our colleagues to pick his brains and delve deep in to the thrilling world of pensions and money management.
In case Paul failed to press their finance buttons we also set up sessions with various financial professionals.
An investment club has been set up and is run by our colleagues, with their fingers firmly on the pulse of the FSTE index, those who fancy themselves as a Wall Street trader, meet up monthly to discuss where to invest their hard earned cash.* Buy, buy, sell, sell!
*Usually in the local pub
Invest your budget where the effects will have the longest lasting results.
Mental health was another priority for our colleagues and so, we invested in training two Mental Health First Aiders in our Central Office, there to spot the signs of struggle and to be the first port of call for those in need of a bit of extra support.
Mental Health awareness week is 14th -20th May, why not plan a week of activities to raise awareness in your office, you can reduce illness, raise morale and increase productivity by showing your colleagues how to look after their own mental health. We plan to do a group yoga session, "time to talk" sessions, a wall of gratitude and a hypnotherapy session looking at how the brain functions.
Our colleagues can also access counselling via our Healthcare cash plan.
Mindfulness is a hot topic right now, consider investing in sessions for your office. This will give colleagues the tools to help themselves more effectively in times of high stress.
Involve everyone! One person cannot take on responsibly for the entire programme, engagement is key to the success of your Wellbeing plan.
We have volunteers running these clubs in our office:
Fruit club
Slimming club
Yoga
Running
Get social, get local!
Get your local friendly bar manager on board and persuade them to give you a discount for your whole office!
We get happy hour at our local every Friday after pay day! Drinks are on me!
We got our whole office involved in the International Day of Happiness on 20th March with some great results. You could try some of these ideas: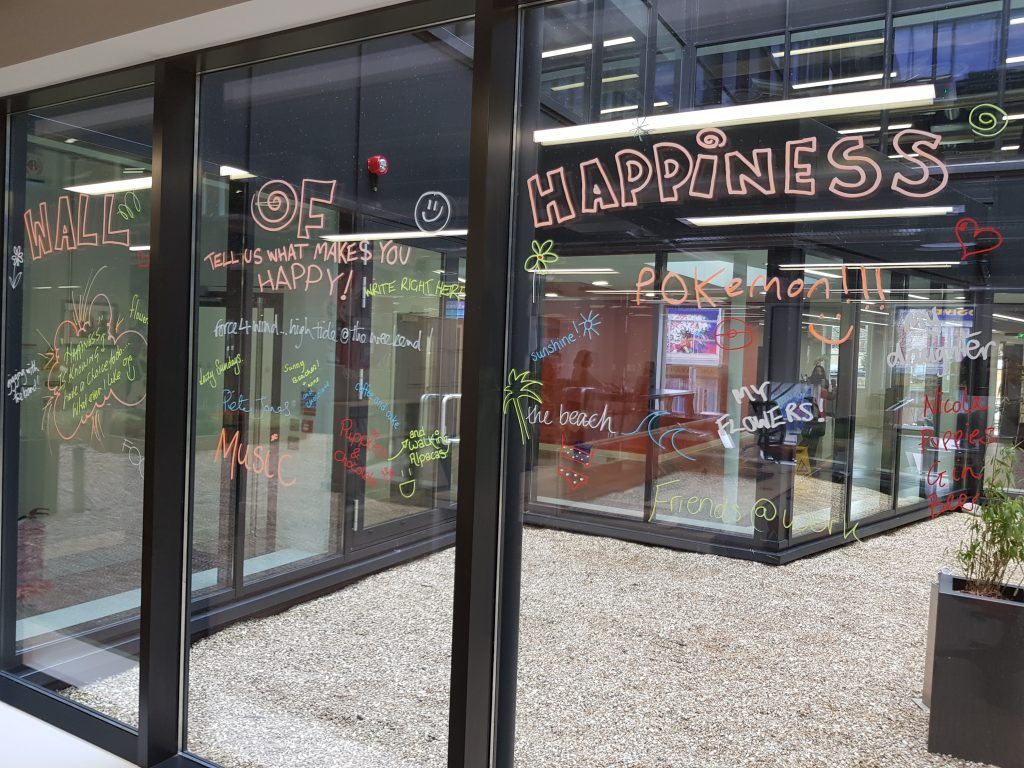 A window of happiness- a set of glass markers and a window, ask what makes you happy? Create a happy playlist of everyone's "happy" songs and sing along all day. Wear yellow! The colour of happiness!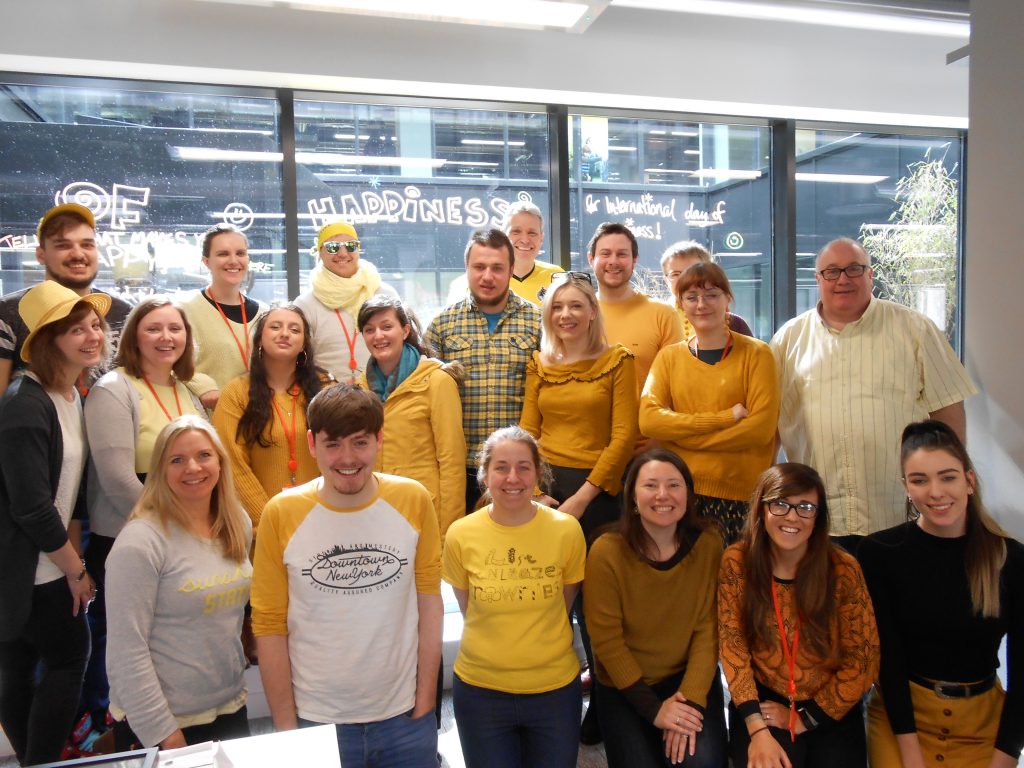 You could of course skip setting up your own wellbeing program and just come and work for us, with all the above, Olive the resident office Dog who helps reduce stress, plus lots more going on, what's not to love?!
Business Support Manager