I joined the eXPD8 family back in 2014, nearly 3 years ago now.  Over the last couple of years I have gained a lot of knowledge and turned into an index-match pro so I thought what can I do with my new found knowledge? SHARE IT!
I started off as an Account Administrator not knowing the craziness of the eXPD8 world. Since jumping on board this fast-paced industry, I have since been promoted to an Account Handler  so I must have learnt a thing or two right? So for any newbies out there who are joining the industry I thought I'd give you some top tips!
Take notes; and lots of them!  You may think 'what am I writing or why am I writing this' but believe me this will be a goldmine for your future at eXPD8. The tips and tricks I have picked up over the years have been the best notes I could of ever written.  Even now I'm looking back at scruffy old yellow paper to recall those vital nuggets to help me deliver the best I can for my clients.
Don't struggle on your own! Ask as many questions you can think of to help make your task make sense, ask colleagues around you or in different departments for help and advice as everyone at eXPD8 all share knowledge and support each other.
Be organised and plan your day.   When working on multiple accounts you may get lost in your work; remember 4 simple things;

Write your tasks lists out never rely on your memory. Be like Santa Clause (or Mrs Clause) make a list, check it twice, this will help with your planning.
Plan in advance – if you know your up-coming activities, there is nothing more satisfying than prepping the activity weeks in advance.
A tidy desk = a tidy mind – I was never a believer of this, however since I have tidied my desk to the new office standard, I am now clutter free and my workload planning has improved.
Organise your team, an organised team equals an organised life!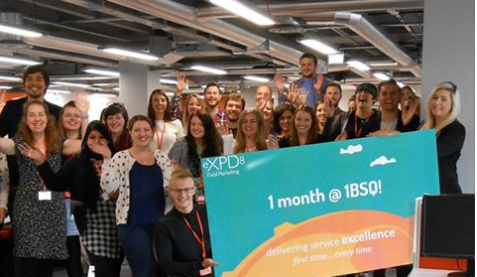 4. Great communication is key, talking regularly to clients will help build relationships, happy clients equals a happy you! Whether it's an email, phone call, Skype or even face to face meetings this will help maintain the relationship
5. Think outside the box! How can we better ourselves? Always think outside the box, if you have a suggestion, shout them out to the team, give yourself challenges. Push your manager for tasks that you don't normally do; this will show you are an eager beaver and are ready to progress
6. Excel Formulas –  Joining eXPD8 everyone talked about this 'Index-Match' thing. I was clueless to what this was, now I have learnt this little formula, it has changed my work life and is now a part of my daily routine!  The best thing about working at eXPD8 is all the cool formulas the data team teach you. I didn't believe that there is a formula for everything but believe me there is!
So, what have I learnt while at eXPD8?  That's it a great place to work simply because of all the knowledge you gain and the people you work with!
Jodie Hanley
Account Handler