Having a great working relationship in store is key to impressive results making for "Happy Staff, Happy Clients and Better Sales".  Having a strong working relationship with store colleagues enables better communication and ultimately better collaboration to ensure we deliver the best possible service for our clients.  It can make a huge difference to a client's sales if we can secure a prominent location in store, ensure the fixtures are fully stocked and that the Point of Sale material remains on the shop floor for as long as possible.
Here at eXPD8, we pride ourselves on generating excellent relationships with our local stores as this really can make the difference between average results and exceeding all expectations.
Here are my 6 Top Tips To Get Store Colleagues On Board….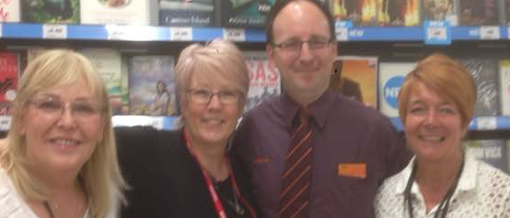 Ensure you are prepared for your visit, have your ID Badge, or if required, Accreditation Badge on show. Don't wear any other stores badge as this won't impress the store staff and this visit is all about the store and the expectations of the client, remember, service excellence, first time, every time.
Ensure you only talk about the store you're in, how great the displays look and how good the sales will beif they allow Free Standing Display Units (FSDU) on the shop floor in prominent, high foot fall locations.
If a big launch is coming up, engage with the staff a few weeks before ensuring they know the date  you're coming in and what the plan is for an excellent first day. Talk up all the key points and provide details of the product to get them engaged and behind the launch.  If there are  any freebies (pens, lanyards, T-Shirts) pass them on as they always go down well!
If you have a spare few minutes explain you have time to help, ask if there is anything you can do for them whilst you're there to help make the department look better – even if it's to take away the rubbish.
Work tidy, don't get in the way of customers and always be polite; good manners cost nothing. If you treat colleagues with respect, they will remember. Show an interest in their opinion and ideas.
Always finish with a smile, thank the colleague for their help and let them know when you're back in store.
Regional Operations Manager