One of the things that is most important to the eXPD8 IT department is that all of our field users have a working mobile device, whether it is a tablet or a smartphone. I've worked in the IT department for nearly 5 years and must have set up at least 500 tablets for the lovely field team, so have a vast amount of experience in this area, and thought I'd share with you all how a day in the life of a mobile device is.
11:00
This is around the time that the post arrives in Central Office via Royal Mail. We usually get between 1-10 parcels a day, and the majority of these are usually tablets. My job is to go through all of them, whether they are from somebody who has left the company, or if the tablet is a faulty device that has been replaced in the field. I do this by checking them against our system, and then recording the current state of the tablet.
11:30-12:30
Now is the time to start testing! The most common problems we see with tablets in the field is that they either have a battery issue (battery does not last a full day for a merchandiser in store), they are slow/freeze a lot (when merchandisers are trying to complete calls in The Cloud the application is unresponsive and slow), or that the tablet intermittently switches itself off in the middle of a user's calls.
If a tablet is reported with a battery issue I commonly test this by charging it up fully, and then playing a YouTube video on it for 3-4 hours. This gives me an accurate idea of how much battery a tablet is using per hour whilst in constant use, it if is using more than 15% per hour this is too much, and shows that there is a genuine fault with the tablet. Once this has been realised, a tablet goes into our faulty supply, and is then potentially sent to the manufacturer for further testing.
If a tablet is freezing a lot, or reported as being slow, I tend to load a Zync Cloud call for myself, and go through the questions and photos whilst in the office. If the tablet still continues to be slow and freeze for me, I can then either reinstall the Zync Cloud app and try again, or factory reset the tablet entirely which gives it a fresh start.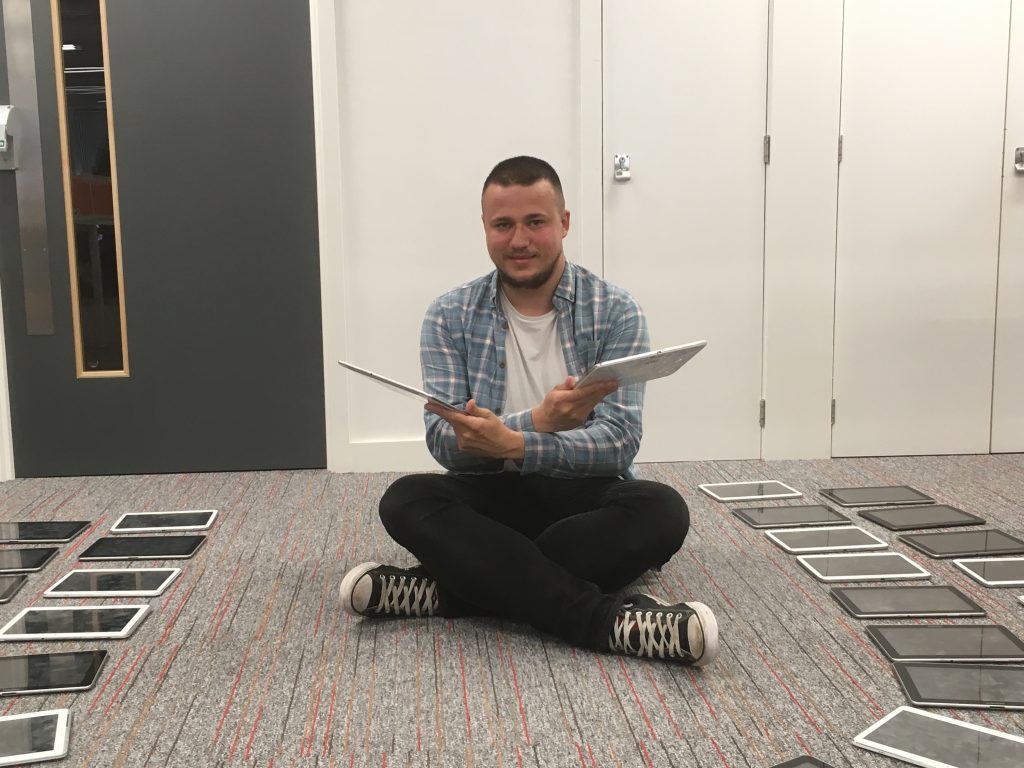 If a tablet is intermittently switching itself off during a user's calls, I will test this by factory resetting the tablet and then will run a YouTube video for a couple of hours. If there is no visible sign of the tablet restarting I will leave it inactive for an hour or so, as sometimes the main fault here is that a tablet will randomly shut down even if it's not being used. If the tablet seems to be working, it is ready to be reused out in the field.
What does factory resetting a tablet consist of I hear you ask?
Once we have completely reset a tablet, I then go through the basic setup of setting up the device (e.g. entering the date and time, choosing the keyboard settings). Once this has been done I amend the screen timeout from 30 seconds to 2 minutes, as it can be very frustrating for users if the screen keeps going to black every 30 seconds.
I then install MobiControl on the tablet, this is the remote management system that the IT department uses to ensure that you receive all of the briefs and other portal files you need to carry out your jobs, it also gives you access to the The Cloud app and the Tablet Self Help Guides amongst other things. Finally, it allows us to remotely connect up to your tablet as long as you have a strong mobile signal, allowing us to troubleshoot any issues for you, such as Cloud issues or battery issues.
Once a tablet has been tested and the fault has been fixed, it's ready to be sent back out into the field! Whenever I receive a tablet in the office from a leaver, these tend to be sent back out the same day to be reused by a new starter, or as a replacement device for a current user.
13:30-14:30
Once I've had my lunch break it's then time to re configure the tablet for the user it is being sent to, so that they can use it to complete their calls as soon as they receive it. I search for the user in our call management system so that I know their username and password.
Once a tablet has been built for a user, it is then synced, so that it picks up all of their live calls for that week and updates against them on our system. This way we have as clear a picture as possible of who has which device in the field.
Whilst the above is being done, I rename the tablet in our remote management system Mobicontrol with the user's name, for easy accessibility should the user ever call in with a tablet issue. I also insert a live Vodafone SIM card into the tablet, and test that it is working correctly during the build and sync process. I then find a suitable charger to go with the tablet, and test that this is working correctly also.
I then put the tablet into a rugged case, this consists of a plastic cover, a rubber case and a strap. The tablets are protected in these cases so that they are less likely to break or crack if they are dropped or knocked against anything, and so they do not look desirable to potential thieves. The strap is added so that the field users can conveniently carry the tablet on their shoulder, rather than having to physically carry it around in their bag.
I load an equipment call for the user, these are then completed by the field user once the tablet has been received. The equipment call is loaded so that the user can confirm they've received the device, and that they are responsible for it in case of any damage or loss.
15:00
Now that the tablet is ready for use it's time to go to the post room! Our post room co-ordinator/hero Steve is always happy to weigh the tablets and bag them up for me, these are then delivered to our field staff via Royal Mail for a next day pre-1pm delivery. Quick and efficient!
After this has been done I then inform the Regional Manager that the tablet has been sent out, and then I start all over again…. ?
Jack Bailey
IT Support Administrator