At eXPD8 we believe in driving the best possible return on investment for our clients and in turn, having the ability to recommend the store base, frequency and way in which those stores may benefit from merchandising support. By using key data, collected from our calls alongside sales data by store and SKU we can drive effective merchandising plans for our clients and ensure the right stores are being visited at the right time, for the right task. Below are a few examples of how we have achieved this in the past to benefit our clients.
Client Y requested that instead of visiting stores for replenishment at the same frequency and at the same length of visits we instead tailored our visit plan to the stores that were low in compliance and in sales versus their peer group – this to further support underperforming stores and increase sales whilst effectively managing our clients costs efficiently. It was important to them that the visit plan was based around the following:
Focus on low compliance stores and increase their visits/replenishment – eXPD8 already visited these stores on a weekly basis so could easily track their average compliance. If stores scored less than 80% compliance on average they were considered a "low compliance" store.
Focus on low sales stores and increase their visits/replenishment – eXPD8 were provided with all stores sales, by category and by week – This was then mapped against their peer group (stores of a similar size) to see if they were higher or lower sales than an average store of that size. Any stores -20% below their peer group were considered a "low selling" store.
In a similar way, stores that were "High Compliance" and "High Sales" should have their visit frequency and replenishment reduced.
Another important point was that this model would be flexible, compliance and sales would be reviewed every 12 weeks and the store visits would be altered accordingly.
eXPD8 reviewed the 12 week compliance average by store. These stores were then termed group A,B or C depending on whether they were high or low compliance stores.
We also reviewed 12 weeks of sales by store and by category. The average sales by size of store was then calculated to determine the average sales for that peer group. These stores were then termed group A,B or C depending on whether they were high or low selling stores.
For compliance:

A Band stores – were 90%+ compliant for the last 12 weeks

B Band stores – were 80%+ compliant for the last 12 weeks

C Band stores – were -80% compliant for the last 12 weeks

For sales:

A Band stores – More than 20% above their peer groups sales

B Band stores – Between +20% and -20% the Peer Group sales average

C Band stores – More than -20% below their peer group average
From these bandings, stores that were graded as "CC" (low in sales and compliance) received an increase frequency in their replenishment visits. eXPD8 Collated a central databased which could be refreshed every 12 weeks to bring to light stores that were low performers, the visit frequency could then be reviewed. An example of a "CC" store banding can be seen below:

In addition to "CC" stores, other low performing bands were also considered at other variations. Such as "CB","CA". An example of another variation can be seen below: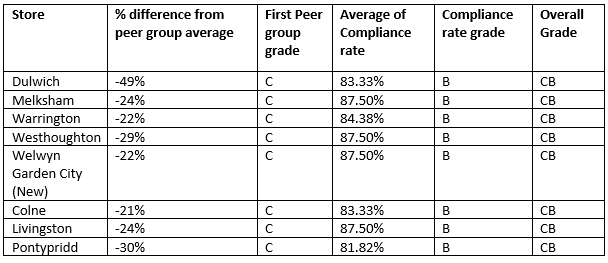 Results:
Stores were allocated a different frequency of visit and a different length of call based on their "overall grade" – visits to store were then conducted for 12 weeks. In the 10th week the stores were reviewed again to see if their grades and %'s had improved. Stores that received a significant enough improvement to move them up a letter grade would then have their visit schedule changed and a new store would be selected for support based on their results and needs.
This allowed our client to ensure the right stores were getting the right level of support based on their specific needs.
Client costs were managed efficiently ensuring that stores did not receive excess support where unnecessary.
Where stores did not improve in % or grade, an eXPD8 Regional Manager was asked to schedule a meeting with the GM Manager to understand if there were any further underlying operational challenges in the store (such as warehouse organization or long term staff sick) for us to be able to feedback to our client.
Below shows 12 week results after 12 weeks of stores that had improved/not improved in terms of sales and compliance. Overall average increase in both areas were found.