It is no secret that 2018 has been a testing year for the UK retail market. Several long-standing retailers have ceased trading and the uncertainty around the political climate has lent a hand to customer hesitation around where or how (or how not…) to spend their hard-earned money. It seems that not a month has gone by this year without some form of negative headline regarding either the demise of the UK high street, physical product or the threat of things to come. This being said, as we take a look at the performance of Q4 or the "Golden Quarter", there is proof that everything isn't doom and gloom out there and there are some uplifting stats to raise our spirits as we head into 2019. Here at eXPD8 we have several exciting opportunities as we head into 2019 and on review of some of the Q4 2018 figures we are eager to get the New Year underway and spring-board into what promises to be a successful Q1 and Q2. So here are a few things we can take away from Q4 – a positive look at the UK retail market this Q4!
It is well versed that online and digital sales are thriving each year – Accountants at PwC predicted that 77% of Black Friday Shoppers would make their purchases online this year, compared with just 17% in physical stores. This being said, this does contribute towards a positive news story for the physical market place as the peak in sales has been seen to elongate across several months rather than a spike in December seen in historic years. We will take a look first at the success in sales this Q4, combining physical and online, and then review what this means for the overall trend across the Q4 period YoY.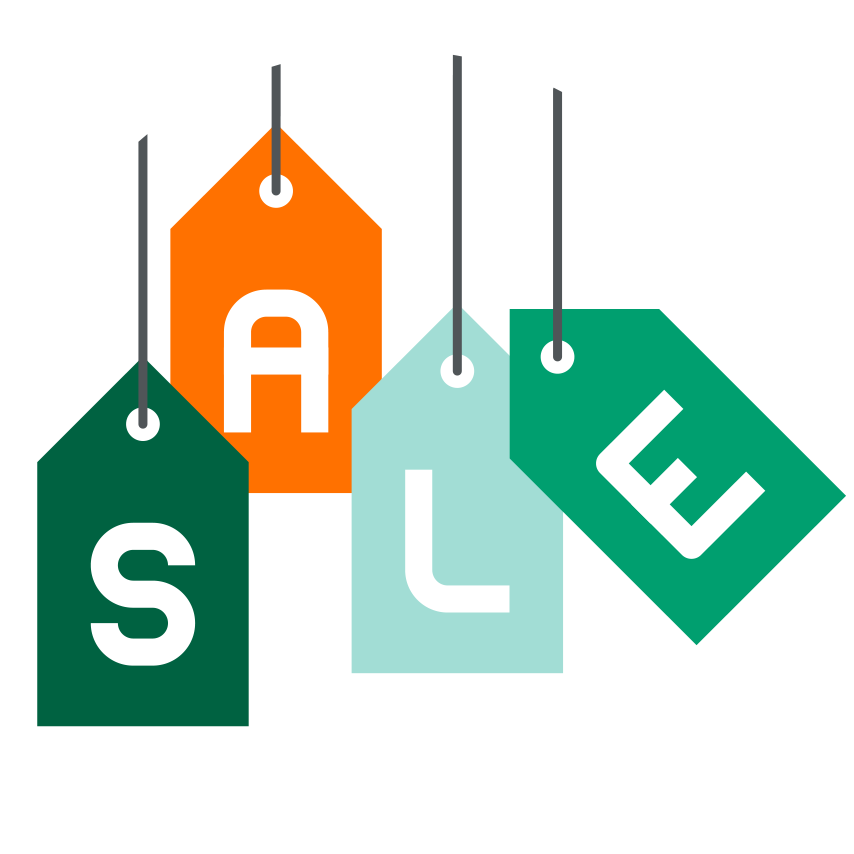 November and Black Friday 2018 –
November 2018 has seen an extension in the discounted offers period available to customers, 67% of all discounts offered were presented between the Monday and Thursday leading up to Black Friday – a 17% increase from the previous year. What this week-long offer period means in terms of customer response, is that customers now have the ability to make more informed decisions on how they spend their money. Google specifically stated this November that Black Friday week searches have increased 80% over the last two years. Customers now have the ability to sit back and review all offers available to them over the week rather than the impulse purchase behaviour of previous years. What this also means, is as this discount period extends online, the physical retailer also matches this extension – meaning more footfall throughout the month of November.
Not only did the week-long bonanza contribute to an increase in sales throughout the week rather than one day specifically, 2018 also saw an increase in sales on Black Friday itself with online sales up 78% on last year by 7am – Amazon specifically noting this as their busiest single day of the year. 194 million Internet Browsing hits were on Black Friday alone (with 1.2 billion website visits across the week itself). Focusing on online spend specifically, Mobile purchases overtook desktop transactions in 2018 YoY, signifying a younger audience has embraced Black Friday. UK spend on online retail sites on Black Friday this year reached £1.49bn – a positive 7.3% increase from 2017.
But what are people buying exactly..? Barclaycard statistics this year suggest that consumers are in general spending less but buying more. Shoppers appear to be buying small gifts for themselves rather than larger pre-planned purchases. As expected this year, electronics sold well. However, this year the biggest growth in terms of web traffic was in the grocery sector, with a 12% YoY increase.
What are the changes in consumer habits moving from November to December –
When we view the trends moving from 2013 right through to 2018 we can see a clear change in customer habits throughout Q4 over the years. This can be illustrated in the below graph obtained from the Office for National Statistics. This shows a developing pattern in consumer spending between November and December, as growth into December slows down over the years but a greater spread in spending across the two months is seen collectively. In November 2018, the monthly growth rate was 13.2% in contrast with 8.7% in November 2013. In 2013, the growth in December was at 17.6%, slowing to 11.6% in 2017.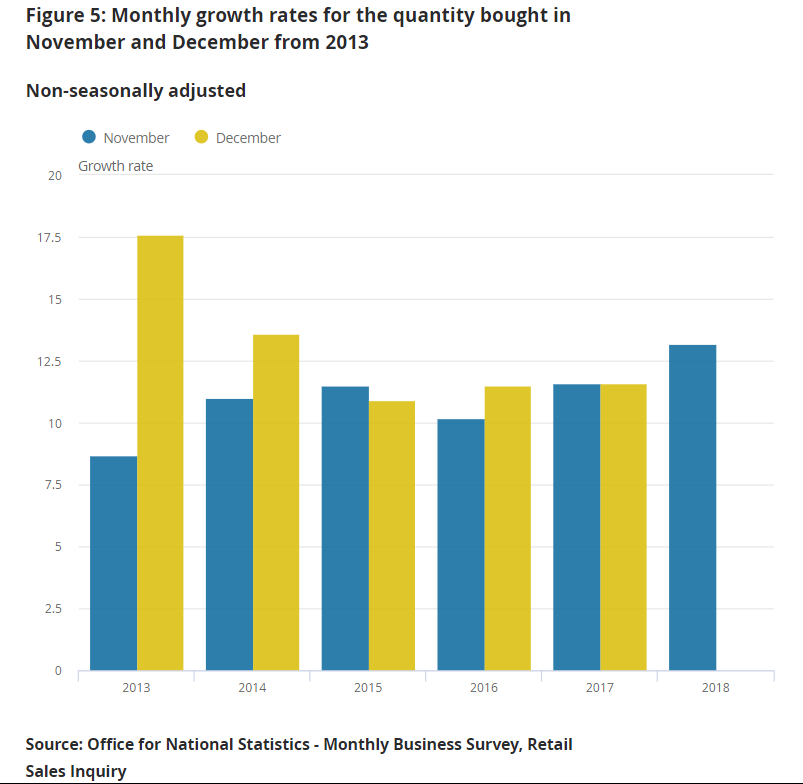 The area with the highest growth YoY collectively (Physical and Online) is that of electrical appliances which has seen an 11% growth from 2017 – this likely largely contributed to by Black Friday and the lengthening of this sales period. Key AAA gaming launches this Q4 such as Red Dead Redemption 2, FIFA 19, Call of Duty: Black Ops 4 in addition to thriving sales of Nintendo Switch Consoles also have created an increase in consumer spending in this sector specifically – aiding the electricals category as a whole.
Conclusion and Overview –
As I write this we are currently in the penultimate week of December. End of December / collective Q4 sales figures for the UK Retail Industry are yet to be announced. With the above in mind however, we are able to see that not everything is doom and gloom in the retail sector and these statistics give us something to celebrate as we move into 2019. Whereas online spend continues to thrive it does benefit the physical market place as elongated offer periods in store are set up to match the online stores – driving customers into shop doors throughout November and December rather than a large spike in footfall in December. If you need any support going into a prosperous 2019 why not contact eXPD8 Field Marketing and discuss how we can help your brand and sales soar into 2019 with increased availability and representation.
Client Services Controller