Black Friday has become a controversial event in recent years with many discussions as to why it is and isn't great for retail.
Black Friday is an American concept originally starting the day after Thanksgiving and has been regarded as the beginning of the country's Christmas Shopping season since 1952 (1).   It slowly crept onto UK shores in 2010 with the advent of online shopping and with retail giant Amazon offering discounts – but not many of us noticed back then.  The only thing that came close to Black Friday in Britain was the traditional Boxing Day sales. A discount day before Christmas was unheard of.
In 2013 Asda, which is owned by American retail giant Walmart, had a Black Friday sale and offered huge discounts on a range of goods, including TVs and laptops. And thus began the yearly event that fuels our pre-Christmas shopping frenzy both online and in the shops.
Black Friday appears to be growing in popularity year on year in the UK. In 2016, total spend on online retail sites on Black Friday 2016 was £1.23bn, marking a +12.2% increase on the £1.1bn spent on the same day in 2015. (2)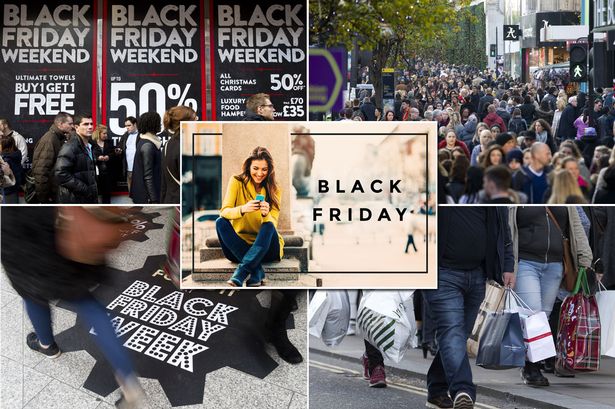 However, this event is changing the retail landscape dramatically over the Christmas season with clear evidence of spend being shifted forwards to November with less being spent in the immediate run-up to Christmas.  It can be a difficult adjustment for retailers which have to cope with another spike in demand to rival Christmas and the January sales.
So is Black Friday a good thing or not?
Shoppers last year in the UK spent £5.8 billion and nowadays people can buy both instore and online to take advantage of the bargains.  However all this takes place in the run up to Christmas, a time when people are more likely to expect to pay full price for the goods, so effectively retail outlets are giving a sale when they don't need to.  The traditional times for sales has always been January whereby prolonging the pre-Christmas purchasing frenzy.
Another problem with Black Friday sales online is that people buy without really committing to the purchase, meaning that once the goods arrive they may well have changed their minds and 1 in 4 simply returns the goods.  The problem this creates is that these returned goods have to be checked, repackaged and returned to the store, this can take several weeks, meaning that these goods are no longer available to the retailer at the busiest time of the year.
The above points mainly deal with the financial aspects of Black Friday. More damaging to the Retailers reputation are the scenes of fighting, pushing and general mayhem shown in the media during the Black Friday sales.  This almost seems to set a precedent for what is acceptable behaviour at this time.  To combat this stores have had to put on a large amount of extra security. Surely this detracts from what is meant to be a pleasurable experience and in fact 2014 Black Friday sales found that 75% that had shopped on that day had a bad experience.
Black Friday is nevertheless increasingly important to retailers, for whom big sales event are an opportunity to improve conditions on the battered high street  This early spending shift could soon sound the death knell for the Boxing Day sales, which have already been eclipsed by Black Friday.
Customers and retailers alike need to adjust to this new shopping event on our calendars, because whatever with think of this sales event , it looks like Black Friday is here to stay.
Bettina Edwards
Regional Operations Manager
(1) https://en.wikipedia.org/wiki/Black_Friday_(shopping)
(2) "Black Friday UK stats: 12% increase on last year (but lower than forecast)". Net Imperative. December 1, 2016.