Here at eXPD8 we are extremely fortunate to have worked on multiple books launches in a variety of retailers across the UK and Ireland. We are proud to be the only merchandising agency which is preferred supplier in Sainsbury's, ASDA and Tesco, as well as working in Morrisons. This means we can land large scale activity simultaneously across the top 4 grocers.
With an average Day 1 launch compliance of 92%, we have supported with some of the biggest book releases in recent years, delivering improved compliance, availability and ultimately sales for our clients. eXPD8 merchandisers delivered a fantastic 94% Day 1 compliance for Michelle Obama's international best seller 'Becoming', which proved instrumental towards the success of the campaign within Sainsbury's. Similarly, in Asda, eXPD8 achieved a 90% compliance for the launch of Barack Obama's 2020 title, 'A Promised Land'.
From the highly anticipated follow-up to The Handmaid's Tale, 'The Testaments', to children's classics from the biggest selling children's author to have started writing since the year 2000, David Walliams; we have supported across a wide cross section of book genres and publishers.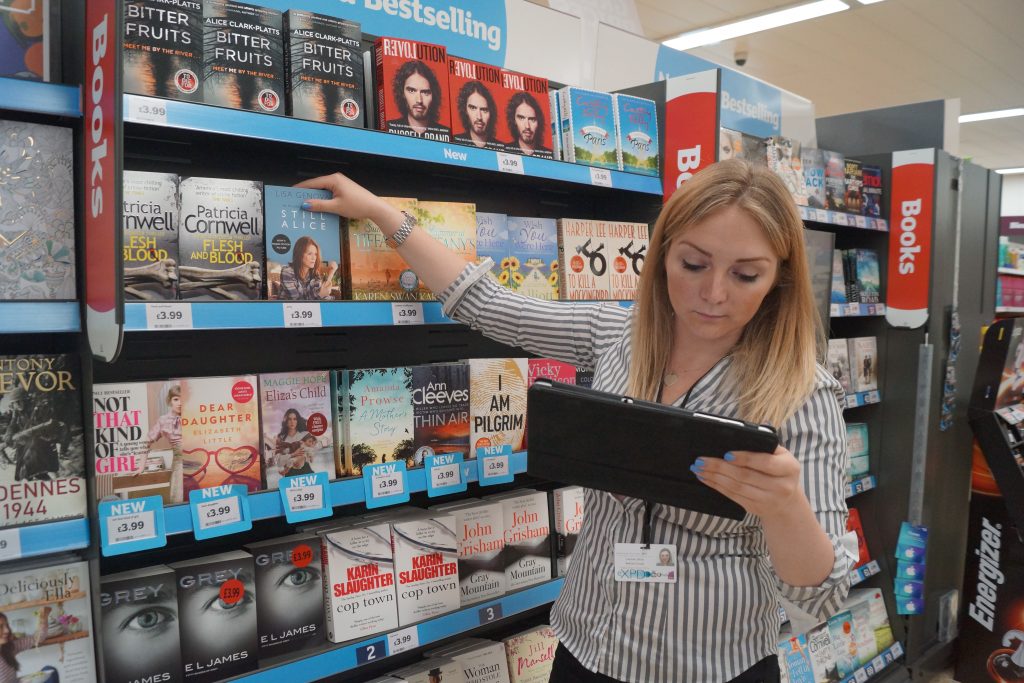 What do we do in store?
We pride ourselves on providing first-class retail support, applying our expertise to each activity to ensure the best use of resource and time in store for our clients – but what do we actually DO in store to deliver this?
Our books merchandisers are trained to support in a variety of ways and have strong relationships in store to help successfully deliver the varying needs of clients. We regularly support by building launch day Point of Sale and ensuring it is placed correctly in high footfall areas of the store, merchandising permanent fixture or shippers and supporting stores with chart change overs to ensure new titles are on display. We can even walk in POS for clients which typically increases Day 1 compliance by 20%!
Replenishment activities are also hugely important as following any Day 1 success space could be left looking sparse, so merchandiser support to ensure ranged space continues to remain well stocked is critical to the longevity of the campaign.
We also work with stores to ensure SELs are on display and correct for your products, as we all know if a customer cannot find what they are looking for, or the correct price for it easily, they are likely to either not purchase the item or buy it elsewhere.
Another great thing eXPD8 can do during launch day is provide store level feedback, as merchandisers are effectively your eyes and ears in store. This helps clients understand the successes and any potential challenges as they develop, enabling us to work with you to create resolutions and implement these wherever possible while we are still in store.
Day 1 availability – what happens if we don't merchandise?
Day 1 availability is key not just for availability and sales, but for creating repeat customers. If a title is not available in stores when it should be and customers have travelled to stores to purchase that item, it can have negative knock-on effects not just for sales in the short term, but the stores reputation and loyalty of customers ongoing.
Due to our fantastic relationships in stores built over the last 18 years, we are proud to deliver an average eXPD8 influence of 59% for Day 1 book launches. This means that on the morning of the release for a new title, typically only 41% of stores will have set this up. Therefore, merchandisers are able to increase availability and essentially boost possible sales by 59%. To put this in perspective, if 500 stores were visited then 295 stores could be non-compliant on Day 1. In terms of a £6.99RRP, this could mean an excess of £41,000 of stock not on display in store.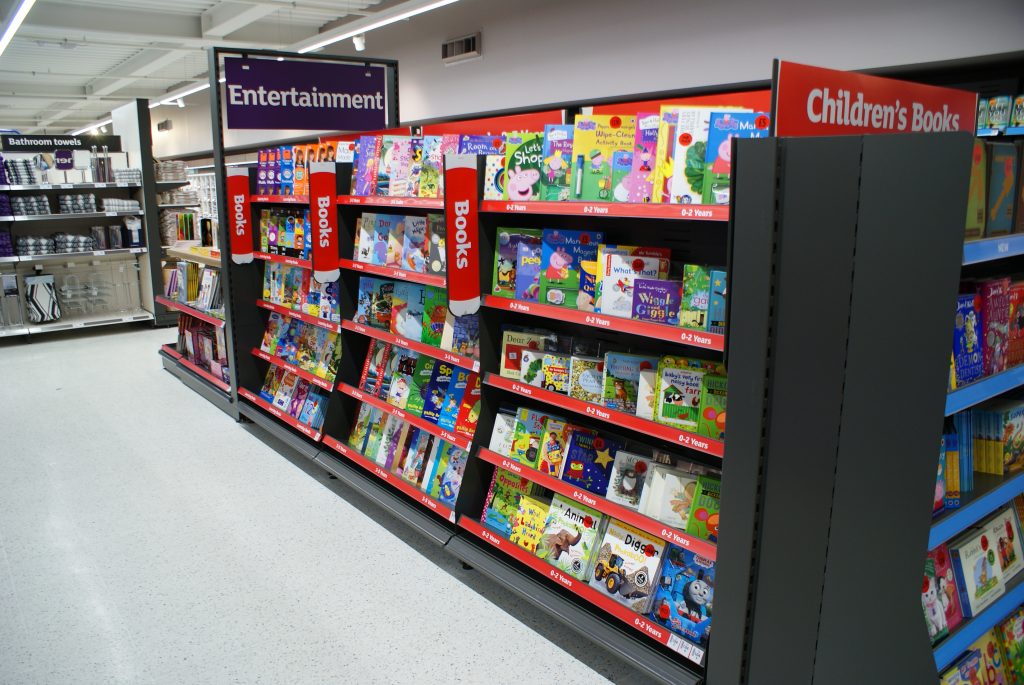 How else can eXPD8 support Books in store?
It's not just new release titles in our remit. eXPD8 have worked on a wide variety of other campaigns across the retailers. From supporting Sainsbury's each year with the implementation and weekly replenishment of their Annuals Shipper campaign in the run up Christmas, to supporting ASDA with a high-profile event for World Book Day, where merchandisers walked in circa 90% of ranged POS and completed almost 1,400 calls in one day, we've got you covered!
What you might not know is we also merchandised World Book Day in Tesco, so eXPD8 are equipped to support and land Books campaigns in a variety of retailers, considering each client's specific requirements, varying in store processes and multiple elements of temporary POS and permanent ranged spaces.
We are no one trick pony when it comes to books activities – did you know we also have experience with:
Range Changes – We have supported retailers for a number of years to de-merchandise and re-merchandise space in store, adjusting the flow of bays to improve the customer journey and re-plan space with new POS and stock to drive sales or to provide them with a fresh look.
Chart Changes – Supporting stores with fortnightly chart changes, resetting titles on the bay to showcase the newest releases.
Replenishment – Regular replenishment in targeted stores to drive availability within wither the department of for the longevity of the campaign, as well as driving overall ROI for the retailers,
Returns – Supporting stores to manage overstock, booking it for return to help maintain warehouse standards and avoid shrink so that space can be made for new titles.
Enter a new chapter with eXPD8
At eXPD8 we have a proven track record of delivery and improving compliance within the Books sector. With a workforce of over 2,800 merchandisers, we can accommodate large Day 1 activity across the UK and Ireland, across a very wide range of retailers, so we really are your eyes and ears, providing you with insight at a shop floor level. We can also provide real time images through our online photo management platform PXL8.
If you would like to know more about how we can merchandising support could benefit you, please get in touch with us here.