A day in the life of… eXPD8 Account Administrator, Leila Alloush
For me, Mondays are typically where a lot of the action is.  I've been part of the small team that creates the eXPD8 Retail Insight (RI) report for over a year now and I'm currently responsible for the Sainsbury's section.  The RI report provides a great overview of all the entertainment activity in the four main grocers and hmv each week, both new DVD releases and catalogue  activity (older DVDs), and is tailored to the requirements of the clients that we send it to.
Getting this information involves coordinating with the team of specialist Retail Insight representatives that work in the field – they will visit stores and relay all the charts and pricing information we request over the phone, and then take high quality photos of all activity in store.  It is my responsibility to ensure that all known activity is captured before setting to work on the pages of the report, which I have prepped the Friday before.  Attention to detail is crucial and the presentation has to be perfect!  This report relies not only on accurate representation of the array of activity in stores, but also on our ability to provide key industry insight to our clients.
As Mondays are also when the eXPD8 Entertainment team support a high volume of our weekly work, including new DVD releases, this means that there will be plenty of reporting to be getting involved with.  Once merchandisers complete their calls, data from their tablets can be accessed in the office and used to process reports and updates that we send across to the clients.  It's essential that the reports we send are accurate and insightful, so I will spend time thoroughly checking the responses, photos and feedback so that any issues are flagged and we can work on fixing them as soon as possible.  This may mean calling stores, arranging for spare POS to be sent in or updating our Account Managers based in Asda and Morrisons so that any major issues can be raised directly with the retailers' house teams.
We also like to celebrate the big DVD releases with a bit of competitive fancy dress!  Here's me as Cruella de Vil!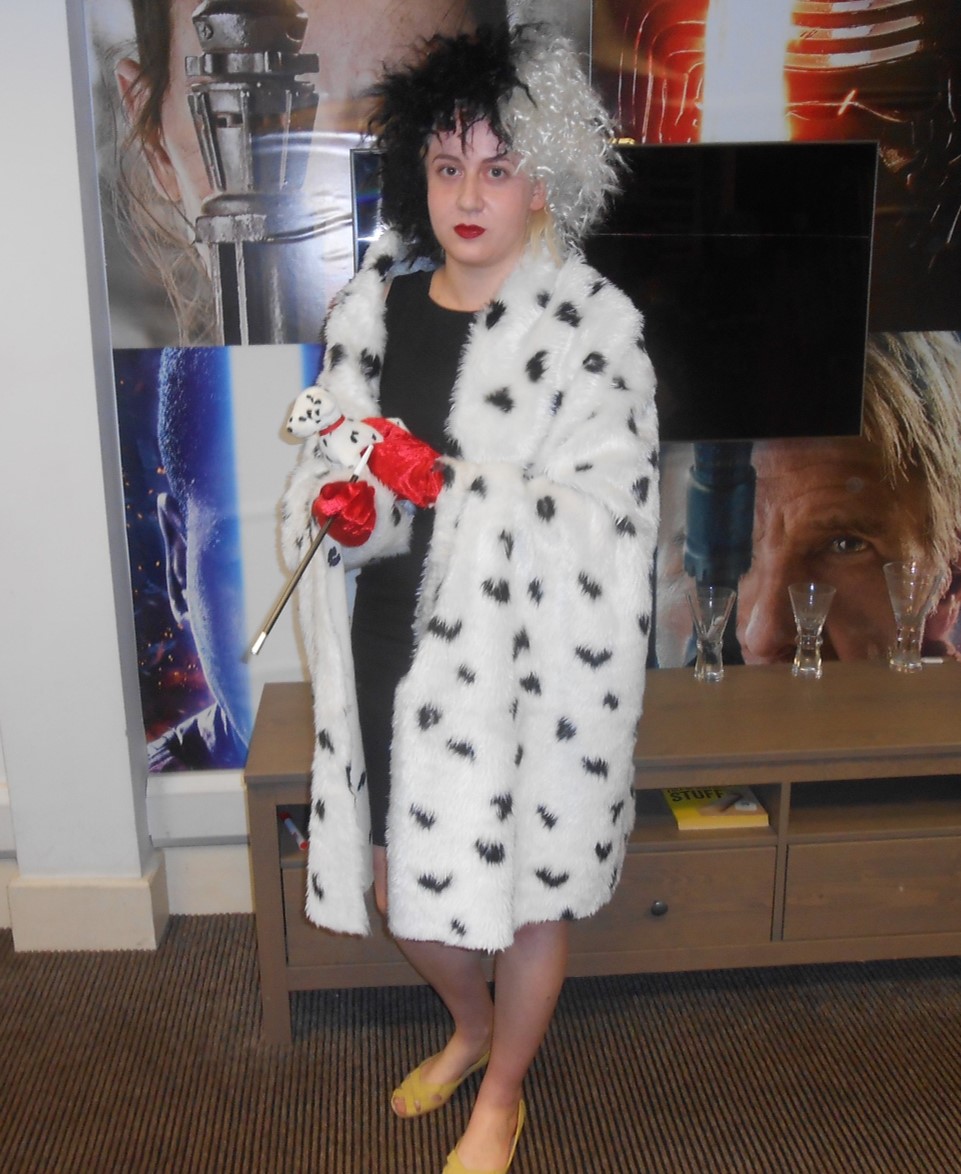 Supporting merchandisers in the field with any of their telephone queries also plays a prominent role in my average day, with Mondays being no exception. Feedback comes in first hand from the field team and I can flag to the relevant account coordinator straight away.
No two days in the entertainment office are the same and it's a pleasure to work with such a fantastic team – time does truly fly when you're having fun!
Leila Alloush
eXPD8 Account Administrator
Take a look at our previous article to see what it's like to be an Account Manager at eXPD8:
https://www.expd8.co.uk/a-day-in-the-life-of/