At eXPD8 we believe in driving the best possible return on investment for our clients and in turn, having the ability to recommend the store base, frequency and way in which those stores may benefit from merchandising support. By using key data, collected from our calls alongside sales data by store and SKU we can drive effective merchandising plans for our clients and ensure the right stores are being visited at the right time, for the right task. Below are a few examples of how we have achieved this in the past to benefit our clients.
Client X requested from us that we visit ~400 stores across the year to support with their travel and leisure products in store, these products were displayed on a tower. It was important to them that the visit plan was based around the following:
Key sales period of their products (seasonality)
Key sales by store against their peer group (sales vs stores of a similar size)
The stores previous ability to replenish the units themselves (as some stores were more effective at this than others)
Another important point was that this model would be flexible, therefore if a store began improving in sales vs it's peer group then their visit frequency could change accordingly to ensure we maintain a dynamic and efficient approach
eXPD8 aligned stores into Group A, B, C, D – this would affect their visit frequency. A store would fall into each of these groups based on their sales performance vs their peer group in addition to use of our photo compliance auditing system used to establish whether store colleagues maintained this fixture weekly to a high/medium or low standard.
eXPD8 then established with the client which months would be considered peak and off peak for the seasonal nature of this product. As we were focusing on leisure specifically it was important that stores had support over the key summer months to ensure sell through. eXPD8 analysed previous years sales data to understand the peaks and troughs of these products.
Regular review of a stores banding was essential to review whether they were receiving the necessary merchandising support, if a store came to require more or less support their visit frequency would be altered.
The below bandings were then formed to give the following visit schedule:
Group A stores – (Peak visit every 2 weeks / Off Peak visits every 4 weeks)
Group B stores – (Peak visit every 4 weeks / Off Peak visits every 6 weeks)
Group C stores – (Peak visit every 6 weeks / Off Peak visits every 8 weeks)
Group D stores – (A visit every 12 weeks)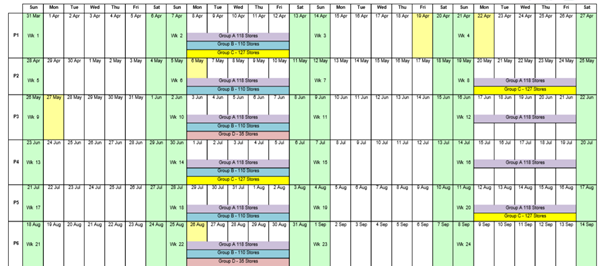 Results:
A PowerBi dashboard was created for the client for them to see regional and store performance by group (A,B,C,D) – this allowing us to review the success of sales and compliance in each of the relevant groups in addition to making sure that stores themselves were in the correct group (the group then determining their visit frequency).
The below graph shows the YOY change by band in terms of sales uplift.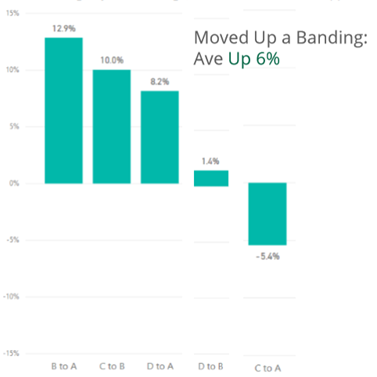 Stores that over time were moved up a banding increased sales by 6% on average – this showing that the change in visit frequency in certain stores had a direct correlation to an increase in sales. There were 5 stores that moved from either band D to B or C to A – these stores were then isolated and their band changed accordingly to a more appropriate fit based on the store specific elements that store required.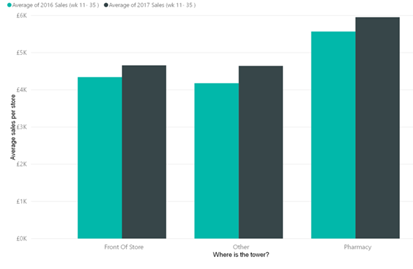 After 6 months of working to this model the client experienced the following:
170,000 items replenished
57 Towers moved to a position in store that was more beneficial for footfall and therefore sales
£16K YOY sales improvement the week following eXPD8's first visit with a +YOY sales improvement in the next 3 consecutive months following this
Despite the tower having a plannogram refresh and the overall lines on the tower reducing from 81 to 65 sales still improved YOY
Efficient spending on merchandising to ensure the right stores were getting the right level of support with regular review of whether the stores group was still appropriate.
Gemma Cook
Client Services Controller