Easter is one of the biggest calendar events for retailers across the UK. Tempting shoppers with treats, gifts and seasonal items in addition to beginning sales for the gardening season. In this blog we want to deep dive into consumer habits over this period and moreover, how 2020 changed peoples shopping habits.
Easter Consumer Habits 2020
In the UK, 73% of Brits decided to celebrate Easter 2020, as opposed to 2019's 78%. On average, individuals planned a spend of around £28 on Easter festivities with the North East of England spending up to £40 on average, despite the economic crunch. In 2020, the number of consumers buying gifts fell from 83.4% to 80.5% of the UK population. Despite Covid-19 not hitting British Retail until March 2020, Easter 2019 saw that there was a 10% increase in online retail sales during the April period.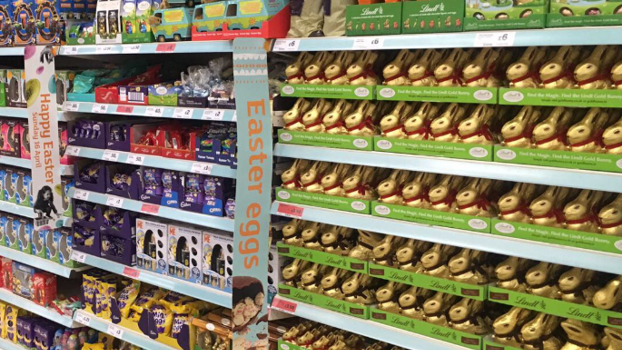 According to finder, around two-thirds of women plan to spend money in retail at Easter, whereas almost 41% of men decide to be a little more frugal. However, the average male who chooses to spend will wrack up close to £30 on average compared to each woman spending £25.77. Statistics also suggest that, in the UK, Millennials (Born 1981 – 1996) are most likely to spend the most amount of money on Easter, however those who are currently 24 or younger spend the least.
According to The National Retail Federation (NRF), the most popular Easter activity in 2020 was to cook a holiday meal, followed by "visiting family and friends online".
The 'new normal' has seen a 22% increase in alcohol sales, with Waitrose' shoppers making a 53% increase in rosé wine for Easter bank holiday weekend. All contributing to 2020's £25.5 bn spend on alcoholic beverages this year. Another large area of growth in supermarkets during this time are the bakery products.
Easter Egg Trends 2020
In one of retailer's riskiest years, it didn't stop supermarkets from supplying with 'love it or hate it' products like the marmite egg cups or educational egg products for parents to gift their unsuspecting children.
Where veganism increased by 400% between 2014 and 2019, there was room for a large sales impact on the chocolatey holiday. However, by 2020 each leading supermarket had their own vegan range, including their own dairy free chocolate eggs. ASDA's own dairy-free egg rose to the top of a competition held by Good Housekeeping in a blind taste test.

In the festive spring period of 2020, Mummy Meagz populated Holland & Barrett's shelves with a dairy free cream egg for vegans. During this time, one vegan egg was sold every 30 seconds! It's popularity induced a Halloween collaboration in October called the 'Chuckie Egg'. Similarly, Truffle Pig Chocolates ignited a 50% increase in online sales during the pandemic, outselling their vegan Easter egg supply.

If you want to improve availability for your brand this Easter then contact eXPD8 today at info@expd8.co.uk
Alex Bowden – Client Services Administrator