What is your full name?
"Katie Emma Purkis".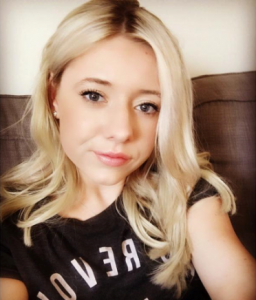 What's your favourite thing about eXPD8?
"I've made some lovely friends working here".
What are you known for?
"My obsession with clothes & shopping for shoes… I have way too many shoes".
What's your favourite thing about HR?
"The variety of the role, there's many things you can get involved in which can all help make a difference to the company".
Why did you choose that profession?
"I originally started out working on the Warner account for eXPD8 as an admin, however I wanted progress in my career and heard about a vacancy in the HR Team so I applied and got the role! eXPD8 even offered to pay towards my CIPD level 3 (HR Qualification) which was excellent".
 What is a skill you'd like to learn and why?
"I'd like to be able to paint.. my parents are both really good painters so maybe I will ask them to teach me  soon so I can improve".
What do you think about when you're alone in your car?
"I mostly just sing very loud when I'm alone in my car… it's the only time nobody will hear me".
What's the most interesting thing about you?
"I used to work as Building Manager for Bath Road Studios and sat on reception so I'd get to greet all the celebrities and politicians that came in for interviews!"
What do you feel most proud of?
"I feel proud of all the experience I have gained in my career so far and how much I've progressed over the years".
If you could travel anywhere, where would you go and why?
"If I could go anywhere it would be back to the Caribbean to visit beautiful beaches and take lots of boat trips".
How do you spend your free time?
"I spend time with friends & family. I love going out for meals & drinks and I like to do a lot of walking".
What was your most embarrassing moment?
"I try to forget about my embarrassing moments there's rather a lot of them.."
Thank you for your time Katie!