We asked our employees to give us their real reviews on what they think about working for eXPD8. Flexibility, team work and variety were the key themes.
Started May 2017 and I love everything about the job and the people in our team. I get to travel a lot too which I love and the work is satisfying especially when every thing is all neat and tidy: appeals to my OCD nature 🙂 . Head office staff are great, they try so hard to solve all the issues that arise and they understand the problems we face at the front. They do not pass you around to others, but they own your issue and stay with you until it is solved which is a fantastic support: makes you feel you are not alone while working. Looking forward to a long relationship with this company.
Maria Whitlock- Merchandiser- South Wales- 10 months with eXPD8
"I love working for eXPD8 for so many reasons not least the flexibility which allows me to work and fit it around my home life.
I love the challenge of the work, figuring things out, using my initiative and representing eXPD8 and it's clients to the best of my ability. Also I love the relationships ive built both with the colleagues and managers in the stores i visit and my own regional manager and team leader."
D Everett  – Merchandiser – Andover – 1 year with eXPD8
"I love working for eXPD8 because I enjoy the variation of work, the flexibility of each day and the recognition I receive, through the incentives that are offered, shows that I am appreciated and valued."
H Rice – Team Leader Southampton – 1 year with eXPD8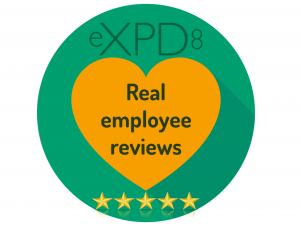 "I love working for eXPD8 because right from the start you're treated like part of the family. We may work out on our own but we're part of a team who all work together to make our district the best it can be. We help each other with advice or by coming and pitching in on bigger set-ups, we are all friends and there's always someone just a phone call away. It's a varied job so no time for boredom to set in and it enables you to make a larger circle of friends from all the staff in all the stores who are always happy to see us."
S Kirkby –Merchandiser – Poole – 2 months with eXPD8
"I love working for eXPD8 Ltd because I get to work with a variety of clients and work together with them to deliver compliance execution and constructive feedback to the business and to help build sales and a good working relationship."
P Kearvell – Merchandiser – Eastleigh – 1 year 2 months with eXPD8
"I love working for eXPD8 because you have some freedom to complete your calls and you work alongside lots of lovely people".
S Mills – Merchandiser -Southampton – 11 years with eXPD8
"I like working for eXPD8 because of the flexible working hours and meeting new people. Everyday is different."
S Bennett – Merchandiser – Woking – 10 months with eXPD8
"I like working for eXPD8 because, you get to be part of a great team who work well together, making sure each client's products looks good and to plan, and that's what we do, happy client, happy store, job satisfaction for yourself, even if calls don't go to plan we learn from it and make sure the next call is complete."
M Allner – Merchandiser – Ringwood – 11 years with eXPD8