It was just over two years ago when I was asked (cajoled!) to take over as Treasurer for the South West Branch of GroceryAid.  (It seems to me that these days being a Chartered Accountant qualifies me for being a Treasurer, or signing people's passport applications!).
Having had the benefit of attending a couple of excellent events, and gaining some understanding of the charity, I agreed to take this on.
GroceryAid's mission is to make life better for "grocery people" in need – whether they work for a manufacturer, wholesaler, the supply chain or grocery store, people can turn to GroceryAid for financial help and practical support.
Help provided by GroceryAid makes a very real difference to people's lives, providing not only monetary support with grants, but also appliances and white goods that many of us take for granted; specialist mobility items to enable people to stay safe and well in their own homes; and a confidential Helpline providing 24/7 support focussing on personal welfare issues.
In 2015/16 at least £4.3million was spent providing welfare support to more than 11,000 current and former industry associates.
GroceryAid is supported by a wide cross-section of the industry of branded and private label suppliers, grocers, variety stores and convenience operators, wholesalers, logistics providers and independent retailers and professional service providers.  At eXPD8, we are proud to have been actively involved with, and supportive of, GroceryAid for over six years.
Funds are raised via national events and donations and legacies, but also via nine fundraising branches, hosting a variety of events over the year, of which the South West Branch is a part.
It has always been a challenge for us to put on significant events, given the relative paucity of large grocery businesses in the region, so under the leadership of Adrian Carne, MD of Yeo Valley, we have looked to introduce a different model.  Rather than trying to host events and persuade people to contribute / turn up, we have looked to get headline sponsors to run events on our behalf, making a donation of the profits arising.
This approach is proving successful:  in March Imperial Tobacco hosted a race night event in Bristol, raising in excess of £10,000, and just this week the sun shone brightly on the Arla Golf Day at Bovey Castle, where we hope to have raised more than £6,000.  The very popular Yeo Valley "Catch and Cook" event is also coming up in the next month, which raised over £8,000 last year.  On top of these we are hopeful of a Ginsters-sponsored event taking place in the near future (no pressure there Jo!) and possibly arranging a ball later in the year (potential sponsors welcome!).  We are hopeful of raising over £30,000 for the year as a whole.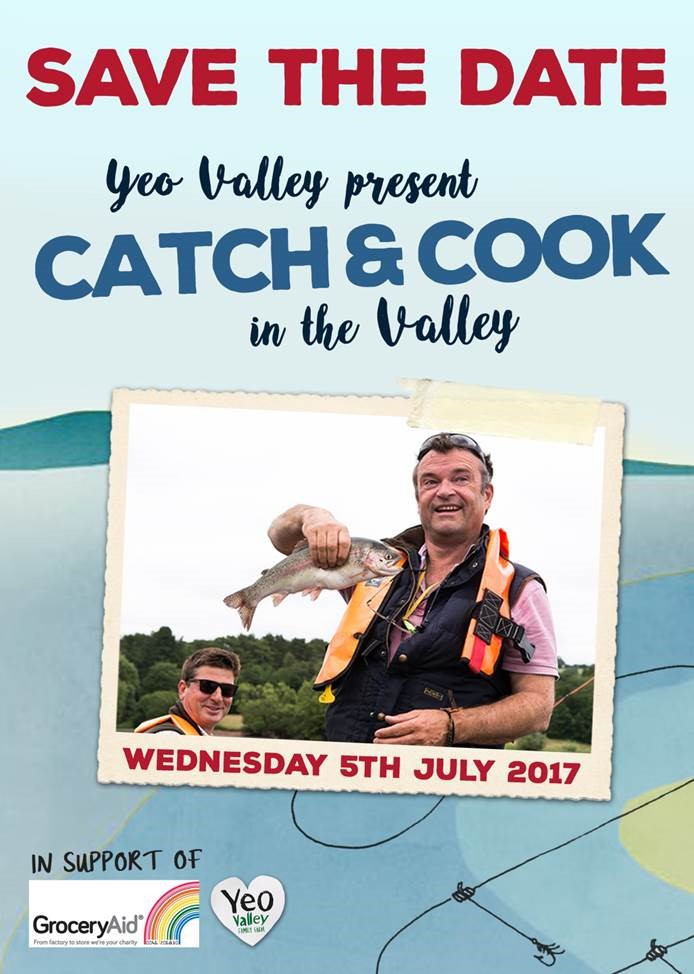 Photo Credit: Grocery Aid – Catch and Cook
As a team we meet up at least on a bi-monthly basis to discuss ideas and plans, expertly herded together by Mondelēz's Emma Turner, our secretary who has all the organisational skills that the rest of us can possibly be accused of lacking!
Yeo Valley's wonderfully picturesque headquarters provides the backdrop for our meetings, which, with the allure of some excellent fish & chips and marvellous Yeo Valley ice-cream is usually enough to ensure a good attendance of committee members – as well as Yeo Valley, Mondelēz and eXPD8, the committee has representation from Mars, Imperial Tobacco, Ginsters, Warburtons, Dairy Crest, Twinings and PepsiCo as well as our newest member from Cardiff Metropolitan University giving us Welsh representation!
We're always open to new members and new ideas – as I'm sure are the other regions, so please take time to visit the website  – and get involved.  If your company is based in the South West and you think you'd like to host an event, Adrian would be delighted to hear from you!  Also have a look at GroceryAid's latest campaign #notbuyingit which aims to raise awareness within the industry of help that is available from GroceryAid.
Group Finance Director