Unless you have been living under a rock for the last week you will know that the No.1 event in the gaming calendar, E3, has come and gone.  For "gamers" the past week has been a mouth-watering feast of the latest hardware, software and digital offerings to keep you busy for the year to come.
For those of us who work in retail day in day out, it has been an exciting view of what's to come but also what these offerings look to do to our Global and UK Market place over the course of the next year – with offerings looking to keep the Entertainment (and gaming industry specifically) not only buoyant but positively moving in an upward position in an ever-competitive market place.
E3 2017 – What was it all about?
Firstly, the conference that many are calling the real show stopper – Microsoft will release 42 new games with 22 Xbox Exclusives but more notably the new 4K-ready console launching on November 7th.  What is the "Xbox One X" I hear you ask? It is the Smallest Xbox ever whilst packing a huge 6 teraflop GPU, 12GB of GDDR5 RAM, and 326GB/s of memory bandwidth. The little beast also offers Ultra HD Blu-ray player where players will also be able to broadcast in 4K UHD.
Earlier this year it was announced that Nintendo's share price had hit its highest point in seven years after the release of the Nintendo Switch with share prices up 102% YOY. In no effort to slow down, this E3 the following titles were announced to launch on behalf of Nintendo; Metroid Prime 4, Super Mario Odyssey, Rocket League and additional DLC for The Legend of Zelda: Breath of the Wild. Bethesda also announced the upcoming release of Elder Scrolls: Skyrim to Nintendo Switch. In addition, Mario + Rabbids Kingdom Battle was a true treat from Ubisoft – a collaboration many are excited for this August 2017.
Sticking with Ubisoft for a moment. Ubisoft enters the toys-to-life market with Star Link: Battle for Atlas – Using both physical and digital starship figures, players can control a team of star pilots in an immense, living galaxy as they fight to save the world from devastation.
Despite not announcing new hardware specifically, a big focus for Sony was around software coming to PS4 from various publishers. To name a few; God of War, Call of Duty WWII, Spider-Man, Shadow of the Colossus and Destiny 2.
Additional key titles to watch out for this Q4 included; Middle-Earth: Shadow of War from Warner Bros on October 10th, The Evil Within 2 from Bethesda on October 13th, Assassin's Creed Origins on October 27th and Wolfenstein 2: The New Colossus from Bethesda on October 27th.
What does E3 2017 look like in figures? 
43m people made 115m E3-related Facebook posts, likes and comments with women making up 35 per cent of those interactions. This is up from just 10 per cent in 2016.
22 per cent of posts on Facebook were made by people aged 35 and over.
9m people posting about Electronic Arts' FIFA 18.
Electronic Arts: Star Wars Battlefront 2 also inspired a lot of interest from Facebookers, with posts up by 1,000 per cent
Overall gaming statistics state that 2.6 billion people recognise themselves as gamers in 2017 vs. 100 million in 1995.
(Data acquired from MVV, UK and recode.net)
eXPD8's top tips for making gaming great in 2017
With the above in mind it looks like we are set for a great year of gaming ahead.  What is important to consider however, is how these offerings come to market and that the collaboration between product offering and marketing are the perfect package to entice customers at retail.
The UK Gaming market is prosperous; according to gamesindustry.biz.  Sales of games, hardware and accessories rose 1.2% in 2016 with the UK games market generating £4.33bn. Despite significant growth from digital, physical remains a significant area of the business and accounted for almost 50% of all the revenue generated from games and games-related items in the UK 2016.  The Physical gaming market place continues to be key with both loyal existing gamers in addition to a new generation of gamers who are influenced by gaming outside of the home in both mobile and other digital streaming services.
Here are eXPD8's top points to what can make a successful launch that contributes to broader category growth.
1. Digital should be seen as collaborative and not a threat to physical
Often "the rise of digital" can be portrayed as a threatening dark cloud over physical product. It is important to recognise however the way that considerable digital growth can work alongside physical to build the industry.
According to SuperData, from an article featured in gamesindustry.biz mobile are now on the brink of joining the £1bn club with £995,138,873 generated (up almost 17%) from game apps in the UK in 2016 – this growth most notably linked to Pokémon Go. What this growth creates is a greater investment in the overall gaming culture, those who invest in mobile gaming are more likely to follow suit in other home based consoles generating a further interest in the category. Mobile app gaming specifically also entices a wide demographic of audience – introducing new customers to gaming with a greater chance of investment in home hardware and software.
2. Cross Category opportunities
When several categories come together its presence in-store is undeniable and it creates a collaborative partnership where items are stronger together in a prominent position in store. Looking at the wider market place – book and magazine sales leapt 13.2% to £18.448m and toy sales rose 7.2% in the UK Market place to £66.8m – this growth many are linking to games and entertainment collaborations including Angry Birds, Pokémon Go etc.
Photo credit: Gameranx.com
Similarly, soundtracks and movies that are related to games generated £7.8m in 2016 – that's a rise of 14.4%. There is a real benefit in collaboratively working together to achieve growth in all areas of Entertainment and Toy. Departments must be seen as collaborative and not work in silos to receive the greatest rewards.
Entertainment and General Merchandise product should not be seen as "battling each other" for space but working together to strengthen the non-food sector as a whole. Even when not directly working together, the benefit of understanding success, challenges and learnings at retail across departments are key.
3. Taking inspiration and constantly innovating
Keeping the category fresh and constantly offering customers a new way of experiencing the product at point of purchase is key. Continuous innovation in product and display keeps customers interested, involved and inspires the market place contributing to broader growth.
As an example, the recent Disney "Big Sleeve" Edition in DVD took inspiration from the recent Music Vinyl boom in the market place offering customers a new way to experience New Release and Catalogue Product – this innovation being highly commended at the recent BASE Awards 2017 as a nominee for the Outstanding Innovation Award. Innovation is key, not only what is inside the package but how it is marketed.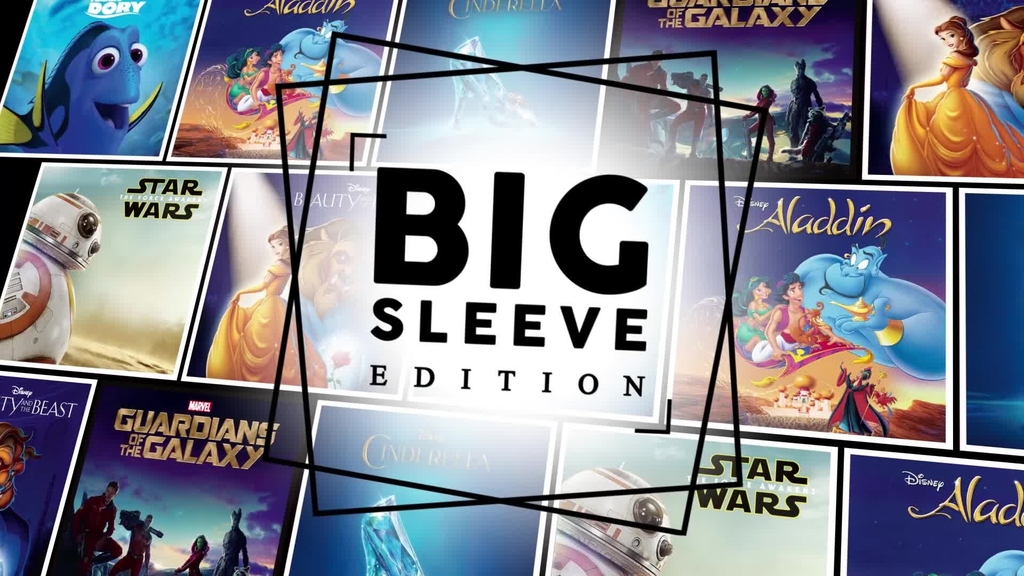 Photo credit: Disney
4. Recognise what else is happening at the time of launch
The success of implementation at retail not only relies on how good the product offering is (price, combo, packaging, visual display etc), a full view of what is happening across the retail estate as a whole needs to be considered – store awareness, engagement and communication needs to be first rate to ensure members of store are behind the launch and will continue to replenish into week 1,2 and 3.
By identifying what else is happening at retail during launch and partnering with a merchandising team ensures the AAA release gets the attention required for both set up and further replenishment to acquire ROI.
Senior Account Manager