We're approaching one of our favourite times of year, Spooky Season! So we thought it would be a good time to look at how Entertainment Clients can increase their exposure in-store during Halloween. To do this, let's take a look at the set ups we found in-store for Halloween 2018.
Why do we love Halloween?!
For entertainment clients, Halloween provides a great opportunity for a boost in sales of catalogue titles in the Horror Genre, but also within the Family Entertainment Genre. Think 'Wallace & Gromit: Curse of the Were-Rabbit' and 'Goosebumps'. Halloween often coincides nicely with Autumn Half Term, so pushing these family friendly titles out into stores opens the Halloween market to much more than just your standard R-Rated Horror fan, who realistically speaking represents a much smaller market. Overall in store Horror titles and specifically spooky kids films make up a small proportion of entertainment Stock. So the most cost-effective way for Studios to get more exposure during Halloween and off shelf space for these products in store, is to partake in shared Cross Studio POS.
Halloween 2018
An example of this from last year is the Morrisons Cross Studio Halloween Tower. This saw 5 Studio's come together to share this funky Orange Tower covered in designs from the Morrisons main Halloween Branding. Two sides featured Family friendly titles such as 'Hotel Transylvania 1&2' and 'Caspar' and the third side featured Adult Horror titles such as 'The Conjuring 2' and 'Jigsaw'. The fact that Family titles have 2/3's of the Towers space demonstrates the power of appealing to the family entertainment audience as this time of year.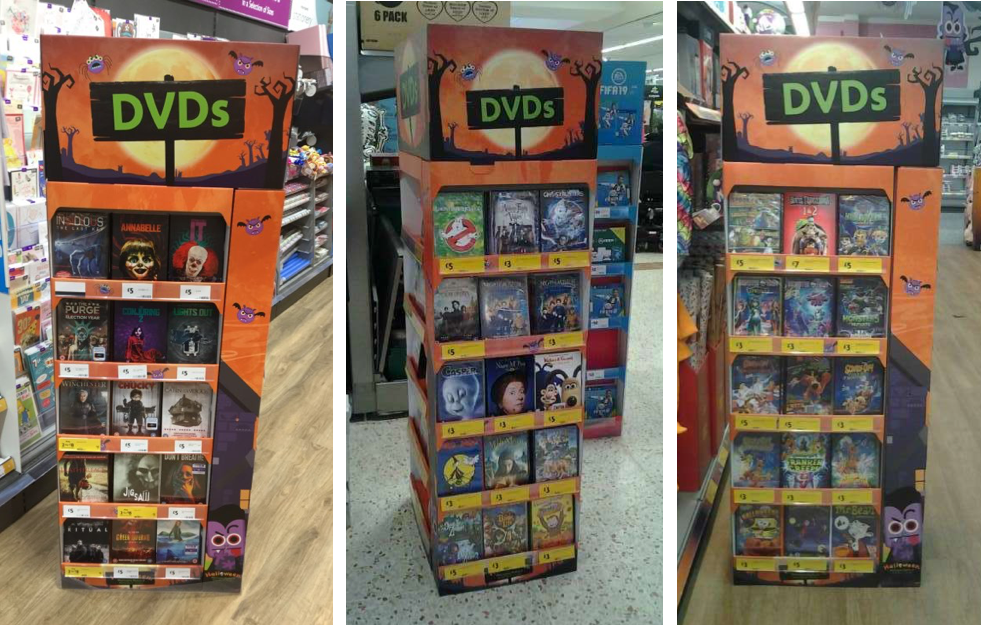 For Studios looking for solo opportunities at highlighting their stock in store for Halloween, a line look refresh is good way to go. This was seen last year with Warner's Horror Line Look found in ASDA, Sainsbury's, Tesco and HMV. The Horror Line look brought a neon take on vintage Horror style to some of Warner's greatest Horror Titles and really made these back-catalogue titles leap back off the shelves. Additionally, branding products as a collection can do wonders for sales, and appeal to fans who want a visually appealing set of their favourite films. Line looks can also be accompanied by price promotions. This encourages people to potentially pick up a couple of titles at a time which is great for Halloween parties.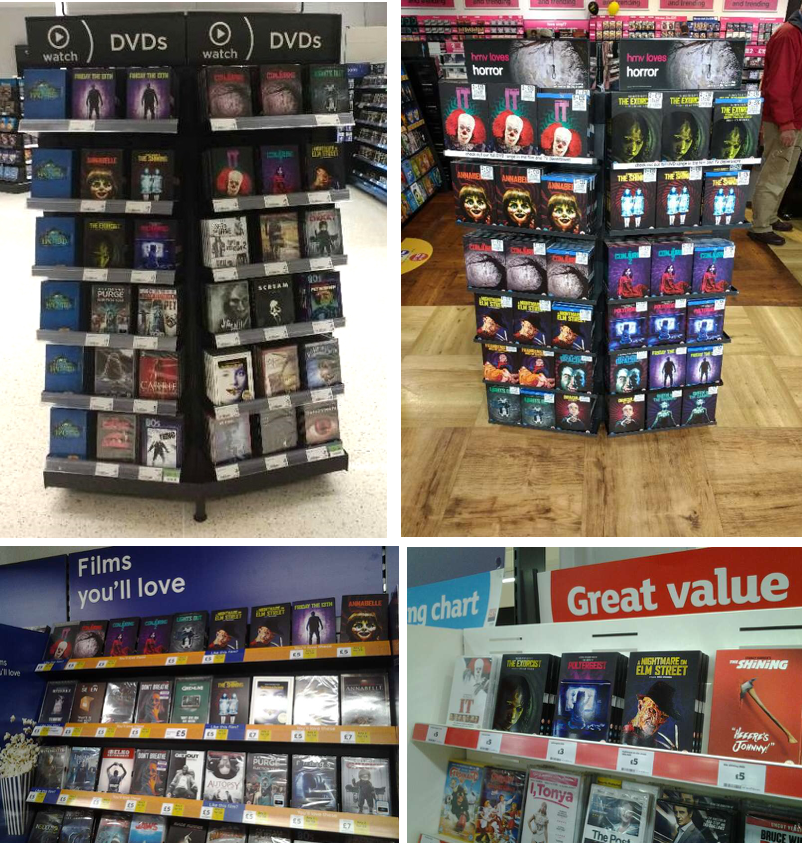 Another location used by Entertainment in stores to push forward their products during Halloween is Seasonal Aisles. Seasonal Aisles act as a one stop shop for anyone planning a Halloween bash. Often DVDs will have two to three shippers within the aisle solely featuring Kids Halloween titles. This is because the Halloween seasonal aisle is focused on Trick or Treating and Kids Halloween Parties. so the idea is after parents have swooped up their candy, costumes and decorations, they could then pick up a film to pop on during the 'do'. Below is an example from Sainsbury's Seasonal aisle in 2018.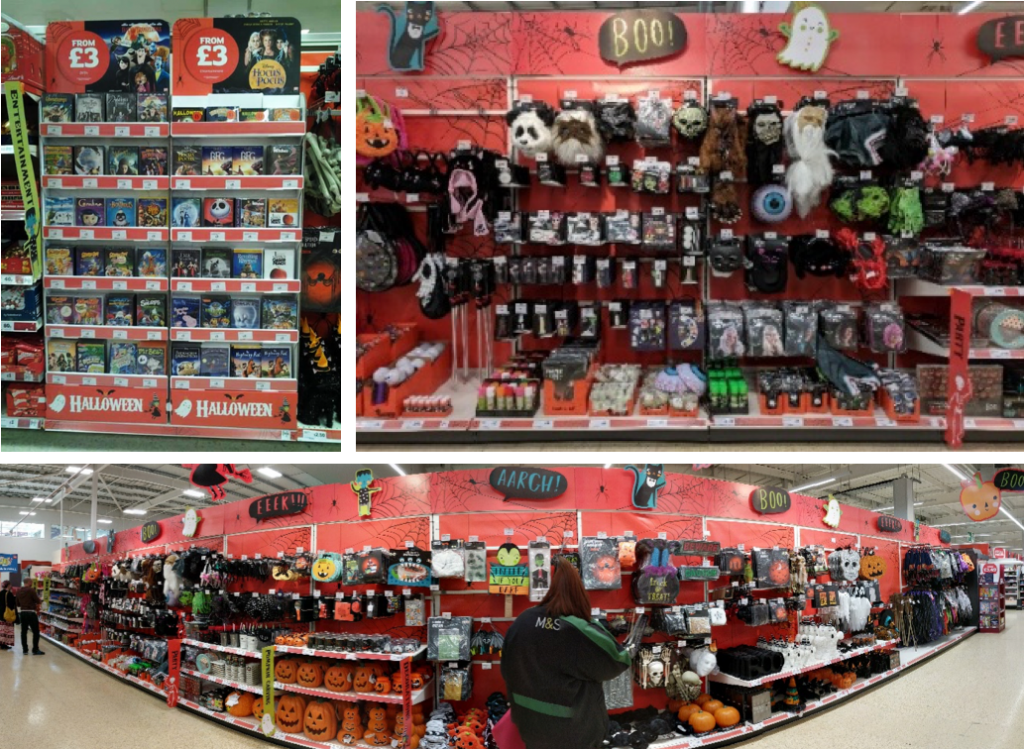 The last way we see Entertainment Brands exposed during Halloween is through consumer products. This is talking about items like branded Halloween costumes such as 'Batman' or a 'Ghostbusters Suit' to themed decorations like 'Paw Patrol' paper plates. It's not uncommon to see traditionally un-spooky brands such as 'Paw Patrol' re-designed with a spooky new look to make the most of the potential sales from fans over Halloween. A similar thing is often seen at Christmas where characters will be drawn with Santa Hats and snowy backgrounds, often featured on items like Pyjamas and wrapping paper.
Are you looking to maximise your in-store exposure this Halloween? Don't hesitate to get in touch today!
Jess Chalk
Account Handler