eXPD8 are delighted to be part of the "Must see movies before you grow up" campaign which went live on Monday 19th July. This is the first home entertainment industry cross studio and multi retail campaign, so it's a super exciting campaign for eXPD8 to be involved in.
This is being led by BASE (British Association for Screen Entertainment) and ERA (Entertainment Retailers Association) whose members are looking to drive growth in Kids catalogue. Its great to see such a collaborative industry working together to bring life and enthusiasm back into the category. There's strength in the shared vision of making the category a destination in store and making it a bright and vibrant place to be – the shared goal makes this promotion more impactful and likely to succeed at retail.

Must See Movies Before you Grow Up standee set up in ASDA
The campaign comprises of 50 key titles that you must watch before you grow up which are PG and U certificate and selected by children's charity IntoFilm. Into Film works together with schools to use films which are relevant to the curriculum to help educate and engage with children. There are some fantastic titles in the mix which are sure to appeal to customers young and old – my particular favourites are The Lion King, Hook and The Secret Life Of Pets.
Despite the heatwave the promotion has gotten off to a great start and eXPD8 visited over 1,300 stores on day one to ensure great set up in stores. We have our eyes and team on the campaign to make sure we keep units out in store for as long as possible. We've completed plenty of awareness visits and trying to educate staff on this industry first to ensure everyone on the ground keeps it front of mind and front of store!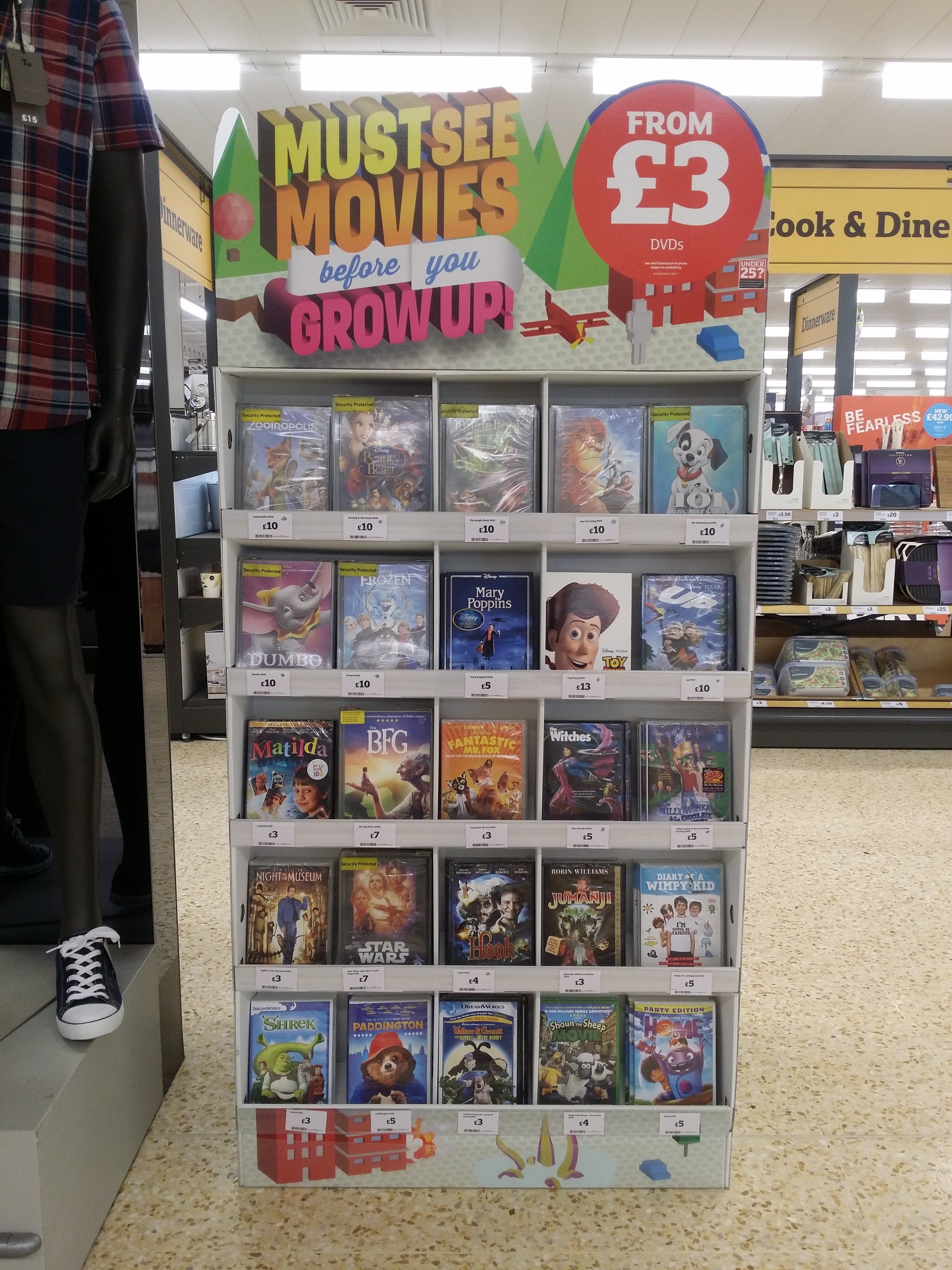 Must See Movies Before you Grow Up standee set up in Sainsburys
We are excited to be part of such a forward thinking and collaborative initiative and we will be doing our best to make sure it gets the best implementation and that stores are fully behind the campaign. This is an exciting time within the industry as film studios are keen to work together to make sure the category has strength and lives on – people still want physical product and we're all working together to make sure we sustain category space for the future and make sure consumers have the best in store shopping experience they possibly can.
After events such as World Book Day and Record Store day there is still clearly a desire for great content and its our job to help create the need and make customers want to purchase.
Category Development Manager