Once upon a time in 2016…
There was a lass named Shamaila who came from the complex world of Benefit Assessing and the beautiful & creative world of Makeup Artistry…
My journey with eXPD8 began in 2016… eXPD8 are a field marketing agency with field staff spread across UK and Ireland. We go above and beyond to ensure our clients get our full attention and excellent service. eXPD8 provide many services such as: merchandising, retail intelligence, displaying/setting up Point of Sale displays (POS), analytics, mystery shopping and the list goes on!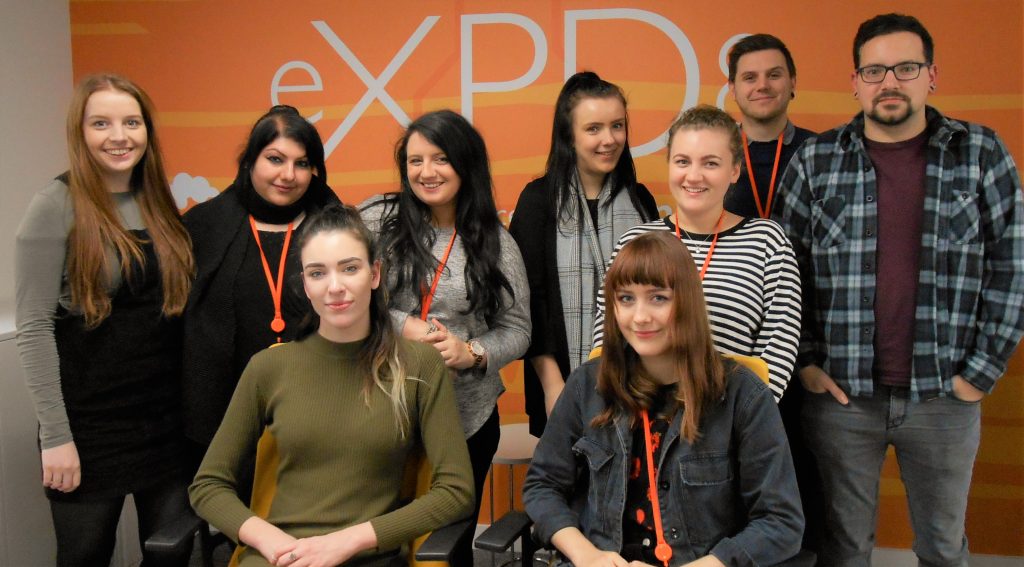 We are the eyes and ears for our clients supporting all their retail requirements in store. We report back to them and let them know how how things are doing, we keep them informed about stock levels across the estates their products have been merchandised in and much, much more.
So, here I was working for eXPD8 – with a colourful CV but no background in field marketing, I thought I would feel a little outside of my comfort zone, until I started providing support in General Merchandising (GM) with the cosmetic accounts! Of course, we have many wonderful clients but this was right up my alley with it being such familiar territory, oh and did I mention I love makeup? None the less, it took a while to get my head around eXPD8's services and the end to end process.
I helped collate and prepare reports for our clients, compliance check the work of our field staff ensuring we deliver service excellence, first time, every time, create briefs and questions to guide our field staff when visiting stores and liaise with the client – keeping them updated and answering any queries they had.
That was life in General Merchandising (a distant memory, but one I hold close to my heart)!
Fast forward another few months:
Jan 2018- The world of Recruitment:
I heard about the vacancy for a Recruitment Coordinator within eXPD8 and decided to apply. It felt like the right time to start building a career, and that's what Recruitment is – it's not just a role, it's a career. I love roles where you can interact with people and help make a difference.
I had a lot of support from my Line manager and the HR team. Everyone gave me their time, they spoke to me and answered any questions I had. Katie who is a very valued member of the HR team encouraged me to apply as did the lovely Adriana (HR Manager). Adriana met with me before I was offered the role to answer any questions about the profession and how much work it would entail.
Recruitment seems like such a small world and HR even smaller, but the truth is there is so much ground to be covered that even Superman would get tired!
I feel privileged to have been given this opportunity to join the Recruitment/HR world and help mould the future of eXPD8.
I don't think one can quite understand (unless you have done it before) what it feels like to be a recruiter, especially an in-house Recruitment Coordinator. When someone leaves for pastures new or simply changes roles,  you're thrilled for them and wish them the best of luck (for like 10 seconds)  your mind then automatically goes into 5th gear and you start putting your contingency plan in action!
Advertising
Promoting jobs
CV sifting
In and out of meeting rooms
Interviews
Break the bad news/deliver the good news
Hiring process
New starter process… the list is endless
My daily tasks can include, searching for new talent to come and join the world of eXPD8, Field recruitment, Central Office recruitment, CV sifting, interviews, liaising with clients and coordinating meetings, providing references, conducting reviews after probation periods, updating stakeholders with regards to recruitment, and much more!
During my short but very interesting journey so far, not only am I gaining new skills such as resilience, time management, interviewing techniques to mention a few, but I am also learning a lot about myself, for example; I didn't know I had as much patience as I do, I didn't know I had it in me to fight back as hard as I'm having to sometimes. My pillars of strength, Adriana and Katie, play a vital role in guiding, mentoring and encouraging me.
My current project is helping eXPD8 become a disability confident employer. We are proud to be so and this is a new and exciting venture! Along with educating myself, I am sourcing training for us, regularly liaising with the Department of Work and Pensions as well as other sectors of the government. My goal is to make sure all staff, including managers have a better understanding of what being a disability confident employer actually entails. I want them to be confident and comfortable with the brilliant and positive new changes coming our way.
I am helping to redefine the overall recruitment process at Central Office, and our aim is to have our recruitment process working smartly and efficiently.
We are also going paper-less! Yes, that's right!  eXPD8 are putting a stop to sending contracts, welcome letters, job descriptions via the traditional post method! Everything is being sent electronically via email and using online systems to sign off any relevant paperwork.
I feel like I hit the ground running with my new role; there has been happiness, frustration, confusion and a lot of hard work involved, but do you know what? I wouldn't want it any other way!
My journey to source out the best talent for eXPD8 continues… If you fancy joining us, please check out the vacancies here…
We will provide mentoring, opportunities for training courses, health cash plan, appraisals, onsite mental health first aiders a great social scene and a modern fun working environment.
Dedicate yourself to eXPD8 and deliver the best service to our clients, in return we will help you build a career as well as provide you with the opportunity for personal and professional development.
Recruitment Coordinator