Does your old stock need a new look? Since moving to the role of Warner Catalogue Account Handler in 2018 I've had the pleasure of working on 8 different Line Look refreshes! With a few more already tbc for the rest of 2019!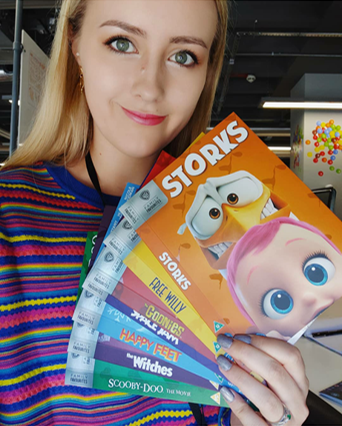 Popping new O-Rings onto older stock in store is a simple change which gives high visual Impact. Back catalogue titles that customers eyes may have become blind to suddenly have new life breathed into them with a Jazzy new look and are usually included as part of a collective of other similar titles such as Warner's 'Monsterverse' Campaign.
Not to mention there is often a special offer thrown in for good measure such as a 2 For £8, making it a great opportunity to purchase some classics you may not have otherwise. These O-Ring refreshes help to increase sales of catalogue titles and increase footfall to spaces of the Entertainment department you may not wander to as often, such as the Value and Promo Bays.
Although O-Ring launches may seem like no mean feat, beneath the surface they take a lot of preparation and planning by myself and our Post Room Co-Ordinator Steve. We've packed and posted over 7,500 packs out to the field team and over 75,000 O-Rings within those packs. All packaged and shipped out from our very own fulfillment station, often with the help of our fabulous COAST Team and the rest of the Warner Team often chipping in.
To celebrate these exciting visual campaigns, I wanted to look back at the 8 Line Look refreshes I've been lucky enough to be a part of during my time in the role…
Game of Thrones Robert Ball O-Rings – June 2018
Designed by Illustrator Robert Ball, these simple yet eye catching O-Rings re-vamped the Game Of Thrones Seasons from 1-7 creating what would be a really striking addition to a Game of Thrones fan DVD collection

Iconic Moments – August 2018
The Iconic Moments campaign is entering its 4th year this summer! This campaign see's classic Warner titles marketed with new graphic O-Rings often depicting a key element of the film, with new titles added to the collection each year. My favourite O-Ring from this collection is The Mask!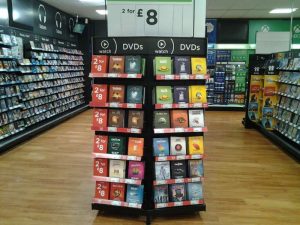 By far my favourite of the Line Looks I've worked on, the Horror Line looks brings a Neon take on vintage Horror style to some of Warner's greatest Horror Titles, even though the illustration style is more graphic I think it manages to make the films look even scarier than they already did. Stephen King's IT is my favourite in this collection.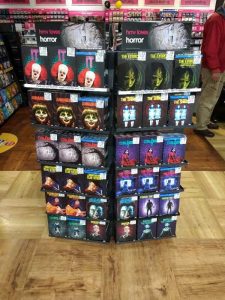 The DC Line Look successfully tied the various films both new and old of the DC Universe together with close up character imagery and strong title banners. Again this is another line looks just perfect for a collector of all things DC!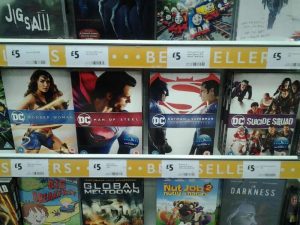 The LEGO Line Look, not surprisingly was a refresh of LEGO titles in store. Featuring close ups of key characters faces these bold O-Rings were released in the run up to the theatrical release of The LEGO Movie 2. Who doesn't love a smouldering look from LEGO Batman?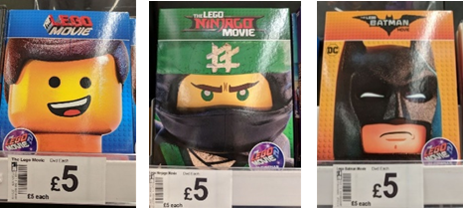 The Monsterverse campaign is a collection of Monster movies such as Clash of the Titans and Kong Skull Island, a true celebration of man verses (very giant) Beast! The range spans across older titles such as the 1933 King Kong, all the way up to 2018's The Meg! Talk about old stock getting a new look!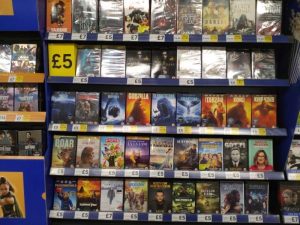 The Wars & Westerns Line Look is exactly what it says on the tin, a range of new O-Rings designed to tie together two great genres of film. Perfectly timed for Father's day this collection has a sophisticated feel about it, a perfect gift for a Clint Eastwood enthusiast Dad maybe?

The Family Favourites campaign is our most recent Line Look to go into stores, this rainbow collection features some fantastic Family Films from Warner's back catalogue including the brilliant 'The NeverEnding Story' (as recently featured in Stranger Things), the ever spooky 'The Witches' and the classic 'Willy Wonker and The Chocolate Factory'!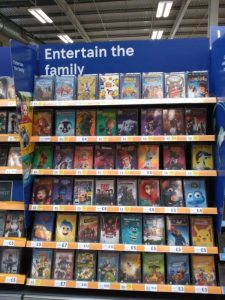 If your old stock could do with a new look to boost sales, call us today 01174030405.
Account Handler