The San Diego Comic-Con was once again an immersive, exciting celebration of geek culture, with studios treating visitors to new trailers, interactive experiences, announcements, and more costumes and displays than there are heroes in Avengers: Infinity War. The fresh wave of excitement that the Convention generates affects us here at eXPD8 more than most companies, so here's a rundown of what has got us geeking out:
Westworld: The Experience
With Westworld Season 1 launching on DVD and Blu-ray towards the end of 2017 and Season 2 coming in early 2018, HBO and Warner Bros. took the opportunity to enable fans to realistically visit the Westworld park. Guests were allowed to tour the offices of Delos Inc., get evaluated to see whether they were a black or white hat, and then taken to the Mariposa Saloon to enjoy a few cocktails and chat with a host.
Avengers: Infinity War teaser trailer
Avengers: Infinity War is shaping up to be one of the biggest movies of the decade, let alone 2018, so fans understandably went wild when Marvel unveiled the sneak peek. Rumoured to have featured the Guardians of the Galaxy and the Avengers together at last, the crowd reaction was immense and has got us seriously excited for the release next year.
Blade Runner: 2049 installation
Much like the Westworld Experience, Blade Runner used real actors to allow visitors to feel properly immersed in the world that Harrison Ford and Ridley Scott made famous. The huge tent across the street from the main convention housed not only a Virtual Reality 'Replicant Pursuit' experience, but also props, rain, smog and 'police officers' that would interrogate you to see if you were a Replicant. With the long-awaited sequel – Blade Runner: 2049 – hitting theatres in October, this was an excellent way to reintroduce guests to the sci-fi dystopian world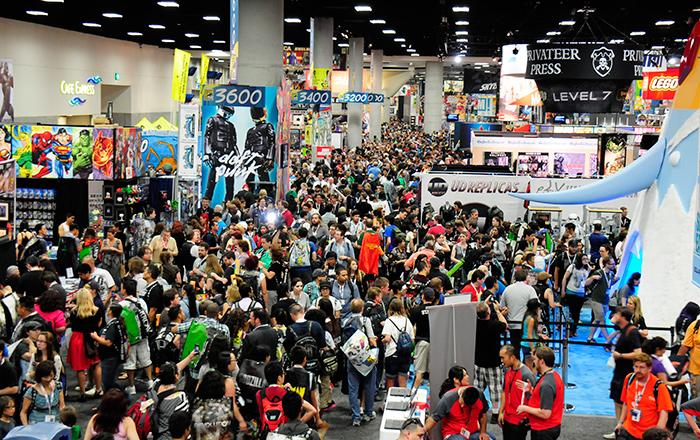 New Justice League trailer
The fantastic success of Wonder Woman has got millions even more excited to see her team up with Batman, The Flash and co. when Justice League launches in November, and Warner Bros. capitalised brilliantly with a stunning new trailer for the hotly-anticipated superhero team up. The trailer introduced a new villain, Steppenwolf, and promised some great screen time for Cyborg and The Flash, both of whom are yet to appear in their own solo movies.
Stranger Things Season 2 trailer
Netflix's Stranger Things was the surprise hit of last year, with audiences' loving its 1980's nostalgia and tense storytelling. No-one yet knows whether Season 2 will be able to live up to the inevitable hype that last year's success has brought, but the new trailer featuring Vincent Price's famous 'Thriller' voice over has got us all eagerly awaiting its release at Halloween.
Account Coordinator