eXPD8 –  Proud to be the Official Website Sponsors for Bristol Rovers
As a lifelong fan of Bristol Rovers, I have had to learn resilience and the ability to cope with disappointment.  Right from the early days of attending primary school in South Bristol where almost all my friends were Bristol City fans, at a time they were in the old First Division whilst we languished in the Third, to the despair of losing our League status in 2014 whilst I was away on rugby tour with my son.  I have a great memory of my son Sam coming up to me some 10 years ago as a 10 year-old saying "Dad, why do we support such a rubbish team"!
But things are on the up!  From the dark days of 2014, us Gasheads have enjoyed successive promotions in 2015, courtesy of a nail biting penalty shootout victory at Wembley, and 2016, with a 93rd minute winner securing promotion, then in 2017 a successful first season back in League 1, where we finished in the top 10, having flirted with another possible play-off place.
Safe to say that my enthusiasm for Bristol Rovers was not shared by the owners of eXPD8 – one of whom is an Arsenal fan, the other can't stand football.  So when Rovers launched their shirt sponsorship raffle several years ago, my attempts to get us involved were swiftly rebuffed!
The club set up a draw for companies to have the opportunity to become the club's shirt sponsors, initially as a way of generating income, but more latterly to encourage local business to get attached to the club.  Over the years, this has expanded to not only include home and away shirt sponsorship, but also sponsorship of shorts and training kit, and this year, the official website.
Never one to give up, I started my annual nuisance pestering, expecting to be unsuccessful as usual, trotting out that "for just £1,250, even if we didn't win anything, we'd get a hospitality package for 10 people at a home game, free conference facilities, membership of the 1883 club, and a signed football…"  Astonishingly, probably because they were bored of me banging on, I got the go-ahead for us to enter!
So, to the big day
I attended with Pete Bailey, co-owner and Arsenal fan, and also wangled bringing my son Sam along as well.  Each participant was given a numbered ball for the draw, and we were called up in turn to put it in to the mixer – Pete kindly allowing me to do it on our behalf – ball 53 was announced, and we were introduced as a company new to the club, this being our first time entering.
The draw was made by Marcus Stewart, Rovers' Assistant Manager (and one of the best players I had the pleasure to watch wear the blue & white quarters).  The first three prizes went by, before 4th prize was announced as ball 55 – so near and yet so far.  There was one last chance, and as the ball was drawn, announcer Nick Day commented that it was another number in the 50s, and belonged to one of the new participants – surely it couldn't be us?  Sure enough, number 53 was announced, and Pete pushed me up to collect the prize – one as a technology-driven company, with a geographically diverse workforce and client base, we were particularly pleased to win.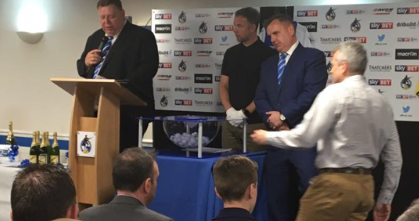 Action shot of me putting our ball into the mixer!
The photo calls followed and I also got to chat with our owner Wael Al-Qadi and Chairman Steve Hamer, which was a great pleasure, and Sam got to have his photo taken with Marcus, as well as sneaking into the official photo below! (Pete did not wish to be caught on camera associating with a team who play in blue / not in the Premiership…)
The new website is now live  with eXPD8's name proudly displayed at the top and our first article has been published.  Myself and Suze Anderson, our Marketing Manager have met up with Rovers' commercial team to explore opportunities for the year ahead, and I'm now looking forward to the release of the fixture list so that we can sort out our hospitality event!
As a finance person, I have a natural cynicism to the effectiveness of marketing expenditure (as Suze knows!), but this must be the best £1,250 ever spent? (or am I a little biased?!)

The successful companies – Sam sneaks into the official photo!
Group Finance Director