The current Covid-19 crisis has highlighted the inflexibility of the Dedicated Field Marketing model in contrast to Syndication.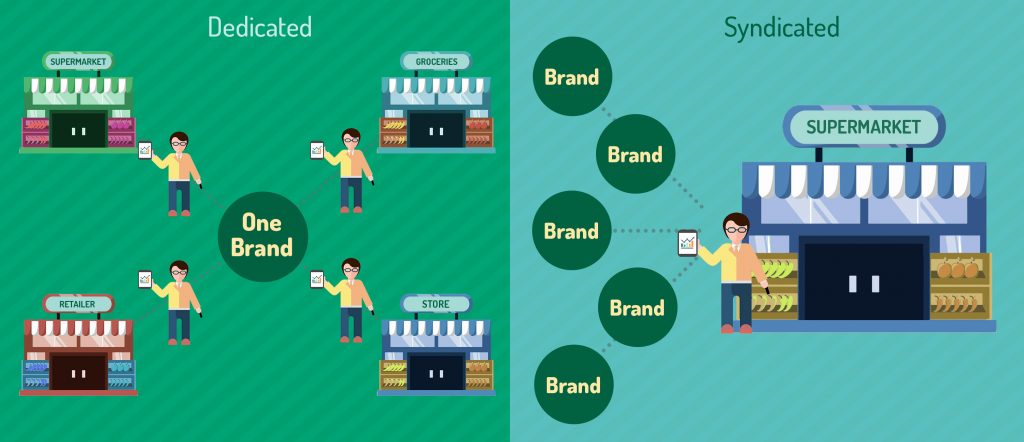 There has long since been a tension between dedicated and syndicated services. Dedication brings some advantages, particularly where specific skills are required, such as selling or where product knowledge is key. However, in most settings, particularly the grocers who demand compliance and consistency instore, these aspects simply aren't necessary. Another reason a dedicated service is chosen is that's much easier to manage and the path of least resistance is often attractive, despite the disadvantages.
Syndication isn't easy to do well. Historically, before the internet age, it was almost impossible to deliver to a high standard and a great deal of distrust grew between brands and providers, because brands simply didn't know if they got what they were paying for – and often they didn't! But, things have changed. Digital systems provide visibility and the tools to enable a generalist merchandiser to undertake more sophisticated tasks.
Typically, the cost of a syndicated delivered hour is only 60% of that of a dedicated solution.  Dedicated teams require a car and spend too long in it.
Callage can be increased for particular activities or events and can be switched off when not required.
There is almost no limit to day 1 coverage, impossible for a dedicated team to reach.
Shorter, more frequent calls are possible.
Much less travel is required with the obvious environmental implications.
The syndicated merchandiser will be familiar with the store and have much closer relationships with store colleagues than a dedicated merchandiser could ever hope to have.
Coverage can be more consistent – no high call density of calls to "favourite" stores like the one near home on a Friday afternoon.
Holidays, vacancies and other absences can readily be covered.
There is no build-up of potential redundancy liability should requirements change.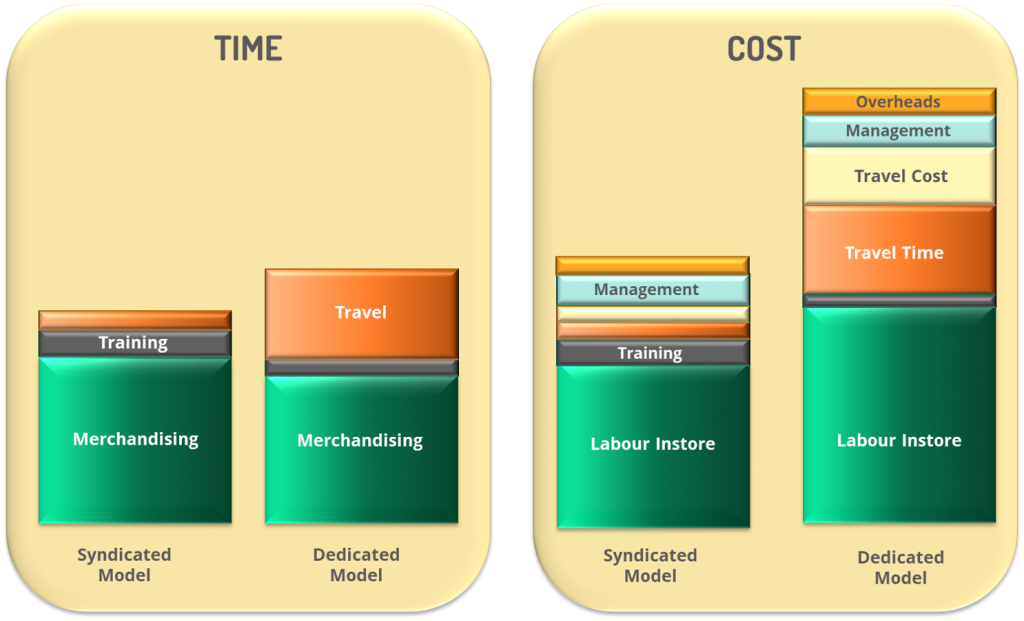 eXPD8 has pursued excellence in provision of the syndicated field marketing model since inception in 2003.   By contrast, the company doesn't provide dedicated services because it wouldn't bring a USP.  Syndication carries a lot of complexity because of the number of dimensions.  This doesn't mean any particular task is necessarily complex, but providing it for multiple clients, in multiple locations, and different times with a flexible work force, is. Everything we do and all our energy is orientated towards solving the challenges set by syndication and improving the service for our clients.  Above all, to succeed, it is necessary to live and breathe syndication. eXPD8 does.
The health crisis and now the economic crisis has highlighted the shortcomings of the dedicated field marketing model. How can you, for example, have half a service or justify lots of travel?
There is a new normal emerging. This will entail the more extensive adoption of syndication and imaginative blended field marketing models where important elements of dedication remain.
16 Things you need to make Syndication work
Field Colleagues who are employed treated properly and have regular hours to create loyalty.  Using a "database" to engage people from time to time is not Syndication!
Strong Social Media activity to engender a sense of community and belonging.
Extensive use of quality e-learning – the variety of clients means that there is a lot of client specific information to impart.
Work scheduled to colleagues who have an expectation of regular work, and not "invited" to do the calls using a booking method.
A scheduling system with the capability to apply constraints to the selection of a colleague to those that have the necessary store accreditation, job skills and client qualification required to do the job, as well as know when people are on holiday!
A sophisticated routing tool to ensure that the potentially significant cost of Travel and Mileage is managed effectively.
An employee briefing portal that presents field colleagues with the briefs that are relevant to them.
Company issued tablets i.e. not relying on the vagaries of BYO.
A Call Management system that provides perfect visibility of activity and allows calls to be managed.
A powerful and flexible questionnaire builder integrated into Call Management allowing calls to be controlled, data collected and reported to meet the myriad of client requirements. 
Discrete calls with integrated timesheets to give clients the necessary reassurance that the time they pay for is not being cannibalised elsewhere.
A close relationship with retailers, ideally with implants in their central office, for better planning, communication, problem solving and ultimately, execution.
A trusted and close relationship with retailer colleagues at a local level, sharing colleague tools, colleague WIFI and access to secure areas.
The means of sharing upcoming activity with stores – in other words, they know who's coming, when, and what they are going to do.
Scale – an effective syndicated service cannot be provided without lots of feet on the ground.
Standardisation and process.  It's complicated enough without trying to do things in different ways.
Syndicated field marketing services are going to be top of the agenda for brands navigating the retail environment during and post Covid-19. It's the obvious choice to reduce cost, reduce travel, increase flexibility whilst maximising compliance and sales instore.
Get in touch with us at hello@expd8.co.uk to arrange a no obligation, 30 minute video call to discuss how syndication could work for your brand.
Director