This week has seen the 94th Academy Awards, or 'Oscars', ceremony. Each year interest and anticipation build to a fevered pitch leading up to the Oscars telecast, when hundreds of millions of movie lovers tune in to watch the glamorous ceremony and learn who will receive the highest honours in filmmaking. In a year that has seen one of the most diverse lists of nominees and making history for many reasons, such as the first streaming film to win Best Picture, the Oscars is the event to invigorate interest in films and getting people watching again.
Here at eXPD8, we don't just love watching a good film, we have a dedicated Home Entertainments team working with Studios to successfully launch new film releases throughout the year. New releases we have worked on over the last year include James Bond: No Time to Die, and Dune, which won an incredible 6 Oscars! And it's not just new releases that we work on either, check out the last entertainment blog here which outlines how we maximise sales from catalogue titles.
Preparation Behind the Scenes
A lot of work goes on behind the scenes to prepare for a launch in store – ensuring that the POS is sent in on time and to the correct place as well as making sure that our merchandisers have all the information they need to be able to visit their allocated stores and ensure all the tasks are completed correctly and on time. Not only do we visit stores on launch day to set up POS and ensure the stock is ready and available for customers to purchase, we can also visit stores ahead of launch to set up pre-launch POS as well as briefing store colleagues on the upcoming launch.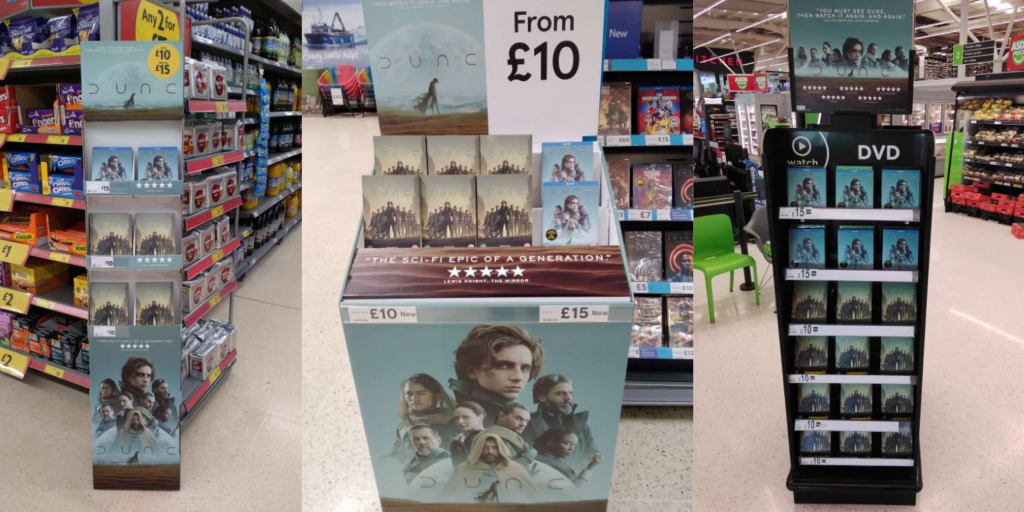 New release launches are important for the studios to create awareness and ultimately boost sales. Every new release launch will include POS to site as well as stocking the shelves and the POS with the DVDs and Blu-rays. Where the film is a big box office hit, there can be quite a lot of activity to co-ordinate for the launch of the DVD and Blu-ray ro ensure that eXPD8 and store colleagues are able to get behind and action all the activities required to ensure a successful launch.
Dune, for example, saw our merchandisers set up and stock 750 stores ready for launch day – this requires either setting up on a Sunday once the store has finished trading, or first thing Monday morning, ready for launch at 10am. There was a range of different POS to set up across the stores, such as 6 Pocket FSDUs, 12 Pocket Bumper Units and New Release Towers which all needed to be stocked, as well as the title being set up on the Charts section in stores. Our merchandisers were then required to visit 300 of these stores later in the week to replenish the stock and sited approximately 1,200 DVDs and 500 Blu-rays.
Upcoming Releases In Store
Look out for the next launches coming to a store near you. Spiderman: No Way Home swings into stores next week, whilst hot off the back of winning an Oscar for Best Original Screenplay, Kenneth Branagh's Belfast will be available to buy in stores from 25th April, along with Sing 2.
Get in Touch to Drive Your Entertainment Sales
At eXPD8, we look forward to the seasonal events that come each year, and plan ahead accordingly, as each can provide different opportunities for our clients, especially around Academy Awards season. If you are interested in working with us to maximise visibility, availability and drive sales for your Entertainment products on DVD new release, please get in touch via hello@expd8.co.uk and a member of the team will be happy to discuss your bespoke options.