Calling all dog (animal) lovers…
Our furry friends bring so much to our lives. The benefits of pets are clear. Making space for them in our daily routine makes our days that much brighter. This is a concept eXPD8 have been following for many years with our cheeky and adorable office dog Olive, who is even included in our marketing communications.
As hybrid working has becomes the newest new normal, the BBC reported 3.2 million pets were bought during the pandemic. And I can see why. As the owner of a beautiful Golden Retriever called Rose who became part of my life during lockdown, I can fully attest to the benefits of a furry work companion.
A Part of the Family
One of the most amazing aspects of working for eXPD8 was finding out what animal lovers they are. The fact they had an office dog was fantastic, it creates a family feel. As a result of the pandemic, I have missed out on this environment, but my very own dog Rose helps me with that. She makes her presence known regularly in morning meetings, popping up to say hello, especially if another pet or even child appears on the screen. She can be a bit of an attention seeker! This really lightens the mood for my team. She must have her say – it certainly seems to give my team a smile to start the day!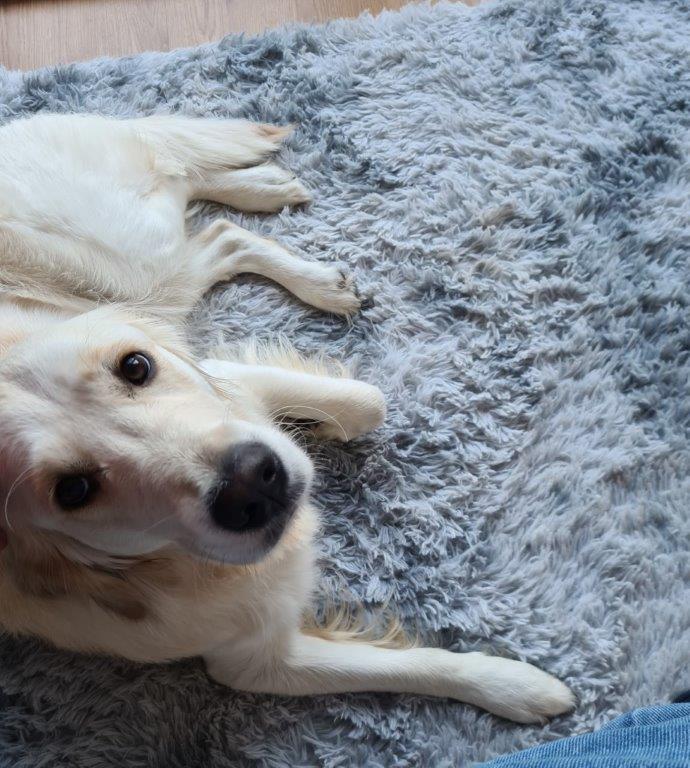 A survey run by Banfield Pet Hospital in 2016 found that 82% of employees feel a greater loyalty to pet-friendly companies. I can vouch for this as can some of my colleagues. They're good not only for recruitment but for the staff themselves. In this survey, 88% agreed that pets improve work morale and 86% said they reduce stress. Pets are known for having a positive impact on mood and it seems this translates into the workspace.
Working from home can be on occasion stressful and lonely, so having a dog as a faithful companion can be a huge help to so many, especially during lockdown when they were the only company so many had all day. There's some amazing science behind this, which shows the amazing impact of pooch power! Not only does your cortisol level drop when you stroke a dog, but you also produce more oxytocin (the love hormone). Who knew that cuddles could do such amazing things?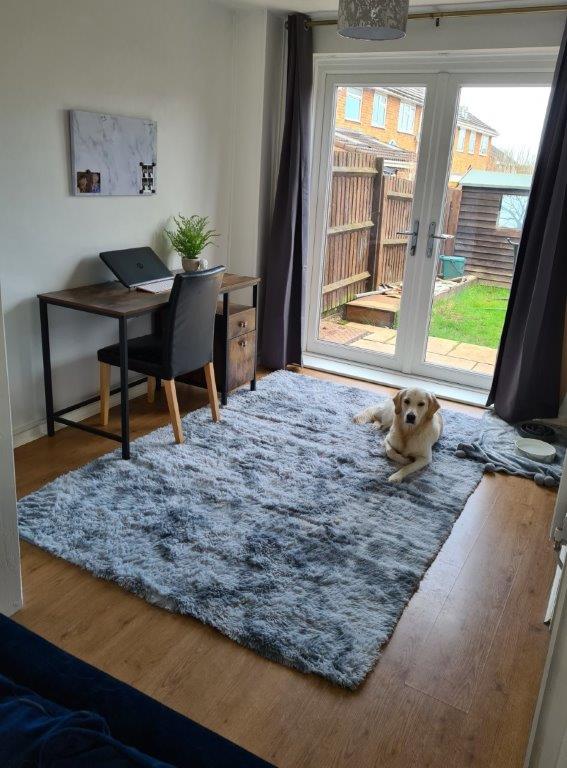 People + Pets = Wellbeing
The science shows that working with dogs (either at home or in an office environment) is highly beneficial for physical and mental health – is it also a great motivator to increase productivity. Throughout the day your dog encourages (more like insists!) you take short breaks away from your screen to let them out (or because you clearly haven't been fussing them enough) which is important as reduces risk of eye strain and improves concentration.
It is easy to go into work mode and go for hours without a break which is counterproductive – a dog simply will not allow this. Indeed, studies have shown that having a pet can increase work output. Sean Liddell, MD at Mindful Training Ltd. who contributes to research in this area has said that pets "increase productivity for remote workers by providing a distraction, avoiding burn out and enabling workers to work consistently throughout a working day at a more even pace due to regular small breaks which recharge the workers capacity for work".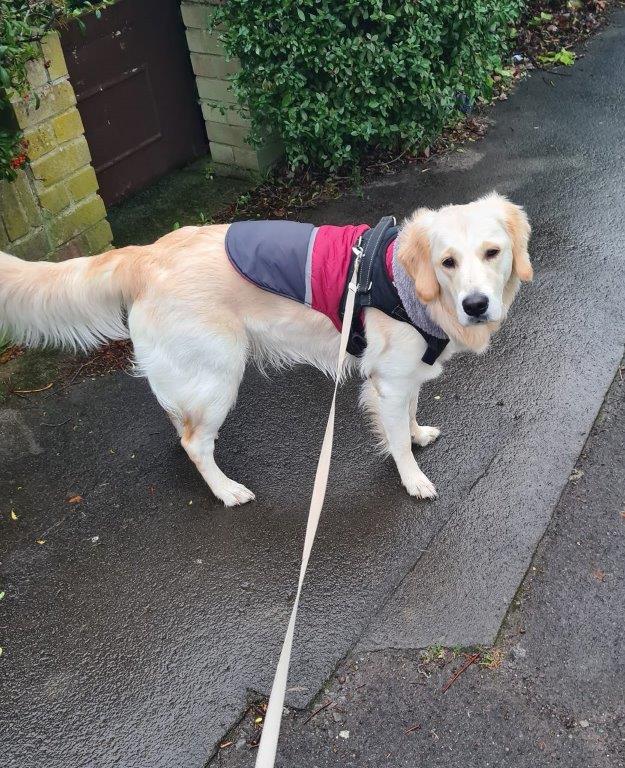 Having the regular routine of morning/lunchtime walks gives you the push to get away from screens of all kinds (laptop, tablet, phone) and get some exercise which is beneficial for your physical and mental health – reducing stress, getting some fresh air, clearing your head, and recharging for the work ahead – without Rose I know for a fact I wouldn't get out and leave my house nearly half as much as I should.
Everyone's Situation is Different
So much change has happened over the past years, so many difficulties and struggles, but there are a few silver linings; some positives to take and a couple of the major ones are the increased opportunity to work from home. This improves the work life balance for so many. And of course, there's the normalisation of talking about mental health and the struggles so many people go through.
Whilst every dog is different, these are some handy hints that have helped me with Rose whilst working from home:
Having your dog close can be reassuring and has many benefits but it is important that they have their own space as well – be sure to set boundaries so you don't have an unexpected head pop up in an important client meeting (yes it happens!)
Prepare for your pooch – have games, frozen treats, and chew toys ready to entertain them. Whilst they may think they're always the most important thing, they need to entertain themselves sometimes and having lots of options makes this an easier task
Walking your dog is essential for them as much as you – Rose has bounds of energy so a good walk to start the day and at lunch mean she isn't bored and seeking attention – luckily, she isn't a destructive dog, but I know for a lot of owners a bored dog with lots of energy can lead to a destructive dog which can be distracting (and expensive)
Establishing a routine – This is important for you and is particularly good for dogs who thrive on a it – they will pick up cues on when it is time to eat/walk/play alone which helps to ensure everyone is happy
Rose would agree, there are a whole host of perks to having a pet by your side at work. It helps us mentally and in our work, as well as giving us some much-needed company, now that hybrid working is the new normal. I am a big dog fan but there are so many different pets to choose from, from guinea pigs to cats and even lizards. Any furry (or scaly) friend can make your home and work life even brighter.