Great communication is integral at eXPD8, to ensure we deliver first time…every time for our clients. We have strict SLAs which must be met to make sure clients and other stakeholders are always informed.
eXPD8 is currently running a Future Leaders programme in Management and Leadership as part of it's promise to provide employee development. As part of the programme we have reviewed what stakeholder communication means for eXPD8, we explore this below.
What is a stakeholder: Anyone who has an interest or influence in a business or project
Stakeholders can be internal such as staff, or external, E.G. customers and suppliers. Depending on the role of the manager and the businesses purpose, some stakeholders will be more relevant than others, E.G. the government may be of higher importance to someone working as a HR manager than it would to a social media manager.
A good way to assess the needs and expectations of stakeholder groups is by using a Power Interest Grid, as it is a collaborative and adaptable method that can be recreated depending on the purpose required. It is however subjective, as it is based on the how the manager (or person completing) views the stakeholder's importance at that time.
Here's an example of how this could potentially look for stakeholders at eXPD8.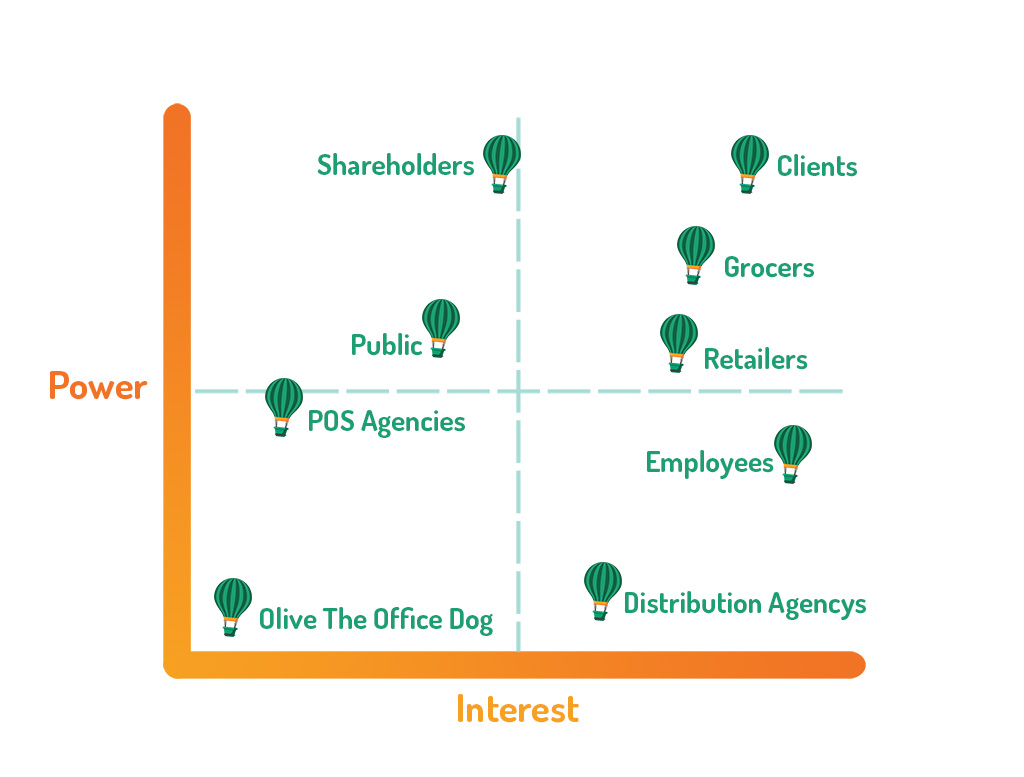 Communication Channels: The method used to send a message or contact the person or business you need to communicate with
Communication can be verbal or written, formal or informal, depending on what is most appropriate. Some circumstances warrant a combination of written and verbal to ensure all stakeholders can be reached and understand information provided. It is important to understand your audience so you can choose the most appropriate method, E.G. it might not be appropriate to send a skype message to a potential new client, instead a more formalised email or face to face meeting could be used.
Emails are great for reaching the mass market as they can be delivered to multiple people or stakeholders at once. They could be used for maintaining current or developing new relationships. We also use them a lot at eXPD8 as it allows us to communicate with employees within our central office and those working in the field. The downside is that it can be misinterpreted and does not demand attention, so you may need to follow this up to ensure accurate communication is made.
Verbal communication has a more personable approach and so is good for building relationships on a 1-2-1 level. It can be time consuming and sometimes difficult to facilitate face-to-face meetings, however at eXPD8 we believe the benefits outweigh the obstacles. It is often our preferred method of communication, with written communication such as email therefor used to support and provide a paper trail.
Social media is a more informal way of communicating, as well as being quick and interactive. At eXPD8 we love social media as we can communicate with and praise our employees, as well as interact with clients and showcase what we are up to. It's also a great way to keep up to date with the retail market which is constantly evolving.
Why is communication important?
Through good communication with a client or stakeholder you can gain a greater understanding of their objectives and overall goals, enabling you to review and adapt how you support to deliver this. This helps businesses plan resource and identify opportunities for growth and development as it highlights areas for improvement and increased focus.
At eXPD8 we utilise several channels of communication to ensure we keep up to date with merchandisers in the field, as well as our clients needs. We see value in face-to-face meetings with both employees and clients as we believe it builds trust and allows us to practice active listening, so we can understand what really motivates them. We are the largest tableted field marketing workforce in the UK, so we use this technology to both gather information and send real time updates to our colleagues in store regarding any updates.
If you think your business could benefit from retail support, why not get in touch to see how we could support you and start delivering service excellence, first time every time. Give us a call today, or an email or tweet, whatever you prefer!
Gill Crouch
Client Account Handler