So, the New Year kicked off with the UK's third (and hopefully final) lockdown, and it's safe to say that most of us have been feeling a little deflated. We have been back once again to the long, dark evenings sitting on the sofa, endlessly scrolling through our phones. With the extra free time we've had at the moment, and the end of lockdown in sight, what better way to stay busy and keep our spirits up than getting our creative juices flowing?
Whether you've studied art, enjoy art as a hobby or are brand new to the game altogether, there are so many different art or craft activities out there for all abilities to have a go at! It's always been important to get in touch with your creative side regardless, so why not take this opportunity to try some new things!
Creativity and mental health
Getting stuck into some arts or crafts can actually work wonders for our mental health. Not only does it keep us busy, but it can help us to express our emotions, and the sense of accomplishment can even stimulate the release of dopamine in our brains (the happy chemical!).
I personally find that when I'm focusing on a piece of artwork, it is the one time in my day when I think of nothing else at all, and it appears I am not alone in this… Engaging in a creative project can actually put you into a state of 'Flow' – a psychological state of being completely absorbed in something. It can reduce anxiety, boost your mood and even slow your heartrate. In these uncertain times, we could all do with a bit of that respite every now and then.
Try something new
Even if you have never picked up a paintbrush in your life, it's never too late to have a go at something new. Sit in front of a mirror and try a self-portrait or ask a family member to sit for you whilst you draw them. You can experiment with different media such as pastels, paints, charcoal or ink.
If drawing people isn't your thing, try setting up a still life – take a selection of objects from around your home that you find the most interesting and set them up in any arrangement – the possibilities are endless!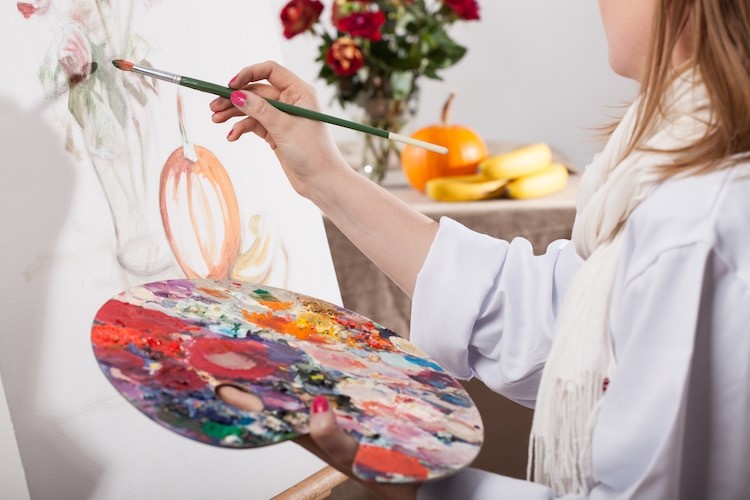 If you're already advanced in the art game, why not challenge yourself? Try drawing with your opposite hand, or with the paper upside down, or Sellotape your paintbrush to a long stick and paint from 2 metres away (and practice your social distancing while you're at it).
Some of the most interesting outcomes come from the more unusual techniques. The most important thing is not to worry about the finished product, but simply enjoy the process!
If craft is more your thing, a great resource for finding different ideas is Pinterest. Type in 'Craft ideas' and watch the knitting, jewellery, dreamcatcher, sock puppet, plant pot, flower garland and many, many more tutorials come flooding onto your screen.
For those who want a little more guidance, take a look at this article for some adult craft kit ideas to help get you get started.
Business potential?
With the uncertainty of the 2020 job market, combined with some new-found free time, has come a surge of business. Where savvy creatives are turning their lockdown hobbies into side-line jobs. Do you have a creative hobby that you could make some money from? Social media is a great tool for getting your work seen for free, whether it's commissioned artwork, or selling home-made ornaments or candles, it's always worth a shot if you think you've got potential customers!
If you're just in it for the hobby, sharing your art on social media can also be a great way to keep connected with others whilst locked down. Share your work with friends and family and encourage them to have a go themselves. Social media is also a great place to follow Artists account and get inspired by their work.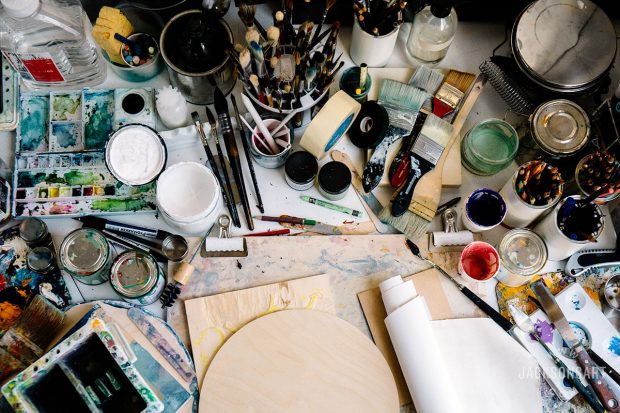 Getting started
While all this might sound like something you'd love to do, not everyone has art materials at the ready – but fear not! You don't have to break the bank to get a few new bits. Great places to go for really reasonably priced arts and crafts materials include Hobbycraft, The Range, WilkoandAmazon – all of which are available to order online whilst shops are closed. Most of these shops will have everything you could need to get started. Whether it's just a couple of items or a full set including a range of different materials to try.
If you're looking for some more advanced art materials, Cass Art has some amazing quality products (but a little more on the pricey side!).
Feeling inspired? Get creative! Make it your mission to have at least one evening of trying a new art or craft activity and see where it takes you… you never know, you could be the next Picasso.
Ella Watson – Client Services Administrator