What is your full name?
"Elliott Samuel Moore."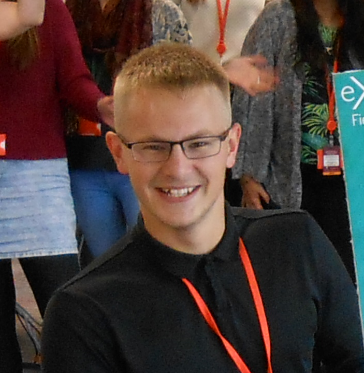 What's your favourite thing about eXPD8?
"The atmosphere that has been created, Olive the office dog, the BR & DVD library and also my colleagues in the IT team."
What are you known for?
"I'm known for my kind smile and always happy attitude. Even if I'm having a bad day, you're getting a smile and a "How's your day going?"
What's your favourite thing about IT?
"Being one of the only people that can fix things when they break, I love the feeling of responsibility that brings. I also love the way that technology influences almost every aspect of our lives these days."
Why did you choose that profession?
"I've always wanted to work with computers since I was a child, except when I first decided I was going to be an IT engineer I had this strange expectation that I was going to work on aeroplanes for some reason."
What is a skill you'd like to learn and why?
"I'd like to expand my knowledge on coding so that I can broaden my horizons in the IT world, but I'd also like to improve my knowledge of networking and security so that I can assist in future IT projects eXPD8 might undertake."
What do you think about when you're alone in your car? 
"Why am I alone, whose car is this?"
What's the most interesting thing about you?
"That despite my youthful looks and flawless skin, I've actually worked in IT for just over 4 years, and that I'm also a Microsoft Certified Professional and a Microsoft Certified Technician."
What do you feel most proud of?
"I feel most proud of being able to provide amazing customer service no matter who the client is, or what the situation might be."
If you could travel anywhere, where would you go and why?
"White Hart Lane, I've always wanted to go and watch Tottenham play but it always ends up costing too much."
How do you spend your free time?
"In my free time I'll either be chilling out on my own or with some mates, I also go cycling and swimming on the weekends."
What was your most embarrassing moment?
"My most embarrassing moment happened when I was 18. It was my work's Christmas do and everyone was there. That was when I walked up to the Chief Information Officer who was my manager at the time, and challenged him to a boat race. Sober, I could drink a pint in around 5 seconds. On this particular night, It took me 5 seconds…. to pour it all down my shirt."
Thanks for your time Elliott!