With so many brands and products on offer in store it can be difficult to stand out from the crowd.  Part of the response to this is to update the product range and look frequently, keeping it 'fresh' and on-trend.
A cosmetic brand will spend lots of time and money creating a new look, new products, and the perfect display for it in store.  Alongside all the design is the planning and instructions on how to install in store.  However when the task is passed onto a store to implement the outcome can end up quite different than expected.  This is not necessarily down to a store error but can be summarised by 2 key challenges faced by all stores.
Key Challenges for stores
Lack of time in store: many stores struggle to balance their seasonal range changes alongside the day-to-day customer service.
These irregular tasks are unpredictable and reduce the amount of time spent on the regular.  When returning to the range change there are two common issues:
Compromise of standards to complete update in less time – you may site less stock to ensure the main POS and planogram requirements are met in the time available.
Loss of flow – risk that you will pick up the task at the wrong stage and miss a key part. Also stock ready to be sited on fixture could have been moved by customers or removed from shopfloor to avoid cluttering.
This lack of time means range changes are usually done to the standard that the store is happy with.  The store may be happy with products and SELs being on display without the corresponding POS if it means the colleague also has time to serve customers on busier days.
Lack of familiarity and consistency: Store colleagues will have to update various areas in store across different brands and departments.
Colleagues from other departments may be helping in updating a range they are not familiar with. The finish will not be as perfect and often to a basic standard
Individual brand requirements. For example some brands prefer tester lids to be open to accomplish their look.  Others do not.  However store colleagues may not be aware of these nuances.
Colleague migration – store colleagues frequently move departments or roles. Then their knowledge is lost and their replacements start fresh without the learnings.
Once the store colleague has updated the range, their knowledge and learnings is lost.  They move on to other tasks in store and will not have to update the cosmetic range again for several months by which time they may have forgotten key elements.  This also means the stands differ store to store, as colleagues from other stores will have their own ways of working.  The brand uses it's uniform look originally planned.
 How does merchandising address these issues?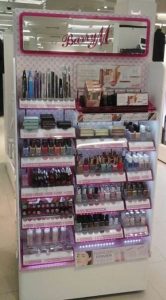 Contracting an external merchandising company will combat the issues outlined above and will pay for itself with the uplift in sales.
Lack of time in store: The merchandiser is paid for a pre-determined amount of time in store to focus on your brand. For example a colleague tasked with 2hrs on a fixture may have to reduce time when they handle customer queries, clean up spillages etc.  The merchandiser is to focus on that brand alone.  They will also be given clear priorities that need to be met within that time.  They will know that siting testers for all available items is more important than fully stocking the fixture.
Lack of familiarity and consistency: the merchandising company will press the brand of details they may have missed from briefing. For example eXPD8 would then put all the key details into a brief following a format our teams are used to working with.  This ensures nothing is missed.
Merchandisers will also service many stores in their local area.  This allows for a uniformed look across the regions and allows learnings/knowledge to be carried onto other store installs.
Finally, colleague retention in store is low.  Merchandisers will stay with a company for years building a solid skillset and experience.
If a brand works regularly with the merchandising company the merchandiser can be working on 3-6 seasonal launches a year across dozens of stores and brands.  This level of experience and familiarity cannot be replicated by store colleagues and helps set a high standard for the brands.
Summary
Due to these challenges, I believe that external merchandising is effective and essential in keeping your Health & Beauty range up to date.
These are the reasons why external merchandising companies exist. To summarise why merchandising is effective, not just in Health & Beauty, but all categories.
Merchandisers have a specific amount of time in which to focus on that brand and that brand alone!
Merchandisers are fully trained & briefed on the brand ensuring there is a consistent standard of work.
Merchandisers build experience and knowledge over years of work in their area and the benefits are delivered to all stores in their region.
Don't hesitate to get in touch for more info on how we can support your Health & Beauty brand.
Read more about our H&B work in these Case Studies !
Client Account Handler