The reaction to the Theatrical release of Warner's Dunkirk was phenomenal, bringing home more than £56 Million at the UK Box Office and forecasting huge opportunities for video sales. The Home Entertainment launch was scheduled for the 18th December, and although the potential rewards of a triple-A release so close to Christmas were tantalising, the logistical challenges were equally great. Why was the launch of Dunkirk so successful?
As eXPD8's Retail Insight team will tell you, grocer space for our industry actually becomes less competitive in the week before Christmas, with new activity slowing down and a freeze in most grocer Chart space. It's something of a Christmas tradition for studios to politely side-step the quagmire of last minute Christmas Cracker Cardboard, the waning support from over-stretched store colleagues, the escalated risk of delivery failures, and the minefield of Bank Holiday closures looming to halt the momentum of any campaign.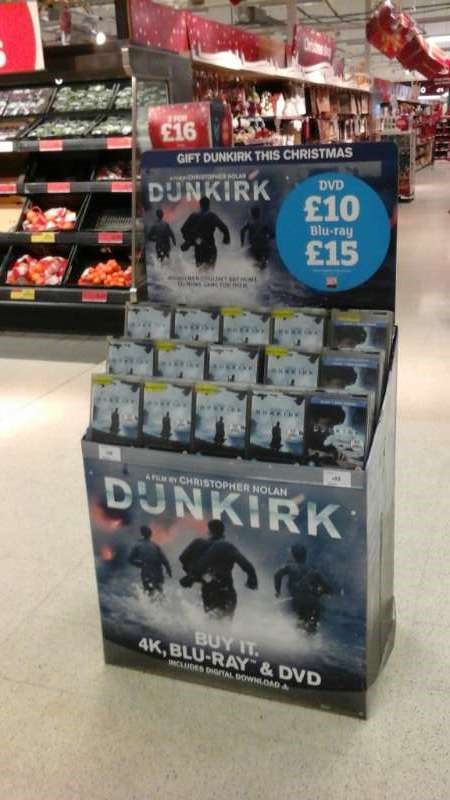 The 18th December would clearly be a tight runway to land this entertainment juggernaut, and we knew early on that it would be a technical feat even to rival October's turbulent 3 in 3 (3 Warner launches in 3 working days). The pressure was on to deliver an epic merchandising plan on a scale to match the title, and so it was that eXPD8 took off once more into the unchartered wilderness, an exciting new product under our wing, burning every last drop of fuel and cranking down the landing gear to bring this picture to the ground.
Here's the top 4 reasons we landed without a scratch:
We recognised that launch pre-awareness was key. As the launch approached, we built in place a robust pre-awareness and social media plan, not only to inform the many thousands of store colleagues we connect with across our operational store base, but also to prepare the teams within our own business. Out in the field, Dunkirk Talk Up conversations were held with store managers and department managers on all client visits from the start of December onwards. On the week prior to launch, this Talk Up initiative peaked, coinciding efficiently with the launch of Game Of Thrones Season 7 on the 11th On this day alone, more than 1,000 talk ups across the gigantic store base of the run-up launch took place, with all our merchandisers sharing trailers and collecting signatures to confirm stores would comply with our unique set up plans. At the same time, within Central Office, all colleagues received a special briefing ahead of the launch to detail what would be asked of them, and were also given the chance to take part in a specially prepared war film quiz. Dunkirk was further referenced through the Entertainment Team's Q4 'Survival Pack' goody bag, issued to all Central Office colleagues to boost moral during the busiest months of our business calendar. Our own social media platforms broadcasted these details and more, with launch details and trailers also directly visible to our merchandisers on takeover areas of their tablet devices, all helping to heighten anticipation and drill in awareness of the approaching date.
We planned early and efficient visits. To maximise product availability across the pre-Christmas week, eXPD8 knew that the timing of pre-launch visits would be critical, with the need to have as many stores as possible compliant right from the dawn of Monday trade. eXPD8 worked with Field Team Managers to arrange a percentage of launch preparation visits earlier than we would for a typical launch schedule, executing an ambitious volume of targeted Sunday calls and offering a bespoke merchandiser payment plan to incentivise Sunday visits. Call priorities and questions themselves were streamlined during the launch, so that each visit could be completed as quickly and simply as possible, with any less urgent priorities moved to fall instead within replenishment visits scheduled later in the week. To prepare stores for a high number of Sunday calls, and guarantee their cooperation, we harvested the many years of trust our business had built with the grocers, not only at Head Office level but also at store level through individual merchandiser relationships. We built in, to all Sunday briefs and questions, a letter of authority from the Head Offices of various grocers, as well as a script for any necessary conversations our merchandisers would need to have with store colleagues on Sunday visits to make sure all Cardboard Units were maintained in key areas of the store. These visits were followed up by a huge volume of phone calls made from across all parts of our Central Office team on Monday morning. Here, we flexed the muscles of our newly flexible COAST Administration Team to act as minesweepers, ensuring any risk stores were followed up with phone calls, clearing away any potential issues arising from the early visits. To speed things up for our Account Team at this time, a compliance Tracker was built specifically for Dunkirk which was maintained by our data Team to compliment a bespoke method we adopted to streamline the data cleansing and reporting process. This freed up more time to react to issues, to continue to plan and tweak upcoming visit plans, and to request additional spares from the POS agency as soon as we were aware of any need.
We carefully planned the physical logistics of all launch elements. To combat the issue of Chart freezes in the previous week, we either agreed or confirmed with each retailer how they were planning to work our New Release Title into a frozen Chart space, whether or not, for example, our merchandisers would be replacing one of a pair of double faced titles set in place from the previous week, or whether an alternative solution would be put in place. To ensure the agreed Chart changes were actioned correctly, our target list of stores expanded to absorb even stores without any off-shelf POS to display. Our plans for cardboard set ups took fully into account the limitations of available pre-Christmas store space. Simple, functional, stock holding POS was given a clear precedence. Standees or Theatrical Units were strategically excluded from the campaign, as these were likely to be refused, potentially blocking the hectic flow of Christmas shoppers and creating tensions with busy store colleagues. The largest of the stock-holding Units used for the campaign was cleverly tailored to comprise a pair of free-standing elements which interlocked but could be broken down and consolidated into a single Unit. This feature built in an effective response to any reduced availability of space or stock, increasing the longevity of these Units following launch week. Any Point Of Sale delivered for our merchandising team to walk into store was shrink wrapped to protect from the risk of weather damage, and a higher than usual percentage of spares were printed so that eXPD8 could quickly flag and re-order a high volume on demand. Cardboard deliveries were checked and monitored, both at home and in store, with merchandisers flagging any issues ahead of the launch.
We used our own data source to schedule the visits. A Dashboard file maintained by our data team, ranking store performance in all stores across the country, enabled the analysis of data from previous launches throughout the past 12 months so that we could identify and highlight stores where merchandisers were most likely to convert stores from fully non-compliant to fully set up. This helped not only to inform selection of store visits themselves, but in this instance went deeper to inform the level of priority given to each store visit. Through a devised code, built and agreed with our Field Team specifically for this launch, stores were earmarked with their assigned level of urgency. Our markers for priority were visible to Field Team managers at the time of scheduling visits, and were also flagged to the merchandisers themselves, so that stores could be selected, route planned, and hit in the best possible order.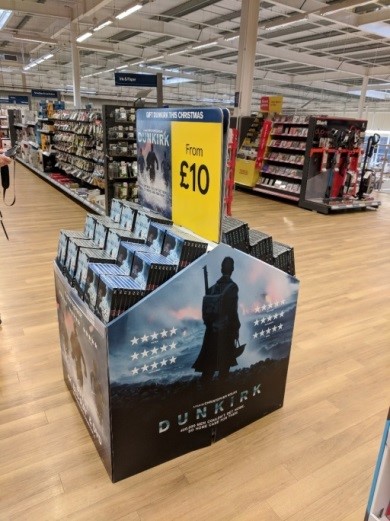 Thanks to all these efforts to stretch beyond standard process, and of course due to the brilliant work of our merchandising team throughout the country, the launch was a resounding success in every respect, achieving an overall compliance of 96%. For our own part, we approached the launch of Dunkirk like any other, helping to plan and implement the best possible strategy to ensure the highest compliance and maximise product presence. However, beyond the small part we were privileged to play in ensuring the title's availability to you wherever you may live in the UK, the details of our own operation are not the only thing we have to say about Dunkirk. The film itself stands as a staggering achievement in film making, a truly immersive historical document, and a glimmer of hope shining in one of the darkest times of the last century. My own copy will always hold a genuinely proud place on my DVD shelf, not because it dominated three months of my professional life, but because it's fantastic.
Account Handler