Retail Point of Sale Display for Asda Technology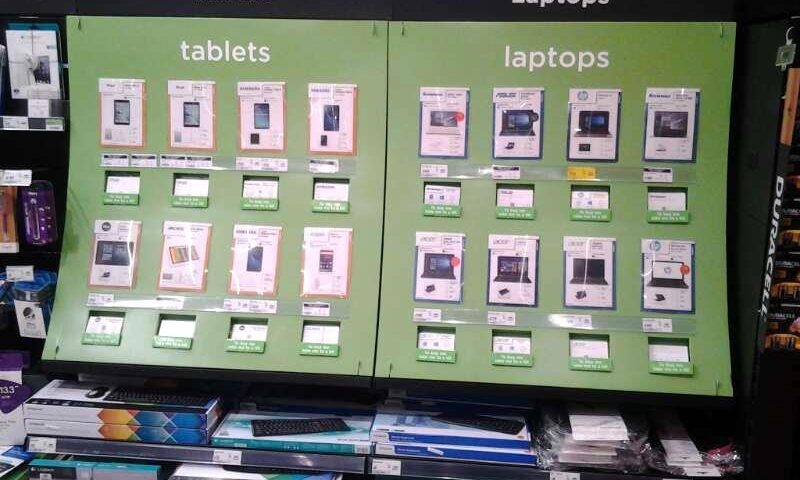 Results
Average compliance achieved
Number of Stores visited
% set-ups/visits completed
Our response
Planning began approximately 4 weeks prior to launch. This included liaising with the retailer and distributor to ensure briefing information was consistent and received on time for in-house deadlines. Critical information required for briefing the field team for the launch and for collecting accurate data included planograms, line lists, POS visuals and up-to-date store lists.
eXPD8 received all POS into our fulfilment station, pre-packed to cater for store-specific requirements. A mailing list was created and POS packs sent to eXPD8 Merchandisers to walk into store for their visits.
eXPD8 merchandisers completed launch day visits to set up all new POS Inserts on the existing laptop and tablet solutions in store and ensured planogram compliance for existing POS. All merchandisers had briefing information and questions loaded to their tablets allowing for full visibility of all necessary information whilst in store.
eXPD8 Central Office reviewed compliance data throughout day 1 of the activity, with the tablet technology in place allowing the capability to see images and compliance from stores within 45 minutes of a visit. This enabled us to take any reactive measures promptly if necessary.
An interim update was sent to the client contact at the end of day 1, including a broad selection of images and a snapshot of current compliance data. This was followed by a detailed final compliance report the following morning, once the full data set was available, featuring both an overview of reasons behind non-compliance and store-specific data and feedback. Details of missing SKUs by store were also compiled to enable Asda to accurately re-order.