Implementation of Bulldog: Skincare for Men Trays in Sainsbury's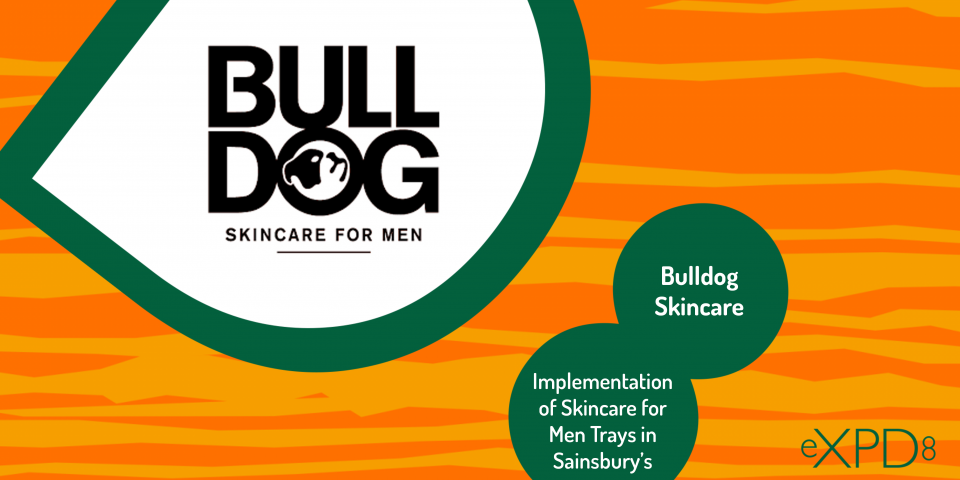 Results
Average compliance achieved
Number of Stores visited
Our response
All point of sale was delivered to eXPD8's warehouse, trays were differentiated depending on design for the various stores requirements and a merchandiser mailing list was provided to ensure the right stores were allocated the right POS for launch. All POS was dispatched from eXPD8's warehouse within 4 days of the call to store to ensure enough time for arrival.
Briefs were created at our Central Office. These were collated post email clarification with the client to outline the following;

Where in store the products were ranged and the relevant planogram for that space (including what needed to be removed)
Delivery information of multiple elements to be walked in by eXPD8 merchandisers. Overall this included in excess of 400 trays.
Visuals of the relevant products in a glossary.
In store procedure for printing of SELs.
Information on how and where to locate the relevant stock in store for siting.

Compliance questions were loaded to merchandisers tablets the week prior to launch – these being bespoke to the store in question and allowing for key data capture. In addition to bespoke compliance questions we also loaded a "complete at home call" the week prior to ensure all merchandisers had received the relevant point of sale – if there were any delivery issues this was followed up/resolved with the courier.
On launch day, the client was provided with various images and interim updates to make them aware of launch progress. The final report was then provided the day following launch, giving an overview of compliance, images and exceptions. Any non-compliance was then amended and a spare sent to store.