Implementation of Sainsbury's Mobile Pay-As-You-Go Bay Refresh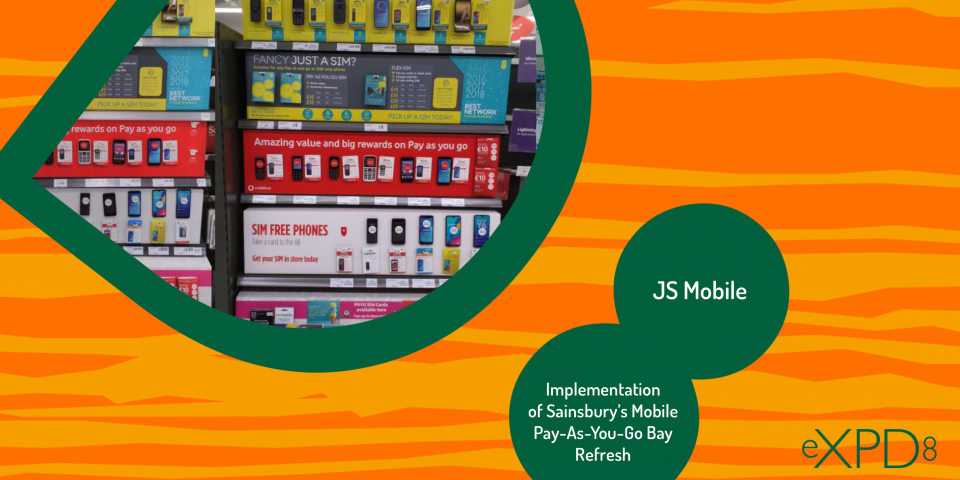 Results
Average compliance achieved
Number of Stores visited
Additional results
Visits in 250+ stores within two days.
eXPD8 were able to feedback to JS Mobile with timely information regarding their promotion in store.
In excess of 100,000 Tickets and 6,000 dummy phones implemented across 2 days.
All point of sale was walked in by our merchandisers to improve compliance rates in store.
eXPD8 Influence of 100% as all elements walked into store.
Our response
Working together with Sainsbury's buying team and key brands to establish a planogram for the bay refresh – this included TTT (take me to the till) Tickets, Dummy Phones, SIM Cards and Mag Strips.
Printing of all 36 TTT Designs at eXPD8 Central Office – Completed designs were sent to eXPD8 from the brands which eXPD8 then fit to bay measurements and printed in excess of 100,000 tickets to take to store. Tickets were then separated depending on if the store were a "Sainsbury's" store or a "Shop In Shop" (a store with an Argos concession).
All point of sale was delivered to eXPD8 warehouse, a dummy bay was then created with all blockers, dummy phones, TTT tickets dressed on to highlight any potential challenges ahead of launch which all stakeholders may need to discuss and amend prior to roll out – any challenges were discussed and amended.
Briefs were created at our Central Office. These were collated post conference calls with the client to outline the following;
Where in store the products were ranged and the relevant planogram for that space (including what needed to be removed)

Delivery information of multiple elements to be walked in by eXPD8 merchandisers. Overall this included; 100,000 TTT tickets, +6,000 Dummy Handsets and +1,500 cardboard blockers.
Visuals of the relevant products in a glossary.
In store procedure for printing of SELs.
Information regarding Stock on Hand in store and their delivery frequency.

Compliance questions were loaded to merchandisers tablets the week prior to launch – these being bespoke to the store in question and allowing for key data capture.
On launch day, the client was provided with various images and interim updates to make them aware of launch progress. The final report was then provided the day following launch, giving an overview of compliance, images