Promotion Launch for a high-profile Brand in a Major Retailer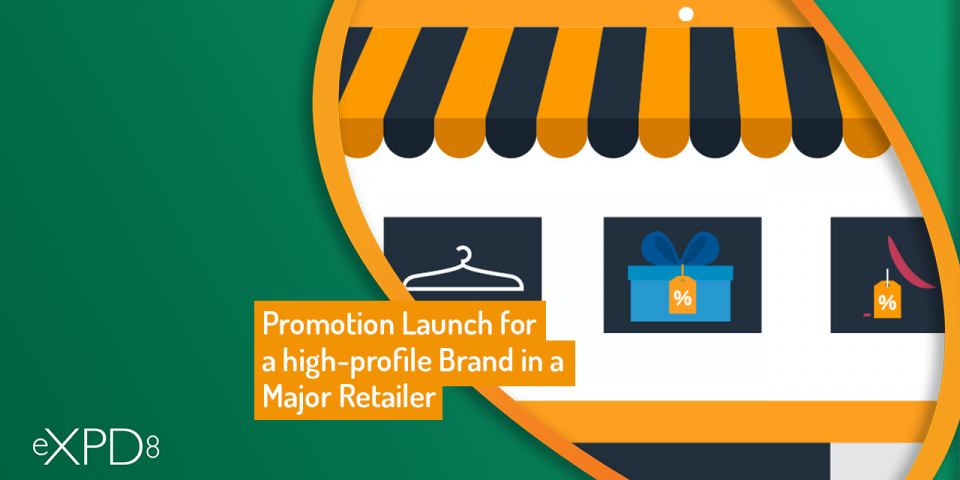 Results
Number of Products merchandised
Number of Stores visited
Number of hours
Additional results
Following a dramatic increase in sales over the first week of the promotion, it was agreed more stock would be allocated allowing us to merchandise over 25,000 products for the campaign and convert previously non-compliant stores who were struggling to balance stock between the main fixture and OFD. Minimising wastage was a key element of the replenishment, by completing 2 replenishment visits per week our Merchandisers were able to ensure stock rotation was executed and minimise potential wastage. Extracting information was a key focus for our client – we were able to deliver insights in terms of longevity and space allocation of the OFD, isolated issues and positive engagement through interim reports and regular contact.
Our response
eXPD8 supported the implementation and replenishment of a promotional display launched at the beginning of 2020. With a good lead time we were able prepare for this activity allowing us to create a range of training materials, including an informational video distributed via internal comms and a detailed brief to accompany pre-awareness visits.
Our Merchandisers worked with department managers to ensure the OFD was sited in the correct location, moving the display where required. If space was not available, we liaised with stores to find an alternative space that would suit both the client and the store's needs.
eXPD8 prompted stores to check order levels ahead of the promotion to ensure enough stock was on order. As additional stock was not initially allocated for this promotion, our Merchandisers worked to balance the stock between the OFD and main fixture to ensure full product availability
The activity conflicted with the Seasonal period which directly affected stores opening hours, limiting the number of stores we were able to set up on key dates. To address this and maximise the brands ROI, stores who were able to Set Up the OFD on Day 1 of the activity were allocated a replenishment visit ahead of the first weekend of 2020 to maximise visibility & availability of the products whilst capturing insight regarding the promotional displays location and stock level in stores after 2 days live on the shop floor.