It's been a year since eXPD8 launched CROWDY, our very own and unique take on crowdsourcing. It's unique because all our crowd are fully employed by eXPD8, inducted, trained and tablet-equipped Display Reps… no disrespect, but they're not just a "Chap with an App". What's more, there are some 2,400 folks in our crowd, working in every postcode in the UK, for 364 days a year. And it goes on… because eXPD8 has accreditation in Sainsbury's and Asda and are a preferred partner with Tesco, our crowd can action fixes in store when they're there!

Are you in? Fundamentally, CROWDY works if you need a sample of the estate visited. It could be to audit price, availability, promotions, get some insight or action a simple fix: stock on shelf or bookstock. Let's say you want to find out if your shiny new product has landed well in store, has the space you paid for and it deserves in, say 100 stores. We would load up maybe 200-250 stores from that chain. The CROWDY system would alert all our Reps living within 5 miles of those sites who can claim the visit as theirs. As soon as 100 stores have someone signed up, the remaining 150 disappear. All we need is some simple briefing info and a nice pack shot from you, and we're away. 
The processes we've established are as smooth as clockwork and our team really enjoy doing the calls.  And we can initiate CROWDY calls in 48 hours from your brief.  That kind of speed is vital in our changing retail landscape to help you make the best and most proactive business decisions.  Take a look at our recent work with Duracell.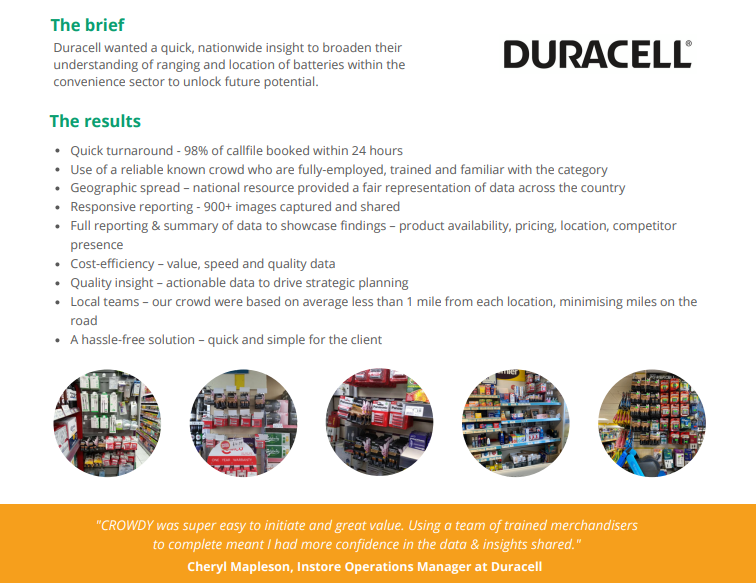 If your brand could benefit from this service, offering insight and action on the back of full UK coverage, over 1.5 million planned visits and a trained, accredited team, you just gotta get in with the in CROWD.
To find out how we can support your brand, get in touch at hello@expd8.co.uk