In order to optimise sales, brands and retailers require a range of field marketing services to direct the right resource, when and where it's needed most. That's why at eXPD8, we support our clients with multiple commercial models including planned, tactical, data-driven, and our new service, CROWDY.
CROWDY provides transparency and simple interventions on the shop floor. Brands get the agility of crowdsourcing, but with the reassurance of a 'known' crowd who are fully-employed, trained, tablet-equipped and know their local stores. Whether you need an instant view of reality, your availability, price, promotion or some simple action to your product, fixture or POS, our nationwide known crowd are equipped and ready to go! Brands often require a quick assessment of the shop floor to obtain insight about what action to take next in order to drive sales, quickly and cost effectively.
Tap into our team of 2,000+ merchandisers who are situated in every postcode of the UK and are available 364 days a year, including evenings and weekends. Our 'crowd' are fully-accredited in all major multiples, unlike other crowdsourcing companies. Accredited means our merchandisers have permission to be in store. They undertake training on the retailer standards and procedures to safely operate in store, and can only visit once they have passed the accreditation. The eXPD8 Crowd therefore receive the support and accessibility from the retailers to be able to do their job efficiently and effectively.
How does it work?
It's simple! You brief us with your requirements, we take action and follow up with custom reporting showing actionable insights. Our crowd are engaged and ready to go so we can activate in under 48 hours, covering the whole of the UK.

Why choose CROWDY?
Transparency and simple interventions – Quick solutions to drive sales
Fast & Flexible – Activation within 48 hours
Full UK Coverage – Our 2,000+ fully-employed and accredited crowd cover all postcodes in the UK
Cost-effective, quality data – Custom reports showing actionable insights
Localised to reduce carbon footprint – Our team are local to, and familiar with their stores

Sarah Sheffield, Business Development Director at eXPD8 says," We've been listening to our clients and in this new, quickly changing retail landscape and with the ever-growing demand for visibility and data, there was a real need to offer a quick and simple solution. Clients want a way to eyeball the shopfloor and understand the next best course of action, cost effectively and quickly.
That's why we formed CROWDY, offering short visits designed to collect information or deliver quick solutions. An operation that allows clients the confidence and consistency of using a known, trained, accredited crowd with robust results, images and reporting. In as little as one day you can have data at your fingertips telling you what action you need to take next – meaning your low-level investment drives targeted change, rather than applying a blanket call file of support."
Success for DURACELL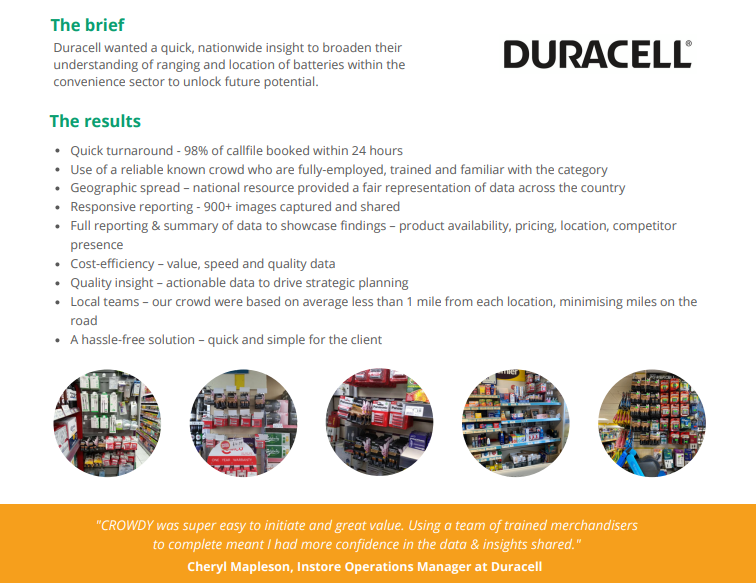 Get great value through access to our reliable team… 'A crowd you know and trust'
To find out how CROWDY can drive sales for your brand, get in touch via hello@expd8.co.uk