Tuesday 26th April was GroceryAid Day 2022; an important date in the calendar to raise awareness of the free help and support GroceryAid provides all Grocery colleagues. We took over our digital platforms to promote GroceryAid to our colleagues, including our social media pages, email signatures, video call background images, tablet takeovers, Portal and Telegram messages.
Our colleagues dressed in bright colours, played GroceryAid Bingo and induldged in some rainbow cupcakes – all whilst discussing the range of services GroceryAid offer, and how easy they are to access.
We're proud to be supporting GroceryAid, which has been providing emotional, practical and financial support for grocery colleagues since 1857. Spending over £4.25m annually and supporting thousands of people in need, they work in partnership with hundreds of supporters across the trade.
What Did We Do on the Day?
The Marketing and Communications team were out in force, encouraging Central Office and Field colleagues alike to change their email banners to GroceryAid branded versions, which then linked to the GroceryAid website. This was done to generate further awareness in the run up to the big day, in addition to the social posts that were sent on our main channels; Twitter, Facebook, LinkedIn and Telegram. There were also takeovers on all of the tablets used by the Field team, which linked to a dedicated GroceryAid article on eXPD8's business intranet – this meant everyone who worked at eXPD8 in the run-up to GroceryAid Day and on the day itself were made aware of the range of invaluable resources on offer.

We also took the opportunity to take over our monthly company meeting with virtual backgrounds that were GroceryAid branded. It was a wall of colour to celebrate and raise awareness of our industry charity.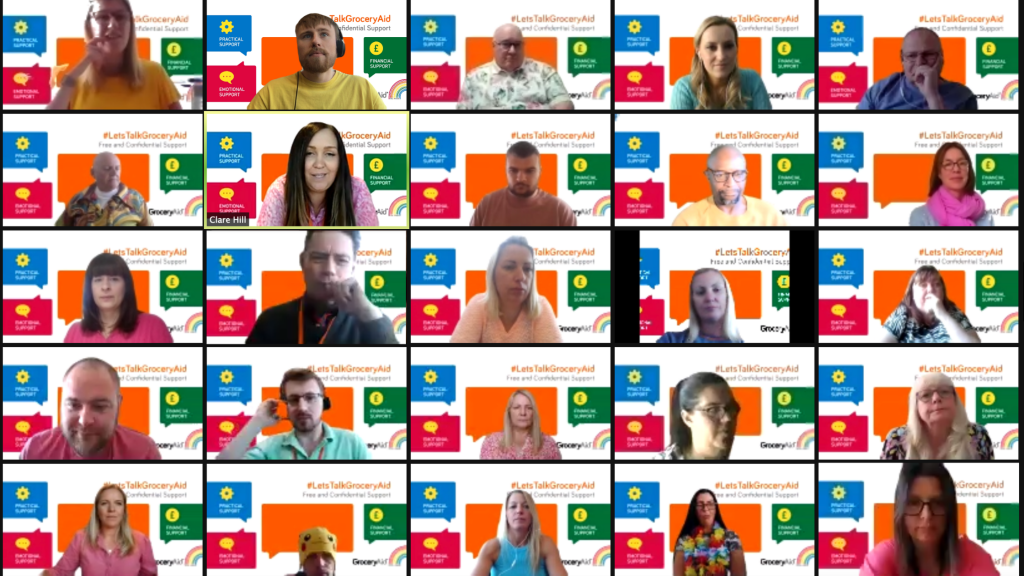 Of course, no GroceryAid Day would be complete at eXPD8 without some office decoration! There was bunting and balloons, GroceryAid leaflets and posters, and delicious rainbow cupcakes from Piece of Cake! The Central Office team took part in GroceryAid bingo, with each card on the bingo board being a different GroceryAid service! There were prizes on offer and everything contributed to an atmosphere of fun and conversation around this key cause.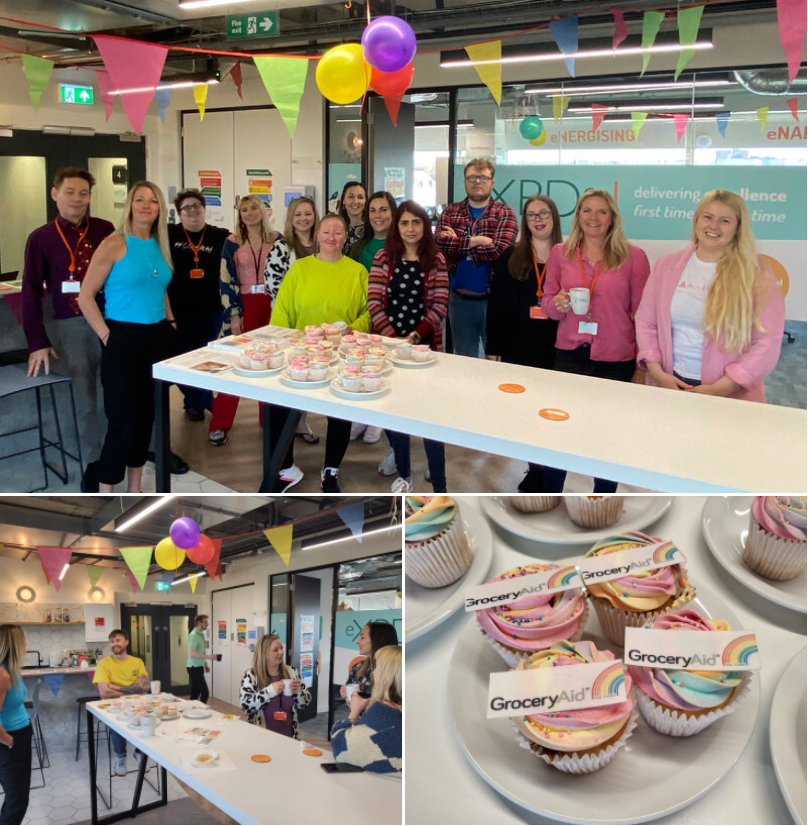 And of course, there was engagement directly from our fantastic colleagues in the Field, who dressed up in bright colours while attending their calls – here's just a small selection from the competition we held, with each of these colleagues winning shopping vouchers for taking part!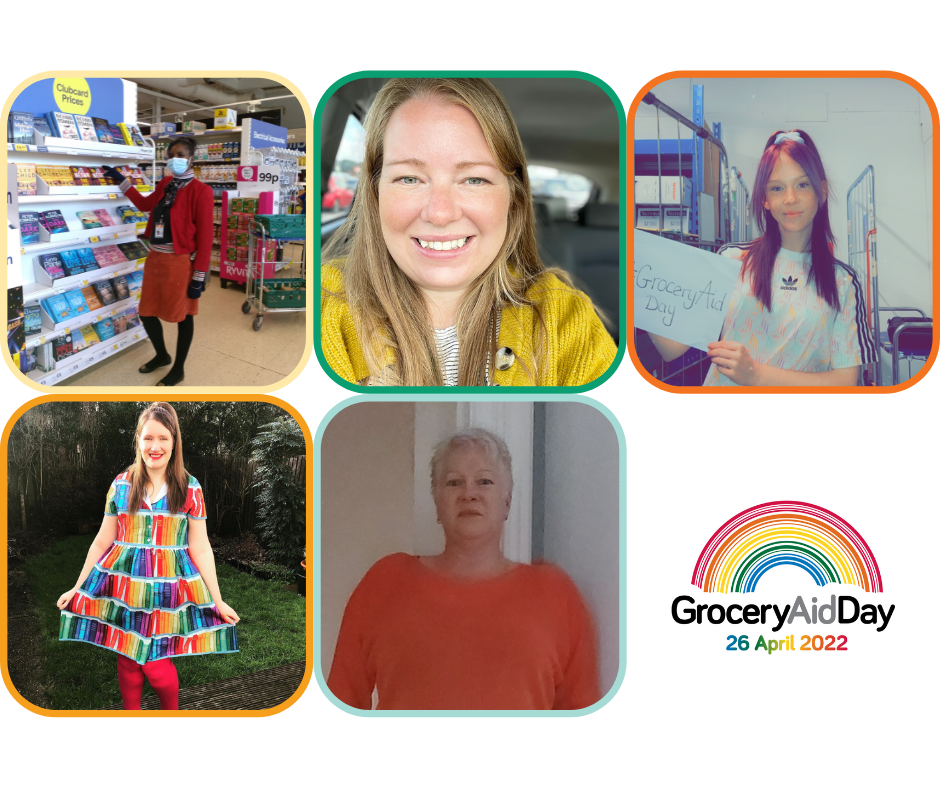 How can GroceryAid Help?
GroceryAid can help with a wide range of topics including mental health and wellbeing support, family and relationship advice, debt management, back to work support, and counselling. Specialist counsellors are also available for those who have experienced a traumatic incident through our Workplace Critical Incident support.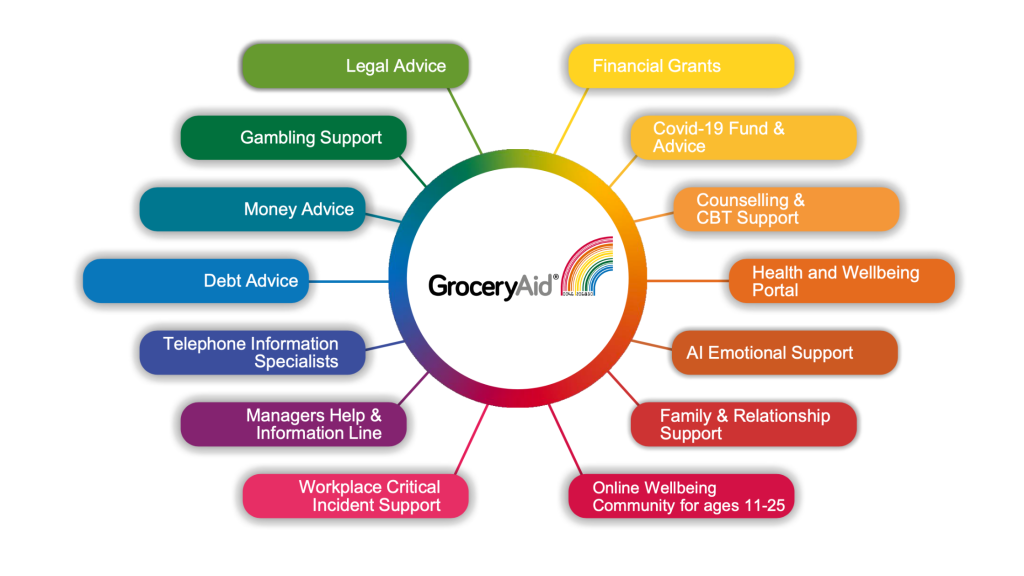 Financial grants can help those who may be experiencing hardship due to a change in circumstances, subject to meeting eligibility criteria. This could help someone fleeing domestic violence moving into a secure home, help towards rent arrears to keep a grocery colleague in their home or support where a household has seen a reduction in income due to ill health.
In addition to this support, the charity's Covid-19 Fund has been established to provide enhanced support for colleagues during this unprecedented period, with mental health support, financial grants, and bereavement financial assistance.
The 24/7 Helpline – Free and Confidential
If you or a colleague are struggling and feel like there is nowhere to turn, please get in touch to see if GroceryAid can help. The freephone Helpline is completely confidential and available 24 hours a day, seven days a week, all year round on 08088 021 122. Or you can access support via their website on https://www.groceryaid.org.uk – thanks for getting involved!
Useful Links