At eXPD8, we ensure we celebrate success. It's a core business pillar, and spans across everything we do; from our social media and internal communications to our day-to-day operations, we recognise the achievement of our colleagues and want to tell their stories. So, when Lauren Hegarty, eXPD8's Learning and Development Coordinator, gained a prestigious distinction in her Chartered Institute of Personnel and Development (CIPD) course, we wanted to hear more. This blog covers Lauren's journey; how she got here through her dedication and hard work, how she feels this personal development will positively impact her career, and why she thinks it's important to celebrate success in the business.
A Journey of Discovery
From the age of 14 my background has been in customer service, starting off with a paper round and moving my way into waitressing and bar work, by which point I had moved to Bristol. Due to an on-going muscular-skeletal issue, I was beginning to struggle with such active work and so I spoke to the bar manager of the venue I worked for, who put me forward for a role in the box office. After a year of so I became a supervisor and from there, learned a good deal about administration work. However, due to the seasonal availability of work, I began looking for a better suited career path, which is when I discovered Human Resources (HR). It seemed a good fit for my skills.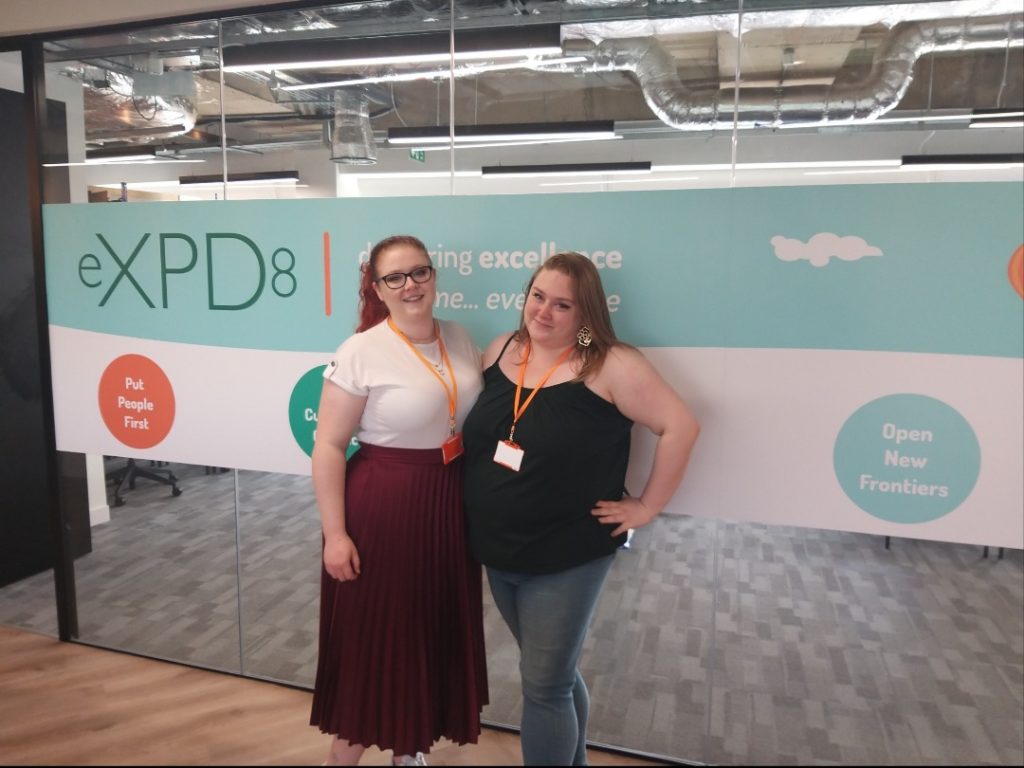 I'm good with people, enjoy admin and office work, and so I decided to pursue a career in HR, specifically through an apprenticeship route at eXPD8; the benefit being you get paid to study, which seemed like an ideal option. Because I didn't have a huge amount saved, I knew this was the best way to gain the practical experience that so many jobs require, while also gaining academic the qualifications I needed. I did my research. I took the leap. I knew going from what was fundamentally quite a casual job, to the start of a 'career', was going to be a real step change, but I knew it was going to be worth it. I was excited and full of hope.
The How and Why of the CIPD Course
The apprenticeship itself is split into two sections. There's the college side of things, which is the CIPD Level Three in Human Resources. Every evening on a Wednesday I was online, participating in virtual calls via Teams. The teacher would take us through all the training required to pass the course. That really gave me the basic knowledge and understanding I needed, the building blocks of a job in HR. The second half was the apprenticeship itself, where I had an assessor at college, with whom I would meet every month. Essentially, 20% of my eXPD8 role was training, outside of my remit within the business.
What I Did to Achieve My Distinction
Aside from my formal online webinars, I would seek out free online courses to complement my learning. I would also shadow my team at eXPD8. That was fantastic. Everybody at the company was very willing to help me whenever I needed. I shadowed Kelly Duncan, as eXPD8's HR Business Partner, which was very insightful. It allowed me to collect the evidence I needed to present to my assessor, essentially building a case that allowed me to pass that specific module. Then, finally, there was an end-point assessment, in which there was a professional discussion around my consultative report.
What did the Consultative Report Entail?
I decided to focus on eXPD8's company induction, which is an integral part to successfully onboarding new starters. I gathered some data, particularly around retention rates and conducted interviews around colleagues' experiences of the induction itself. This qualitative data was supported around a quantitative and qualitative survey. From there, I was able to make recommendations as to what the company could do, backed up by evidence to improve the induction, which has now been taken forward. To have that affect on the business is really rewarding. Now I have finished my apprenticeship, I lead on this project.
The Thrill of Getting my Grades
I was just doing my everyday work when the results came through much sooner than I thought they would. It was a week after I completed my training, and I was sat in the office with Hayley Perry, Learning and Development Manager at eXPD8, who is my manager. An email flashed up on the screen, and honestly, I felt nervous. All the time and effort spent for this moment. I'd put a year and a half of my life into this. We both sat there for at least 10 seconds looking at it, before I finally opened it. And then I saw the grade. Distinction. I was proud of myself.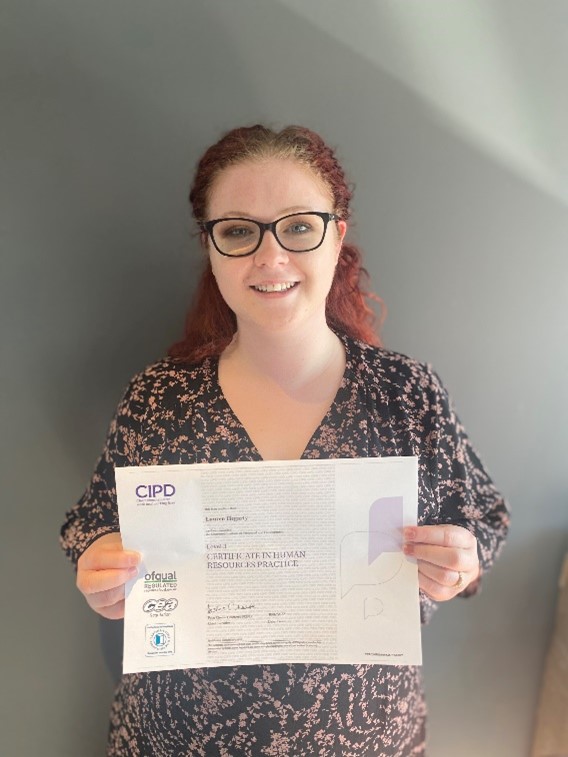 I received 88% in one component and 86% in another, and that resulted in the distinction. Only a small fraction of apprentices receives that. This really is an important start my career, because having a CIPD qualification is respected and renowned across the world. This makes it useful from both a knowledge perspective, and a networking perspective, and I've already made contacts globally on LinkedIn as a result; it's opening doors that, while I have no current plans to leave eXPD8 or the UK, are great in terms of my continued professional development.
Next Steps and the Importance of Celebrating Success
I am now eXPD8's Learning and Development Coordinator, meaning I'm responsible for the entirety of our L&D content. That's a huge responsibility. From here, I'm looking to take a break from my studies to gain some more practical experience, and then next year I can look at what it would take to get to a higher level, a challenge I'm excited about.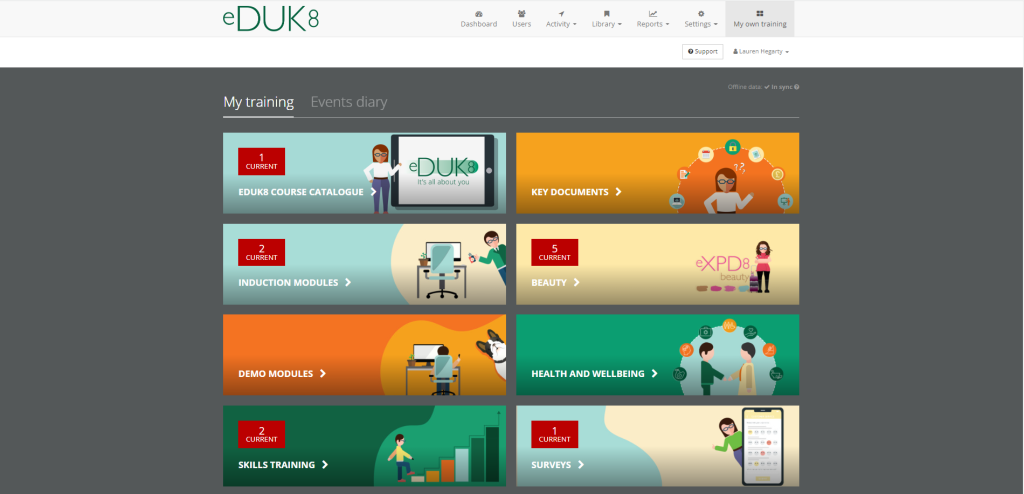 I'm pleased that eXPD8 is the type of company that not only allows for this level of support and professional development, but also champions those achievements to the wider business. I think it's important that people are recognised for the work they do, strengthening the bond between business and colleague, and boosting morale. It's really motivating when you feel appreciated, so having that as part of eXPD8's culture is just fantastic.
Does this Sound like your Kind of Company?
At eXPD8, we care for our colleagues and really cherish their personal development, whether that's in the Bristol Central Office, or any of our Field locations throughout every postcode in the UK. If this sounds like the sort of company you see yourself working with, get in touch via RecruitmentTeam@expd8.co.uk and let's talk about the career you have in mind. We're looking forward to hearing from you, being a part of your success, and celebrating you too!