Here at eXPD8 we've been busy, building. And finally, we're pleased to announce the completion and launch of our new, state-of-the-art, cloud-based photo management platform, PXL8. You can watch the explainer video here.
But what is it and why does it matter?
We know that being able to search, view and share photos of retail activity is key for our clients. If you've ever invested in retail support, you want to know how it's performing and get useful information by retailer, store or keyword at the touch of a button.
So, PXL8 is designed to do this in a more efficient, reliable and user-friendly way.
And with everything developed in-house, we have complete control over future changes, based on your feedback – we've built and tailored it just for you and we value your ideas.
Easy and Intuitive Search
With an enhanced search functionality and intuitive interface, it only takes seconds to find photos, sort into useful groupings, download and share with colleagues, based on keyword, store number or store name. Want to see a POS unit from the launch of a product? And compare how it looks across multiple retailers? Need to find photos from last year's seasonal activity to help this year's planning? PXL8 can give you those insights, instantly.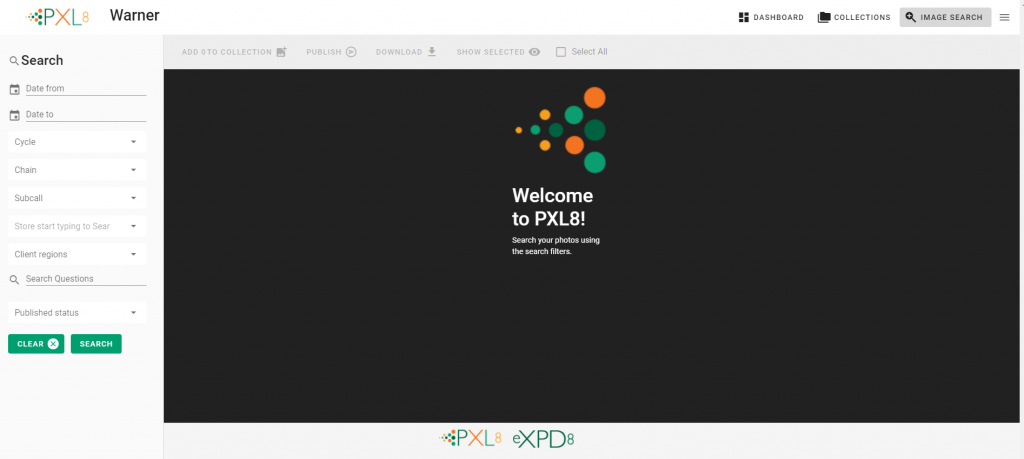 Dynamic Image Collections
But that's not all. Within PXL8, you can create Collections using any of the search criteria to compare retailers, track ranging information, see launch compliance, compare date ranges – the options are endless! Collections are stored in one handy location and can be edited by both the client and eXPD8 at any time. No more searching for that photo of a particular POS from a specific store – use your Collections to find it with ease and use your spare time for a tea break!

Batch Downloads & Meta-Data
And wouldn't it be helpful if you could download them too? Well with PXL8 you can. Select and download multiple images at once or download a whole collection. You can choose from several pre-defined naming conventions, so your photo files are easy to find. And when you download several images or a collection, you not only get the zip file of images requested, handy to send onto anyone should you need to or save down, but you also get an excel download detailing all of the images downloaded and associated data. This means if you spot a ranging issue, not only will you have the photos, but a list of stores to review and follow up.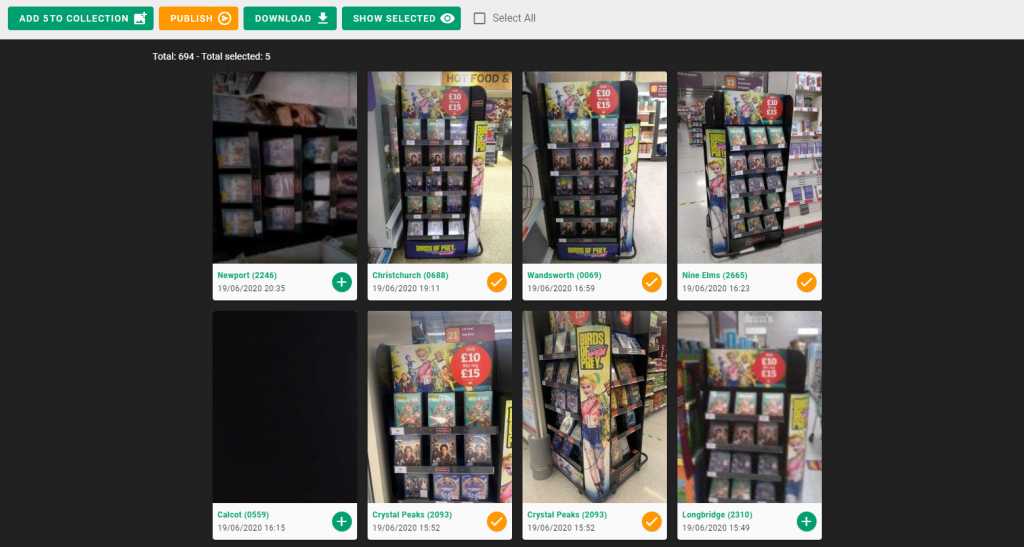 To Recap on The Benefits
There are really too many features to list in a short blog post, but top-level, the benefits include:
Log in on the move to get photo visibility in lightning speed
User friendly, easy to navigate and saves you time
Search by keyword, name, date, space, retailer – and even region code
Create and view Collections for immediate or future use
Download with smart naming conventions
Easily identify images, stores, POS and more
Easily share photos and collections with colleagues
Peace of mind using an eXPD8 platform rather than a third party
Get in Touch to Learn More
PXL8 can save you time and give your business valuable insight into the retail shop floor. Get in touch now via this pixl8@expd8.co.uk; we can give you the full tour, and help choose the optimum subscription to suit your business needs! And to learn more about our Syndicated Field Marketing solution, check out the latest blog post on the topic here. We look forward to hearing from you and helping your brand solve its biggest retail challenges.